'Border Patrol cosplay': Fox News reporter hides in bushes, foils migrant border crossing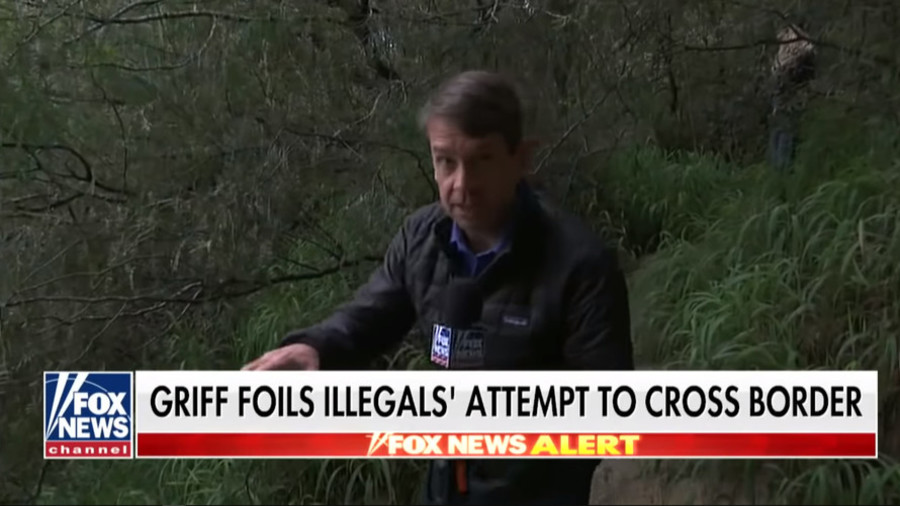 Either looking for a good location or trying to take law into his own hands, a Fox News reporter ended up ambushing a family of illegal immigrants trying to enter Texas.
A caravan of migrants from Honduras, Guatemala and El Salvador, heading north through Mexico, now numbers 14,000 people. US President Donald Trump has promised to deploy the military to secure the 2,000-mile border with Mexico. He shouldn't fret, however, as Fox News' Griff Jenkins is already on hand to round 'em up and ship 'em home.
Camped in the bushes along the Rio Grande, the thin and winding river separating the United States and Mexico, Jenkins and his crew spotted a family paddling across in a small raft, with a supposed smuggler at the helm.
READ MORE: Debate over migrant 'caravan' ignores the real problem: Decades of destabilizing US foreign policy
"Excuse me, sir, were you trying to cross into America illegally?" Jenkins shouts at the man, who quickly whips his boat around and returns to the Mexican side of the river. "Griff Foils Illegals' Attempt to Cross Border," flashes up on the Fox News chyron.
"So what we're witnessing now is clearly a family that was being brought over by that smuggler that was paddling in the raft. This is an attempt to illegally cross, and they've gone back over there," Jenkins explained.
"We seem to have foiled this attempt, but officials tell us that he's probably just going to look for another spot," he added.
Later on in the segment, Jenkins talked to a group of Honduran immigrants rounded up by Border Patrol agents, asking them why they tried to enter the US illegally.
"The situation in Honduras," one woman explained. "You cannot have work there because the criminals will always get your money."
Jenkins and his crew were shamed online over their act of "border patrol cosplay," and accused of harassing "desperate people" for entertainment.
Lured by a roaring economy and ample job openings, thousands of migrants have attempted to enter the US illegally in recent months, before the Honduran caravan began its slow trek north.
US law enforcement officials arrested almost 17,000 people trying to cross the southern border in September, up 31 percent from August. A total of 397,000 migrants were arrested in the 2018 fiscal year, which ended in September, a marked increase over the 304,000 apprehended in 2017.
Crossing the Rio Grande is a popular entry route, especially since industrial damming in recent decades has reduced the once-mighty river to a mere stream in places, meaning immigrants can often just wade into America.
If you like this story, share it with a friend!