Russians did it! Media finds culprit behind NFL national anthem brouhaha
Published time: 23 Oct, 2018 17:20
Edited time: 24 Oct, 2018 07:23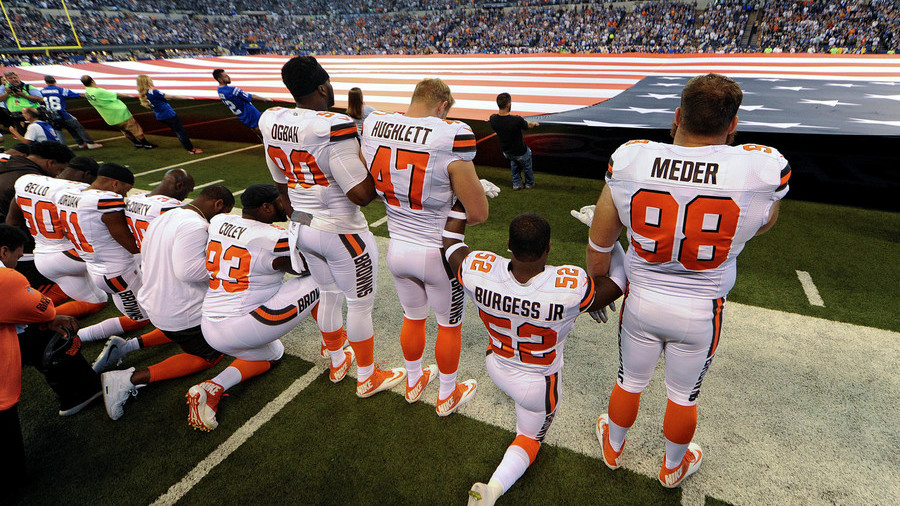 In an ideal world free of pesky Russian bots, the debate over NFL players kneeling during the national anthem would have likely never taken place, the Wall Street Journal has reported, veering remarkably close to self-parody.
Citing a study conducted by researchers from Clemson University, the paper describes how more than 12,000 nefarious Russian tweets – "with some reaching only tens of people and others tens of thousands" – miraculously managed to "fuel" the controversy started by then-San Francisco 49ers quarterback Colin Kaepernick, which received around-the-clock coverage in the media and even inspired a profanity-laced outburst from Donald Trump.
Even more impressive is that these presumably extremely persuasive tweets began back in 2014, according to the Clemson study, meaning that the clairvoyant Russians were quietly preparing to upend America's famously civil and level-headed political discourse two years before Kaepernick decided (or was instructed by the Kremlin?) not to stand for the national anthem – in August 2016.
The study's authors claim that 491 twitter accounts connected to the so-called Kremlin-linked Internet Research Agency (IRA) used the anthem debate as a "wedge issue."
"It's like we handed them a loaded gun," one of the Clemson professors told the Wall Street Journal.
Presidential rants, restaurant boycotts and misleading Fox News photo gaffes – none of these Kaepernick controversy-fueling incidents would have been possible without the Soyuz rocket-boost provided by 12,000 tweets allegedly traced back to Russia. Or so we are told.

Responses to the article were not particularly sympathetic to the Wall Street Journal's brave reporting, with some even suggesting that Russia probably shouldn't be blamed for contentious American social issues that can be traced back decades.
"This Russia thing is getting so ridiculous and dangerous. We are going back to McCarthy era where they spotted a communist behind every potted plant. Who are these folks who are spending 20 hours a day looking at Fakebook or other nonsensical so-called social media?" a reader commented on the Wall Street Journal piece.
"What a complete and total crock," one comment on a USA Today write-up of the same study stated plainly.
Others accused the media of trying to cover for liberals' alleged lack of patriotism.
"No American needs a Russian to tell him it's right to stand for the National Anthem. To blame THIS on Russians is lunacy. And another reason the Democrats will fail BIGLY in the midterms," said one comment.
"A desperate, laughable, attempt to downplay the level of American patriotism. Sorry libs, there are millions of us still out here," another unimpressed reader noted.
However peculiar the argument might be, there is one piece of circumstantial evidence to support the theory that Russia dictates what pundits argue about every night on American television: Now that the alleged Russian bot accounts have been deleted, the two-year-old Kaepernick controversy is no longer in the limelight. This was an actual observation made by the Wall Street Journal. QED.
Blaming Russia for all of America's ills has become a popular and highly-praised pastime for many of the country's brightest intellects. Aside from allegedly installing Trump in the White House, the Kremlin is also apparently to blame for the debate over Black Lives Matter. Sure, why not?
Like this story? Share it with a friend!