'We'll show games when you show respect': Restaurants boycott NFL over #TakeAKnee protest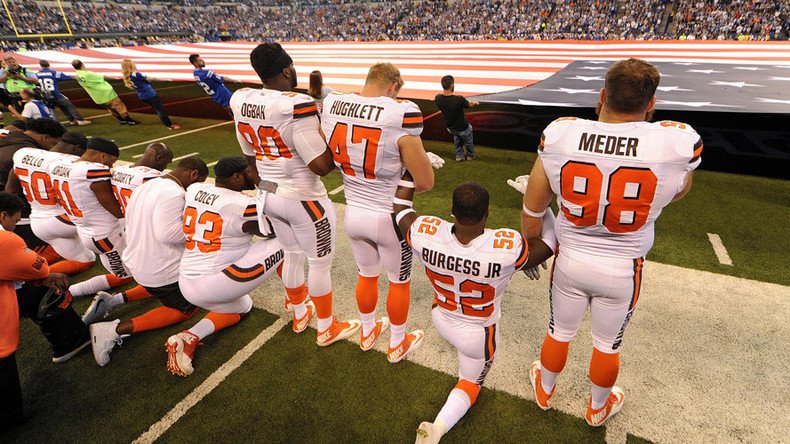 Restaurants across the US are refusing to show NFL games in response to the decision by some of the league's players to sit or kneel during the national anthem.
Various outlets in Louisiana, Texas, New York and South Carolina have all said that they will no longer be showing the games, with one restaurant, Borio's in upstate New York, posting a notice on its doors that read: "If and when this show of disrespect ends we will be happy to show this product in our restaurant again."
The protest, which was started last year by then-San Francisco 49ers quarterback Colin Kaepernick to highlight racial inequality and injustice in the US, had received sporadic support from fellow players prior to US President Donald Trump's appearance at a rally in Alabama Friday night.
Addressing the crowd, Trump lambasted Kaepernick's protest, saying: "Wouldn't you love to see one of these NFL owners, when somebody disrespects our flag, to say, 'Get that son of a bitch off the field right now. Out! He's fired. He's fired!'"
In response, NFL players and owners released statements criticizing the president's remarks, which resulted in many more of the league's players taking up the #TakeAKnee protest over the weekend. Three teams remained in the dressing room during the anthem.
The refusal to stand for the anthem is seen by some as a mark of disrespect to the American flag as well as to military veterans.
David McCraw of Palmetto Restaurant and Ale House in Greenville, South Carolina, said that he would begin showing the games again, once all players pay respect to the American flag and country.
His remarks were echoed by the management of Sarita's Grill & Cantina Denham Springs Louisiana, who said in a Facebook post: "We respect everyone's right to freedom of speech; however, we do not support anyone that disrespects our Flag, our Country and the people who have fought and/or died for the freedoms we have."
Another Louisiana restaurant, WOW Cafe & Wingery of St Bernard, also posted a message online decrying the protest, as did Baxter's Family Food and Fun in Hickson, Texas.
On Tuesday, Trump doubled-down on his previous comments by calling on the NFL to change its rules to make standing for the national anthem mandatory for all players.
The NFL has all sorts of rules and regulations. The only way out for them is to set a rule that you can't kneel during our National Anthem!

— Donald J. Trump (@realDonaldTrump) September 26, 2017
You can share this story on social media: