Trump says NFL players who don't stand during national anthem 'maybe shouldn't be in the country'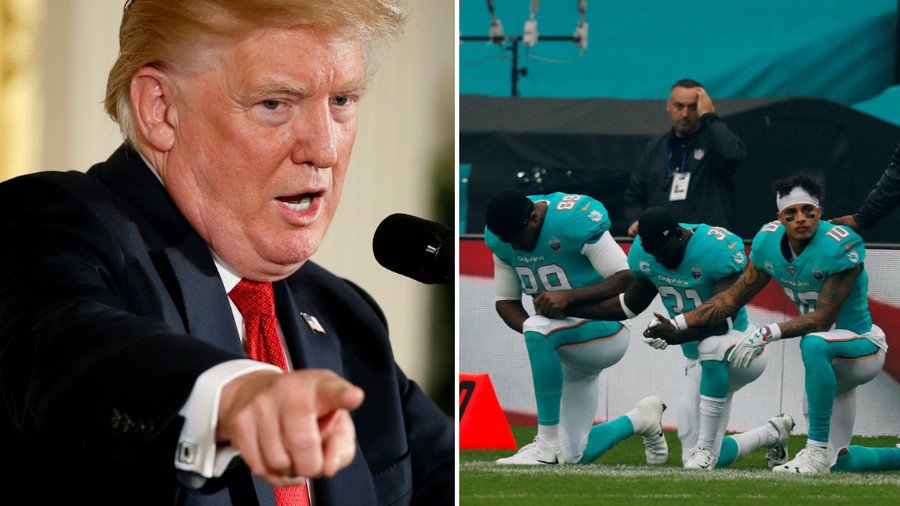 US President Donald Trump has said that NFL owners have "done the right thing" after new policies were announced which could lead to fines for teams whose players who refuse to stand during the national anthem.
On Wednesday a policy was announced by NFL commissioner Roger Goodell in an attempt to counter the wave of protests by players during the playing of the national anthem, which have been growing in popularity since Colin Kaepernick's initial demonstration in August 2016.
The policy states that any team whose players refuse to stand during the anthem could be subject to fines from the league, while players and other personnel who do not wish to participate may stay in the locker room until the formalities have been completed.
"You have to stand proudly for the National Anthem. You shouldn't be playing, you shouldn't be there. Maybe they shouldn't be in the country...the NFL owners did the right thing" -President @realDonaldTrumppic.twitter.com/bt36t4EX5u

— FOX & friends (@foxandfriends) May 24, 2018
Trump, who has been vocal in his opposition to the anthem protests, welcomed Goodell's announcement in an interview with FOX News.
"I think that's good," Trump said. "I don't think people should be staying in locker rooms but still, I think it's good.
"You have to stand proudly for the national anthem or you shouldn't be playing, you shouldn't be there.
"Maybe you shouldn't be in the country."
READ MORE: NFL teams to be fined if players kneel during anthem
The NFL Players Association, meanwhile, says that they were not consulted ahead of the announcement of the new national anthem policy, and that they reserve the right to "challenge" any of the measures implemented which they deem unsuitable.
"Our union will review the new 'policy' and challenge any aspect of it that is inconsistent with the collective bargaining agreement," an NFLPA statement read on Wednesday.
You can share this story on social media: