'Right from Trump's playbook': AP savaged by critics for calling migrant caravan 'army'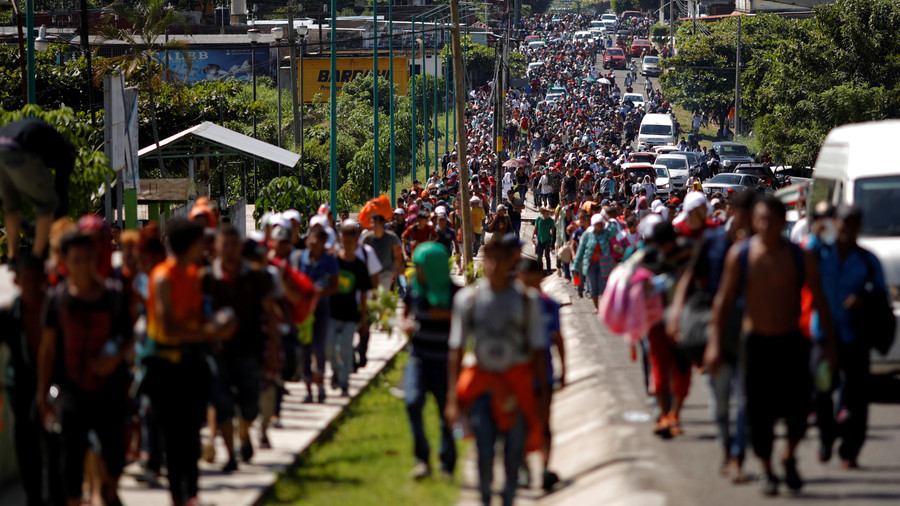 Critics lashed out at The Associated Press for calling a huge US-bound caravan of migrants an "army" in their headline. The news agency changed the title of the piece, but that was not enough to cool down some of the folks online.
The story, originally titled 'Ragged, growing army of migrants resumes march towards US', appeared on the outlets' website on Sunday. It was not the reporting itself – the style wasn't all that different from AP's usual work – but a single word in the headline that ticked off many people on social media.
Some readers, including Walter Shaub, the former head of the US Office of Government Ethics, argued that it is inappropriate use the word "army" to describe a group of more than 4,000 Central American migrants hoping to cross to the US through Mexico.
Others accused AP of mirroring the rhetoric of President Donald Trump and spreading xenophobia.
AP tried to do damage control by replacing 'army' with 'caravan.' The news agency also deleted the tweet with a link to the story, explaining that it "lacked context."
The change failed to defuse the situation, as some Twitter users felt that 'lacking context' was a poor explanation.
Observers such as Raw Story reporter Bob Brigham wrote that simply altering the headline wasn't enough. AP must now apologize and even publish an official retraction, they said.
Think your friends would be interested? Share this story!