Treasury official charged with leaking classified info to feed 'Russia meddling' narrative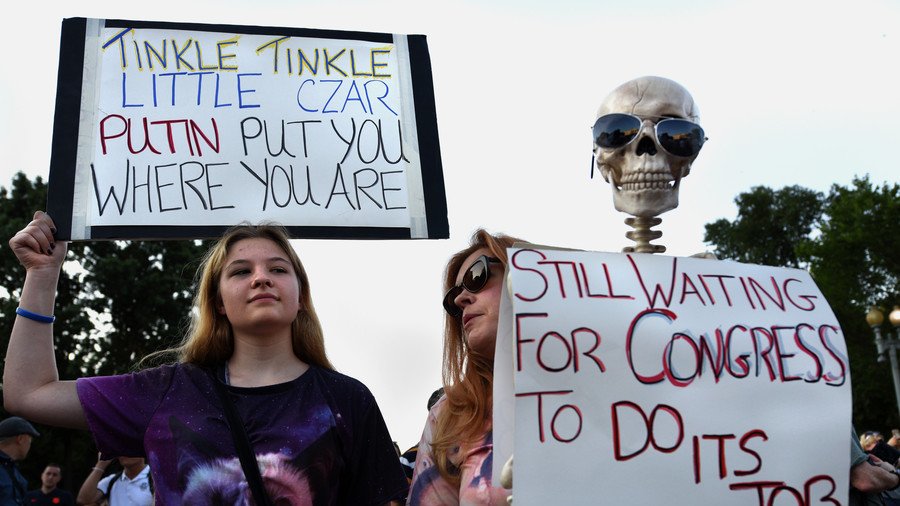 A US Treasury official was arrested and charged with conspiracy for leaking secret banking documents to the press, feeding a everlasting stream of often bogus 'bombshell' reports about Mueller's notorious 'Russian meddling' probe.
Natalie Mayflower Sours Edwards, 40, was named in the criminal complaint filed in the federal court in New York on Wednesday. Edwards was a senior advisor at the Treasury's Financial Crimes Enforcement Network, also known as FinCEN. In that capacity, the government says, she illegally copied and sent to the media Suspicious Activity Reports (SAR), starting in October 2017.
DOJ says that ex-Trump aides Paul Manafort and Rick Gates, and others including Russian diplomats, were in fact the victims of a government leak conspiracy. pic.twitter.com/8zlOkr5FCr

— Brad Heath (@bradheath) October 17, 2018
The complaint described a "pattern of unauthorized disclosures" concerning the investigations by Special Counsel Robert Mueller and the Department of Justice related to Russia, including "among other things, Paul Manafort, Richard Gates, the Russian Embassy, Mariia [sic] Butina, and Prevezon Alexander." Manafort and Gates were indicted by Mueller as part of the "Russian meddling" probe - on charges that had nothing to do with Russia or the 2016 US election - and Butina was accused of being a Russian agent. Prevezon Alexander is a Russian-owned real-estate company.
At the time of her arrest, Edwards had a flash drive that contained some 24,000 files, including "thousands" of SARs. Other documents found on the drive contained "highly sensitive material relating to Russia, Iran" and Islamic State (IS, formerly ISIS/ISIL), the complaint said.
The FBI also searched her cell phone, and found "numerous communications over an encrypted application in which she transmitted SARs and other sensitive government information" to the reporter. They reportedly exchanged at least 300 messages.
Though the complaint does not name the reporters or the organization Edwards leaked to, it does mention several of the dozen articles in which her information was used, which carry the bylines of Jason Leopold and Anthony Cormier of BuzzFeed News.
One of these articles, titled "Secret Finding: 60 Russian Payments 'To Finance Election Campaign of 2016'," was presented as bombshell proof of Russian "meddling" in US elections, until it emerged that the transactions were about the Russian parliamentary election that year.
SARs are confidential documents filed by banks and financial institutions to alert law enforcement of potentially illegal transactions. They are not public documents and it is a federal crime to disclose them.
To the disappointment of those who expected the Mueller probe to overturn the 2016 US presidential election, former Trump campaign manager Manafort and his business partner Gates were charged for the entirely unrelated crime of tax evasion, related to their lobbying work for the government of Ukraine. Gates took a plea deal in February 2018, while Manafort was found guilty on several charges in August. He later made a plea deal to lesser charges in a second case, also unrelated to the 2016 election.
Butina, a Russian gun rights activist and recent American University graduate, was arrested in July and charged with failing to register as a foreign agent. The Russian government says she is a political prisoner. Media reports falsely insinuated that prosecutors had accused Butina of trading sex for favors, eventually admitting they were "mistaken" in interpreting her text messages.
Edwards was released on a $100,000 bond. If convicted, she faces up to 10 years in prison. It is unclear what impact, if any, her indictment will have on the charges against Butina, Manafort or Gates.
Think your friends would be interested? Share this story!
You can share this story on social media: