Now it's personal: WaPo editor takes on 'Saudi murderers' over missing columnist Khashoggi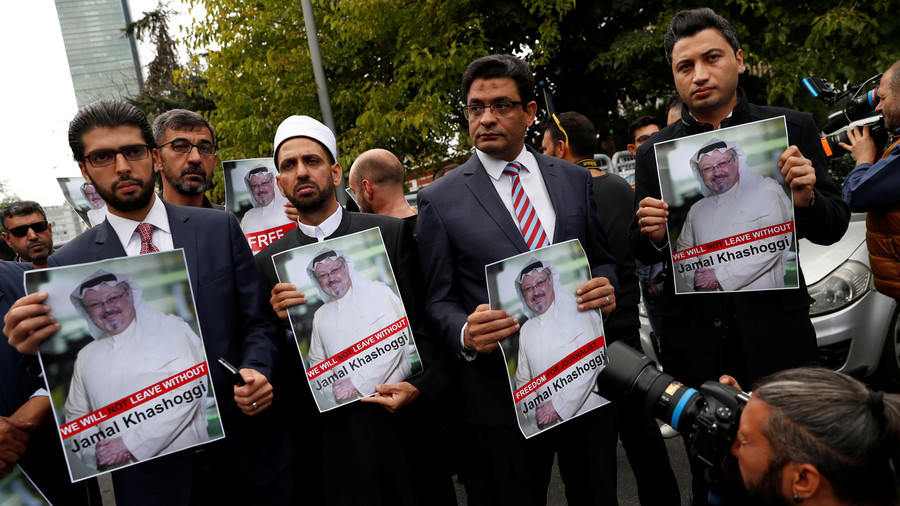 The Washington Post has taken out a full-page ad in protest of the disappearance and alleged murder of Saudi journalist Jamal Khashoggi in Turkey. "We're not going to let this go," said editor Karen Attiah in an interview.
"On Tuesday, October 2 at 1:14 p.m. Washington Post columnist Jamal Khashoggi entered the Consulate of Saudi Arabia in Istanbul. He has not been seen since," the Friday ad reads, along with the text "Demand Answers."
In an emotional interview with Reuters, Attiah described working with Khashoggi, who regularly wrote for the Post. "Attacking or detaining or murdering a US resident...is unacceptable. If whoever did this can get away with silencing him, just imagine all the other journalists who they could go after without consequences."
"Jamal's apparent Saudi murderers have messed with the wrong paper," she tweeted on Friday. "And in me, with the wrong editor."
Bloomberg, CNN, CNBC, the Financial Times and the New York Times have all withdrawn their sponsorship of an upcoming business conference in Saudi Arabia in protest. In addition, the editors and owners of The Economist and the Los Angeles Times have both canceled their plans to speak at the event, which forms part of Crown Prince Mohammed bin Salman's ambitious plan to develop commerce in Saudi Arabia and break the Kingdom's dependence on oil revenue.
The fate of Khashoggi, who had written critically about the Saudi royal family, and in particular the government of the crown prince, hailed as "reformer" in the West, so far remains unclear.
Reports have emerged that Turkey has audio and video evidence of Khashoggi being detained by a Saudi security team. He is said to have entered the Saudi consulate on Tuesday to obtain an official document for his upcoming wedding. The unconfirmed allegation is that the journalist was tortured, killed and dismembered.
US and Turkish officials are working on compiling a report into Khashoggi's fate, with President Trump calling the disappearance "a terrible thing," but stopped short of blaming Saudi Arabia.
Senator Bob Corker (R-Tennessee), chairman of the Senate Foreign Relations Committee, said that he had seen no definitive proof of Saudi guilt, but "everything that I've seen points to the Saudis...We have no evidence that points anywhere but to them." Senator Rand Paul (R-Kentucky) called on the President to immediately halt arms sales to the Kingdom in response, a call that Trump told reporters on Thursday he will not be heeding.
Riyadh has denied any involvement in Khashoggi's disappearance or death.
Think your friends would be interested? Share this story!
You can share this story on social media: