Senators Flake, Manchin, Collins have their offices surrounded by protesters after Kavanaugh vote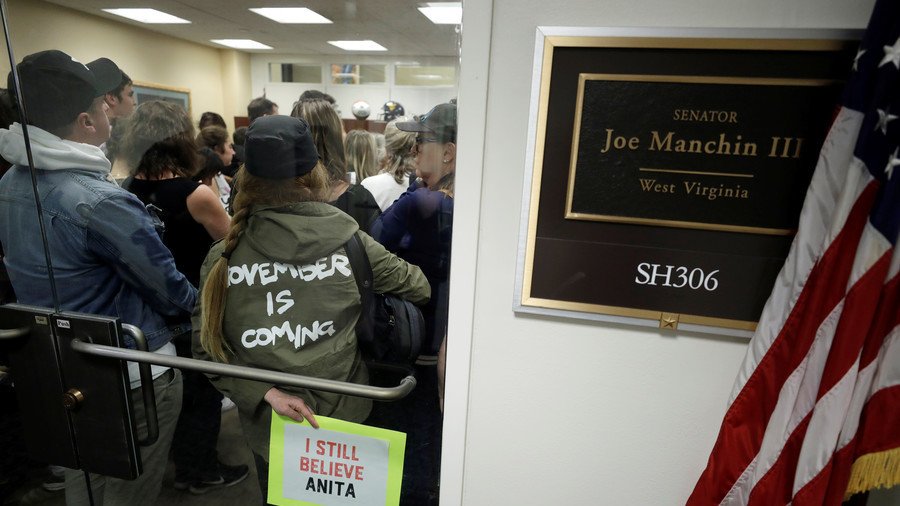 After voting in favor of Supreme Court nominee Brett Kavanaugh, Senators had their offices surrounded by protesters as opposition to President Trump's SCOTUS pick is making the last ditch effort to swing the vote.
Arizona Republican Sen. Flake had been undecided on Kavanaugh, but gave the judge his blessing during Friday's tight cloture vote, helping Kavanaugh's nomination win a 51-49 victory and proceed to the Senate floor on Saturday.
Immediately after the vote, protesters stormed Flake's office, blocking the corridor outside and chanting "the system is corrupt—and that's why we disrupt!" Capitol Police have reportedly arrested scores of demonstrators.
The vote officially ends deliberation on Kavanaugh's nomination, but protesters have not relented in their efforts to sway the vote. Flake experienced this first-hand last week, when he was cornered in an elevator and berated by protesters - some of them connected with wealthy liberal organizations.
President Trump called the demonstrators "very rude elevator screamers," in a tweet on Friday morning, while police continued to escort screeching activists out of federal buildings ahead of the crucial cloture vote.
Flake was not the only senator confronted by protesters, nor is he the only swing vote in the Senate. Republicans Lisa Murkowski (Alaska) and Susan Collins (Maine) had both expressed reservations about Kavanaugh in the runup to the vote. Collins sided with Flake and gave Kavanaugh a 'yes' on Friday, while Murkowski voted 'no.' Collins is set to announce her final position later on Friday, with Murkowski unlikely to change her mind.
Across the aisle, West Virginia Sen. Joe Manchin (D) gave Kavanaugh his blessing, and protesters showed up at his office shortly afterwards to show their disagreement. Likewise, Collins too found her office occupied, as activists staged a sit-in protest to push the Maine Republican to vote 'no' on Saturday.
All the swing senators have had their phone numbers published on social media, and activists have encouraged outraged citizens to attempt to persuade them to vote no.
The senators have faced pressure from their Senate colleagues as well as the general public. After Murkowski broke ranks and voted against Kavanaugh, a photo showing Murkowski apparently cornered by a visibly angry Sen. Dianne Feinstein (D-California) did the rounds on Twitter, leading some to believe Murkowski was bullied into her vote.
Senator Collins was confronted by the protestors ahead announcement of her vote on Kavanaugh nomination as well. Several people shouted "Vote no" form the Senate gallery just as Collins was starting her speech. Senate Sergeant at Arms was summoned to restore order at the gallery, yet it remained unclear whether the protestors were detained or simply removed.
As the senator responsible for revealing Christine Blasey Ford's allegations against Kavanaugh, Fenistein has led the charge against Kavanaugh's confirmation, and delivered a passionate diatribe against the judge ahead of Friday's cloture vote.
In response, Senate Majority leader Mitch McConnell slammed Feinstein and her Democrat colleagues for politicizing Ford's allegations, saying that the debacle was an example of how "politics can override the presumption of innocence...and media bullying and mob intimidation are valid tactics."
Like this story? Share it with a friend!
You can share this story on social media: