'I know you're not thinking, you never do': Trump spars with 'loco' media over trade, Kavanaugh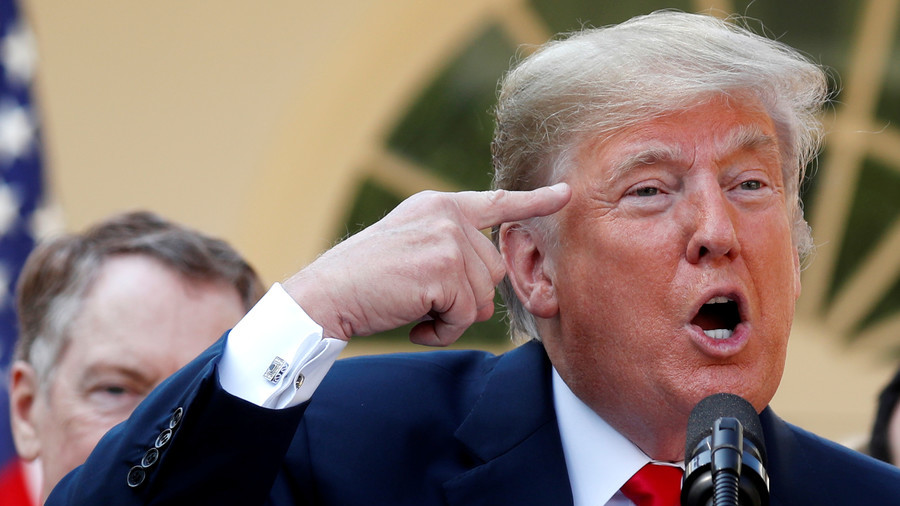 Eager to promote his new trade deal with Canada and Mexico, US President Donald Trump got a little salty when reporters insisted on asking about Supreme Court nominee Brett Kavanaugh instead.
During the White House press conference on Monday, Trump insisted on answering questions about the trade deal before addressing the Kavanaugh confirmation controversy. When ABC's Cecilia Vega tried to bring up the judge, this exchange ensued.
"She's shocked that I picked her. It's like in a state of shock," Trump comments.
"I'm not, thank you Mr. President," says Vega, standing up.
"That's OK, I know you're not thinking, you never do," the president retorts.
"I'm sorry?" says Vega.
"No, go ahead. Go ahead," says Trump.
Another reporter who tried to ask about Kavanaugh instead of the trade deal was told to hand over the microphone to someone else.
"Don't do that. Excuse me? Do you have a question on trade? Don't do that. That's not nice," Trump told her.
Eventually, though, he relented, commenting that "people are falling asleep" even though he considers trade one of the most exciting subjects.
"You don't understand what I'm saying. You do understand, you just don't want to report it that way," he said, answering a reporter who asked about the scope of the FBI investigation into allegations against Kavanaugh.
"I think the press has treated me unbelievably unfairly," Trump said at one point. He hoped the media would be nicer to him after he won the 2016 presidential election, but things only got worse.
"They're loco," he said, explaining he was using the Spanish word for 'crazy' in honor of the trade deal with Mexico.
Trump blasted Democrats for not bringing up sexual assault claims against Kavanaugh during the confirmation hearings, but waiting until afterward – lumping the media in with the opposition party.
"You Democrats… I guess I'm including you too, the media, I consider you a part of the Democrat Party," Trump said, before proceeding to talk more about how the Democrats and the media have treated Kavanaugh "horribly."
The president also criticized Democrat senators who have opposed Kavanaugh's nomination, saying he happens to know some senators who have behaved badly and aggressively, and he personally witnessed them "somewhat compromising" situations.
Asked to name those individuals, though, he said, "I think I'll save it for a book like everybody else."
Think your friends would be interested? Share this story!