Missing in action: Trump leaves UN Security Council he was chairing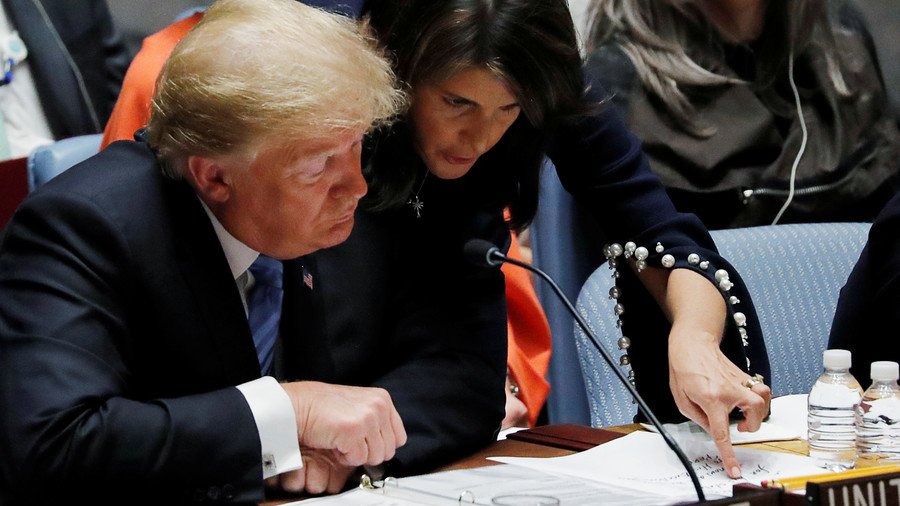 US President Donald Trump left the UN Security Council session he was chairing before it was over, leaving Nikki Haley in charge and sparking speculation about his whereabouts among the press.
Around quarter after noon on Wednesday, after roughly two hours of speeches and declarations, Trump left the Security Council chambers with his security detail, letting his UN envoy Haley take over.
READ MORE: Trump chairs UN Security Council meeting
The US president's departure took place during the speech by Ethiopia's foreign minister, and after the address of Russian FM Sergey Lavrov. Some members of the press speculated he might have taken a toilet break and would return.
As Ethiopia gave way to Kazakhstan, however, Trump's return to the Security Council grew more unlikely by the minute.
Had he stayed, Trump would have heard Kazakhstan's Foreign Minister Kairat Abdrakhmanov praise him for meeting North Korean leader Kim Jong-un in Singapore earlier this year.
Kazakhstan was followed by Sweden, still sans Trump. Haley eventually adjourned the session in her boss's absence.
There was speculation that Trump might storm out of the UNSC an hour before he actually left, during the speech by Bolivian President Evo Morales.
"In no way is the United States interested in upholding democracy," Morales said at the end of his remarks. "The United States could not care less about human rights or justice."
"Thank you Mr. President," Trump replied, either being polite or having ignored the translation all along.
Like this story? Share it with a friend!
You can share this story on social media: