Trump chairs his 1st UNSC session as countries clash on Iran & Syria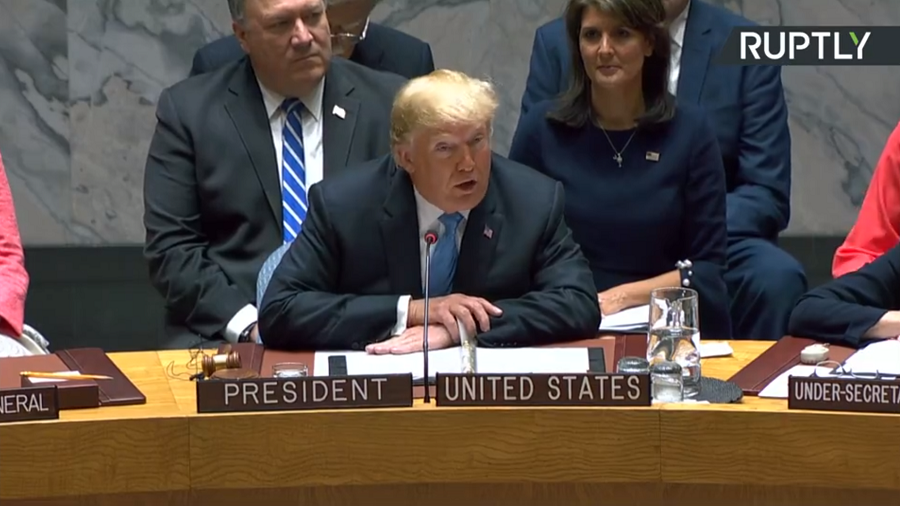 The first UN Security Council meeting chaired by US President Donald Trump proved to be quite dynamic, with world leaders offering vastly different opinions on Iran, North Korea, and Syria.
26 September 2018

16:30 GMT

Washington's ambassador to the UN, Nikki Haley, has wrapped up the meeting after Trump left his seat during Ethiopia's address.

16:30 GMT

Sweden's Wallstrom has mentioned stories of victims of nuclear and chemical weapons. "The use of chemical weapons is morally abhorrent and can never be accepted."

16:15 GMT

Trump has left the UNSC chamber, along with his security detail, but not his delegation. Unclear whether he is just going to the toilet and will return to wrap up.

— Julian Borger (@julianborger) September 26, 2018

Interesting moment at #UNGA2018: Nikki Haley is now seated in the president's seat during the security council briefing and even called on the next country to speak, Kazakhstan. Where did Trump go?He is supposed to be chairing the meeting.

— Nancy Cook (@nancook) September 26, 2018

16:06 GMT

At #UNSC, FM Lavrov mentions special responsibility of U.S. and Russia, as the world's two major n-armed states, to engage in dialogue on "global strategic stability." At the moment, the two have not had such discussions since 2017 and the future of New START & INF are at risk.

— Daryl G Kimball (@DarylGKimball) September 26, 2018

16:04 GMT

Lavrov addressed the "unsubstantiated" rhetoric of the UK regarding the Salisbury affair, noting that London is avoiding the joint investigation that Moscow has offered. "If they do not want to cooperate, does this mean that they have something to hide?" he asked, while calling on London to begin a constructive dialogue.

16:01 GMT

The government of Syria destroyed their entire chemical arsenal, Lavrov said, adding that terrorists in Syria have chemical warfare agents and are building labs for that purpose.

16:00 GMT

The US withdrawal of the Iran nuclear deal creates a "serious threat," Russian Foreign Minister Sergey Lavrov said, adding that Russia is convinced that JCPOA needs to be kept, in order to avoid escalated tensions in the Middle East which could increase the risk of instability.