'Cut off that pesky penis of his': Satire and reality blur as Kavanaugh debacle drags on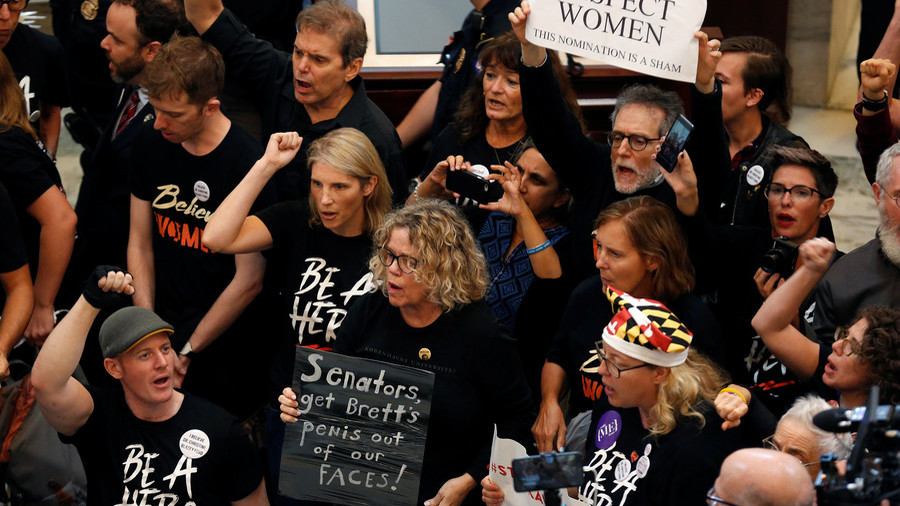 Whether it's from late night comedians or Democrat politicians, hysteria around Supreme Court nominee Brett Kavanaugh's sexual assault allegations has climaxed and it's hard to tell what's real and what's satire anymore.
Kavanaugh's confirmation vote has been stalled, first by Christine Blasey Ford's allegation that Kavanaugh forced himself on her at a high-school party in the early 1980s; and then by a slew of subsequent, and also fantastically conveniently timed, allegations from his college years.
With nothing proven and the vote frozen, liberal comedian Jimmy Kimmel gave his two cents on Kavanaugh on his Monday night show. Kimmel first made fun of Kavanaugh for his claim that he was a virgin in high school, and kept calendars of all of his social engagements, which Kavanaugh hopes will place him somewhere else the night of the alleged assault.
"What 17-year old keeps calendars of his social engagements?" he asked. "No wonder he was a virgin." Kimmel then suggested a 'compromise,' should Kavanaugh be confirmed.
"Hear me out on this," he said. "So Kavanaugh gets confirmed to the Supreme Court, OK? Well, in return we get to cut that pesky penis of his off in front of everyone." As the audience groaned, Kimmel added: "No? That's not good? I thought I had a solution there for a minute."
With even Kimmel's liberal audience tiring of the schtick, here's some more times Kavanaugh's opponents crossed the ever-thinning line between reality and satire.
Kirsten Gillibrand uses the Santa Claus defense
How does a child know Santa Claus is real? I dunno, man, they just... feel it. Democrat Senator Kirsten Gillibrand (New York) used the same reasoning last Thursday to prove Ford's allegation true.
"I believe her," she said at a press conference, voice cracking. "I believe her because she's telling the truth."
Circular reasoning like this is usually used by children, not US senators. At least children get presents at Christmas as some sort of proof too.
Mazie Hirono trashes the presumption of innocence
Hawaiian Senator Mazie Hirono (D) appeared on CNN on Sunday to suggest that Kavanaugh shouldn't enjoy the presumption of innocence, a core tenet of American law.
She told host Jake Tapper that the bothersome 'innocent until proven guilty' concept is the kind of thing that "makes it really difficult for victims and survivors of these kinds of traumatic events to even come forward." Women like Ford "need to be believed," she added.
On top of this, Hirono demanded last week that American men shut up, and not bother Ford with patriarchal concepts like 'due process' and 'evidence.' Speaking at a press conference with Senate Democrats, Hirono called on the "men of this country" to "just shut up and step up. Do the right thing for a change."
"Guess who's perpetuating all these kinds of actions?" Hirono asked. "It's the men in this country."
"This is so patently unfair to [Ford] and what really bothers me and gets me so angry is that the White House is victimizing this person," she continued, without a note of irony as she unfairly blamed half the country for Ford's alleged assault, then tried to berate them into agreeing with her.
Porn lawyer says Kavanaugh is a gang-raping satanist
Stormy Daniels' lawyer Michael Avenatti is no stranger to the public eye, having used his client's lawsuit against the president to milk over 100 TV appearances and flirt with a run for office in 2020 himself. Still, with Kavanaugh hysteria at fever pitch, the porn lawyer had to turn things up a notch to get noticed this time.
Before locking his Twitter due to claimed that Kavanaugh and his high-school pals would ply women with drink and drugs, then invite a "train" of men to gang rape them, at a house party bedroom-turned-torture-chamber. He told CNN and MSNBC that he had evidence to back up these claims, but would not be revealing it yet, because reasons.
What's more, Avenatti went through Kavanaugh's high-school yearbook and found that if you look hard enough, and maybe bang yourself on the head a few times, there's satanic rape references in there. Really.
Brett Kavanaugh must also be asked about this entry in his yearbook: "FFFFFFFourth of July." We believe that this stands for: Find them, French them, Feel them, Finger them, F*ck them, Forget them. As well as the term "Devil's Triangle." Perhaps Sen. Grassley can ask him. #Basta

— Michael Avenatti (@MichaelAvenatti) September 24, 2018
With the exception of Jimmy Kimmel's penis-torture fantasies, all of the above quotes came from serving or hopeful US politicians. With a still-innocent man forced to appear on TV and degrade himself by claiming he was a virgin until well into college, and with "believe survivors" becoming an unquestionable mantra, Democrats look set to achieve their goal of postponing Kavanaugh's nomination – certainly past October 1, when the Supreme Court reconvenes, and possibly into November, when the party has a fighting chance of retaking a majority in the Senate and nixing the judge's appointment entirely.
Right now, the loudest and most tone-deaf Democrats don't seem to care what damage they do to the presumption of innocence or to their own reputation in the process.
Subscribe to RT newsletter to get stories the mainstream media won't tell you.