'Totally political': Trump defends Kavanaugh amid sexual assault allegations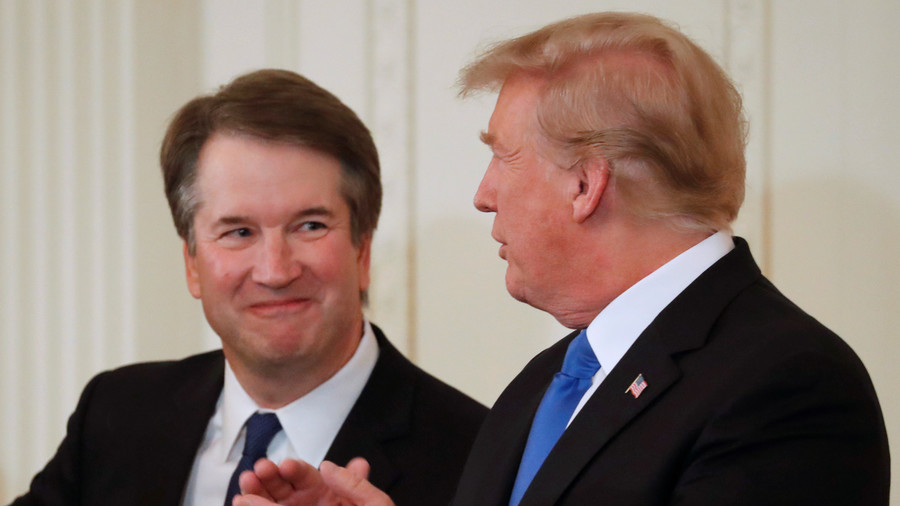 President Trump called allegations of sexual assault against Supreme Court nominee Brett Kavanaugh "totally political," and defended the judge's character, as more conveniently-timed assault accusations continue to surface.
"Judge Kavanaugh is an outstanding person and I am with him all the way," Trump told reporters ahead of a meeting at the United Nations in New York on Monday. "I think it could be — chance that this could be one of the single most unfair, unjust things to happen to a candidate for anything."
Kavanaugh has been accused of forcing himself on Christine Blasey Ford, when the two were at a high school party in the early 1980s. Ford, now a college professor in California, does not remember when or where the incident took place, and her claim was only made public two weeks ago by Sen. Dianne Feinstein (D-California), a lawmaker opposed to Kavanaugh's confirmation from the beginning.
"For people to come out of the woodwork from 36 years ago and 30 years ago and never mention it — all of a sudden it happens. In my opinion, it's totally political," he said.
With the Senate Judiciary Committee still postponing a vote on Kavanaugh's confirmation until Ford's last-minute accusations can be heard out, a number of witnesses named by Ford have stated that the alleged incident never actually took place. Four witnesses, who Ford claims attended the same party, denied any recollection of attending.
Nevertheless, Ford's allegation set off a wave of other similar accusations.
A new allegation was made on Sunday by Deborah Ramirez, who claimed that Kavanaugh exposed his genitals in her face during the 1983-84 academic school year at Yale University. During the incident at the "drunken dormitory party," which happened during their freshman year, the future judge also supposedly forced her to touch his genitals without her consent, the New Yorker revealed.
Like Ford, Ramirez says she has "significant gaps in her memories" about the alleged event, but sat and racked her brains for a week, with her lawyers, and felt confident reporting it, 35 years after the fact.
Not to be left out, porn star Stormy Daniels' lawyer Michael Avenatti said on Sunday that #hetoo is representing a woman with "credible information" on Kavanaugh and his high school classmate Mark Judge, who was allegedly present at the party Ford claims she was assaulted at. He also cranked the details up a notch, alleging that Kavanaugh and classmates would ply women with drugs and alcohol in order to "allow a 'train' of men to subsequently gang rape them."
Kavanaugh has emphatically denied all accusations, leveled at him. Judge too has called Ford's claims "absolutely nuts."
On Wednesday, Trump called the allegations against Kavanaugh "highly unsubstantiated," and said "you should look into the lawyers" representing the accusers. Ford is represented by Debra Katz, a Democrat donor who attended fundraising events for Hillary Clinton alongside Feinstein. In addition, Katz is the vice-chair of the Project on Government Oversight, a group that wrote to Feinstein and Senate Judiciary Committee chair Chuck Grassley (R-Iowa) demanding the committee stall Kavanaugh's nomination until further records could be released.
Ford's legal team also includes Michael Bromwich, a veteran lawyer and committed Twitter-warrior against Trump also representing former FBI #2 Andrew McCabe in a lawsuit against the Department of Justice; Ramirez is represented by Stanley Garnett, a former Democratic district attorney in Colorado; while Michael Avenatti has positioned himself as a leading figure in the anti-Trump #resistance, and has toyed with the idea of running for president in 2020.
Ford and Kavanaugh are both due to testify before the Senate on Thursday, but Democrats have called for the hearing to be postponed in the wake of the new allegations.
READ MORE: Guilty until proven innocent? Dem senator won't say Kavanaugh should have 'presumption of innocence'
Stalling Kavanaugh's confirmation vote past October 1 would see the nominee miss the start of the Supreme Court's term; and stalling it past November's midterm elections could give Democrats a fighting chance of taking back a majority in the Senate and shooting it down entirely.
Until recently, Trump had remained uncharacteristically silent on the accusations against Kavanaugh, and had refused to publicly address Ford by name. On Friday however, the president unloaded on Ford, stating that "If the attack on Dr. Ford was as bad as she says, charges would have been immediately filed." Trump suggested that the convenient timing of Ford's allegation was the work of "radical left lawyers," who want to derail the conservative justice's confirmation.
Think your friends would be interested? Share this story!