'Racially profiled & humiliated': Black candidate busted for dealing politics seeks apology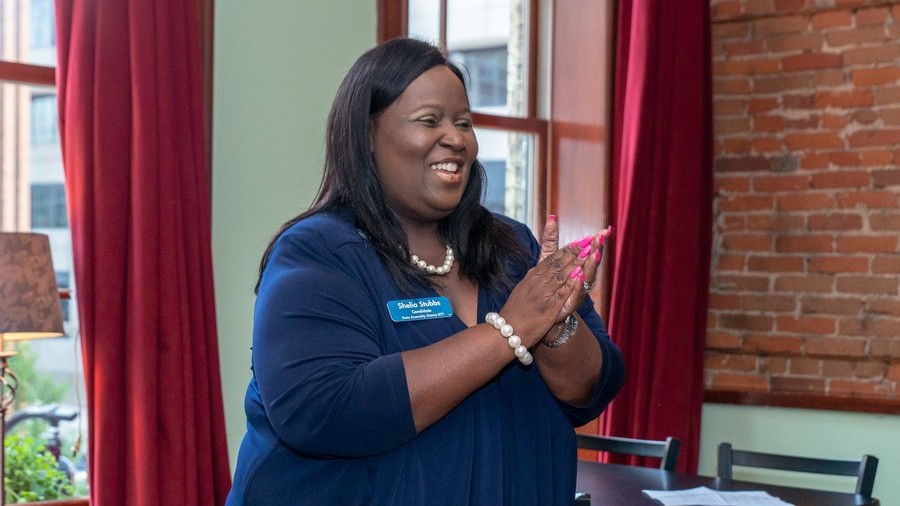 An African-American nominee for the Wisconsin State Assembly told RT that she felt hurt and humiliated after being racially profiled and reported to cops as she was canvassing her electorate in a predominantly white neighborhood.
Ahead of the Democratic primary for a state Assembly seat in Wisconsin's 77th District, Shelia Stubbs was knocking on doors in her neighborhood trying to secure votes in August. As she was campaigning, an anonymous call was placed, notifying the police of a "suspicious vehicle" potentially involved in drug-dealing.
When approached by a patrol officer, the 12-year veteran of the Dane County Board of Supervisors was forced to provide detailed explanations of her activities in the neighborhood. After seeing her name tag and campaign fliers, the police were still unconvinced and questioned her 71-year-old mother to clear the matter. The entire interrogation unfolded in front of her eight-year-old daughter who was patiently waiting with her grandmother inside Stubbs' car.
"I'm definitely a victim of racial profiling and the police was called on me because I was black," Stubbs told RT, calling the police response "insulting" and a "waste of our taxpayers' dollars."
READ MORE: Racist robocalls and Soros funding? Florida governor race turns dirty fast
"My eight-year-old daughter looks at my eyes and says, 'Mom, why don't we belong here?' Why don't they believe us?' and that degraded me and humiliated me. And I was so angry and I was so hurt," she recalled.
READ MORE: 'Racial profiling': Man fired after calling police on black neighbor at pool (VIDEO)
The unpleasant experience has forced the official to halt her campaigning in the neighborhood out of fear that someone might once-again report her to the police. In light of the incident, Stubbs sought justice and an "apology" from the anonymous caller, all while wondering "What does a drug-dealer look like? What does a drug-dealer car look like?"
After securing the Democratic primary vote, Stubbs had vowed to campaign against racial injustice ahead of the November election.
Like this story? Share it with a friend!