30 homes evacuated amid huge gas explosion that 'sounded like plane crash' (PHOTOS, VIDEOS)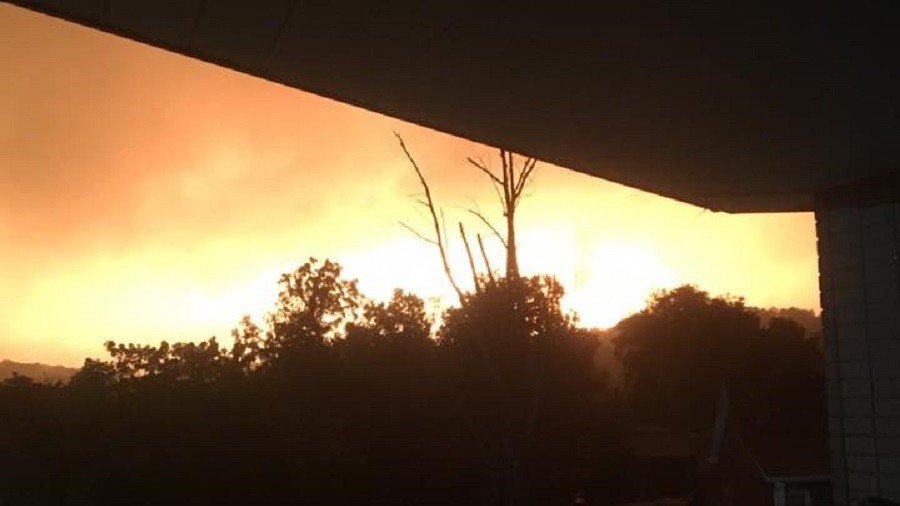 Up to 30 homes were evacuated in the early hours of Monday morning following an huge gas explosion that destroyed one home, two garages and multiple vehicles in Beaver County, Pennsylvania.
Emergency crews fled to the scene at 5am in the area of Ivy Lane in Center Township outside Pittsburgh. Initially responders could not extinguish the natural gas line fire with water, and had to wait for pipeline employees to switch off the valves.
Some 1,800 people were displaced as a result of the explosion. Residents, who reported hearing a blast so loud they thought it a plane had crashed, awoke to an orange-hued night sky filled with smoke and shooting fireballs.
Video footage from the scene shows huge flames from miles away. Center Township Police Chief Barry D. Kramer said in a morning news conference said it was "probably about one of the largest fires I've ever seen".
The blaze caused several high tension power lines to fall in the area, taking down six towers with them, leaving 1,500 people in the region without power. Central Valley School District canceled all Monday classes.
Nobody was injured in the incident however some assistance was needed for evacuees with medical conditions. The fire burned itself out by 7am local time after the valves were switched off, however the cause of the blaze is still under investigation.
You can share this story on social media: