US govt blocks info release on thousands of kittens experimented & killed at Maryland lab – lawsuit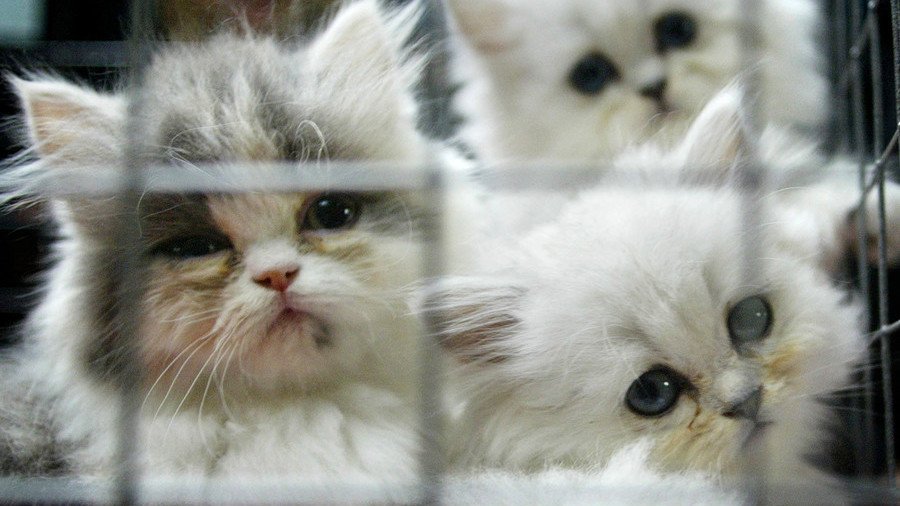 An animal rights group has sued the US Department of Agriculture, claiming it blocked the release of information on a Maryland medical lab that experimented on and euthanized thousands of kittens in past decades.
The lawsuit says the government-funded Animal Parasitic Disease Lab in Beltsville, Maryland, has euthanized thousands of healthy kittens after putting them through experiments related to food-borne illnesses in humans.
Watchdog group White Coat Waste Project wants the US Department of Agriculture (USDA), which runs the lab, to end the experiments and disclose all information about the harrowing tests.
"They kept this project a secret for virtually 50 years and have been fighting tooth and nail [not] to release details about it. We are not going to let them go dark again," said Justin Goodman, the White Coat Waste Project's vice president.
Earlier this year, the non-profit group published a trove of USDA documents saying that around 100 cats were being killed each year at Beltsville. Before being euthanized, the animals are given meat infected with a parasite causing toxoplasmosis – a disease that may lead to birth defects and miscarriages in humans.
Not all kittens become infected with the disease as a result. However, they are still killed instead of being rehomed.
"A total of 2,988 cats have been used in these research efforts that began in 1982," USDA administrator Chavonda Jacobs-Young wrote in a response to an inquiry from Congress in May, according to the Washington Post.
In the lawsuit, White Coat Waste Project says it filed a request for information to the USDA, asking for it to disclose veterinary records, but this has been unsuccessful to date. "The USDA continues to wrongfully withhold the requested records," alleges the lawsuit quoted by the Post.
The Beltsville lab came to light in May of this year when Rep. Mike Bishop (R-Michigan) called to end the inhuman practices. "I'm shocked and disturbed that for decades the USDA – the very organization charged with enforcing animal welfare laws – has been unnecessarily killing hundreds of kittens in expensive and inefficient lab experiments," Bishop said in a statement at the time.
READ MORE: Feline good: Cats given own cellar space in apartment blocks in Russia
Along with Rep. Jimmy Panetta (D-CA), he introduced the so-called KITTEN act, which aims to stop experiments on cats.
Bishop said the government research program, which has been funded since the Nixon administration, needs to be "put under the microscope" and that the kittens are essentially used "as disposable test tubes" in harmful tests that "most taxpayers oppose." He also questioned why the kittens were being killed instead of offered for adoption.
Like this story? Share it with a friend!
You can share this story on social media: