Israel targeted Black Lives Matter in bid to counter support for BDS – censored documentary leak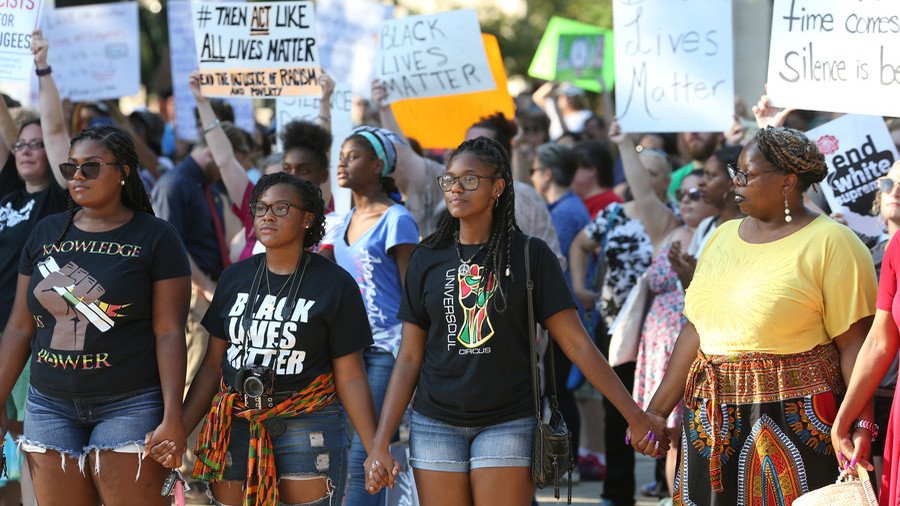 Footage leaked from an explosive, censored documentary on Israeli influence in the US reveals Israeli officials boasting of targeting Black Lives Matter and convincing Martin Luther King's friend to write pro-Israel propaganda.
Black Lives Matter (BLM) adopted support for the international Boycott Divestment and Sanctions movement (which calls on Israel to end its illegal occupation of Palestinian lands) in 2016, thus exposing itself to the Israeli governments' extensive BDS-quashing efforts.
Exclusive footage from Al Jazeera's censored 'The Lobby-USA' documentary released by the Grayzone Project exposes some of these tactics. The long-awaited documentary's release has been stalled for almost a year due to political pressure.
"The major problem with Israel is with the young generation of the black community," Judith Varnai Shorer, Israeli consul general in Atlanta, explains in the footage, before going on to boast of a dinner she held with "very important" black community leaders whom she said can be part of Israel's "activities."
A local media report on that 2016 dinner reveals guests were given a "scroll tied with ribbon," which was a printout of an Alan Dershowitz article accusing BLM of anti-semitism. Dershowitz, who visited Qatar on a free trip in January, was among those calling for the Gulf nation to essentially censor The Lobby documentary, and re-edit it to add "pro-Israel commentators." Upon his return from Qatar, he published a defense of the country, saying it was "becoming the Israel of the Gulf States...subject to boycotts."
READ MORE: Saudi Arabia to turn Qatar into an island by digging massive canal – report
Qatar-funded Al Jazeera's failure to broadcast the US version of the documentary has resulted in segments of the footage being released by the Grayzone Project and Electronic Intifada. These clips have already revealed that right-wing think tanks in the US arranged staged protests at a pro-Palestinian student conference, and that a US billionaire is behind an anonymous website which exposes US students who support Palestinian rights as terrorists.
The latest segment sees Al Jazeera's undercover journalist, 'Tony' attending Israel American Council (IAC) conference, where he hears from Israeli diplomats like Shorer who are concerned about BLM. The IAC is a coalition of a pro-Israel lobby groups which is more right-wing than the powerful American Israel Public Affairs Committee AIPAC.
Andy David, the Israeli consul general in San Francisco, California, tells the group he got Martin Luther King's former lawyer Clarence B Thomas to become an Israeli ally. He boasts that, "because of that relationship, [Thomas] published three articles in the Huffington Post explaining why [BLM's] agenda was hijacked."
"Martin Luther King will turn in his grave if he saw the anti-Israel tendencies or policies that are starting to emerge within Black Lives Matter," David later claims.
Back in 2014, Thomas claimed King would have been a supporter of Israel as he collected an award at the Israeli consulate in New York where he warned of the danger of a 'third intifada' of boycott.
READ MORE: 'Resist apartheid!' Arab Israelis protest controversial 'Jewish nation-state' law (VIDEO)
The footage also reveals that a BLM fundraiser at a nightclub in New York was cancelled thanks to efforts by The Israel Project lobby group's development director Eric Gallagher.
The fundraiser was to be held at Feinstein's/54 Below, but days before the event, the venue announced it was cancelling because BLM's platform opposed Israel. "One of our donors, we just put in a call to him and he put in a call to the place," Gallagher tells Tony.
Like this story? Share it with a friend!
You can share this story on social media: