Manufacturing dissent: Leaked footage reveals US Israel lobby astroturfing student event (VIDEO)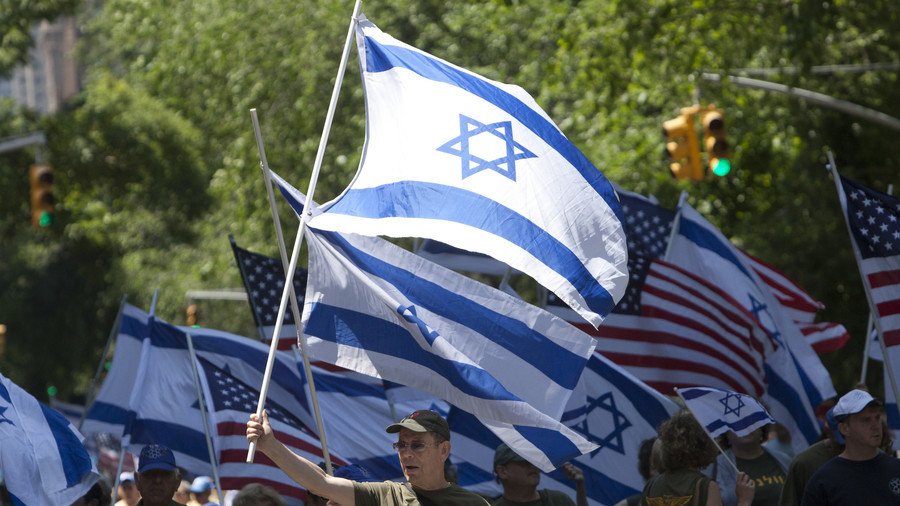 A fake pro-Israel protest manufactured by US-based lobbying groups has been exposed in an exclusive clip from a censored Al Jazeera documentary on Israel's influence in the US.
The release of the much-anticipated US version of undercover documentary The Lobby has been stalled since the UK version, which aired in 2017, revealed Israel's influence within the Labour party and its role in drumming up accusations of anti-Semitism.
The US version is yet to be broadcast, reportedly because of pressure placed on Qatar, which owns Al Jazeera. The delay has prompted segments to be leaked.
READ MORE: Congressmen call for 'foreign agent' tag for Al Jazeera as it 'digs into pro-Israel lobby'
Fake protests revealed
The Grayzone Project's Max Blumenthal released a new segment Tuesday, revealing that US think tanks arranged a fake protest to disrupt a Students for Palestine national conference in 2016. The practice is known as astroturfing and aims to create an illusion of dissent where there is none, in turn creating press coverage to further the agenda of the perpetrators.
READ MORE:Jewish Labour group may take legal action against Al Jazeera over undercover filming
The footage features Noah Pollak, executive director of the Emergency Committee on Israel, along with fellows from the Hoover Institution. A fellow named Marshall reveals Pollak's views on students who support Palestine, recounting how he told them, "Look, there are these jihadis who basically support suicide bombing, and they're on a campus and you have to stop them."
"This is astroturfing," he said, and admitted his boss told him attendance was "mandatory." Marshall also revealed how much he is paid as a fellow when he joked about what people would say if he was exposed.
"They're like, 'Oh, who are these traitors who sold out to the Jewish conspiracy for money?'" he began. "I'm like, 'We did! We cost $50,000 plus benefits."
The video shows the protesters being briefed to stay on message and emphasize that the student group is a "hate group." The staged protest includes Pollak shouting a number of claims about Palestinians, including, "they kill women, they kill children."
READ MORE: Bloodstains & debris: VIDEO inside house where Israeli airstrike killed pregnant woman, her toddler
The footage includes a clip of Pollak explaining that the US is more pro-Israel than the UK, which, he says, "let half of f*cking Pakistan in."
The Lobby reveals US groups work in tandem with elements of Israel's military intelligence and Israel advocates like casino billionaire Sheldon Adelson, the Grayzone Project reports.
Fighting BDS
Israel has gone to great lengths to disrupt support for Palestine and the international Boycott, Divestment and Sanctions (BDS) movement, which calls for an end to Israel's occupation of Palestinian territories.
The country's Strategic Affairs Ministry, dubbed Israel's 'anti-BDS startup,' created a blacklist of 20 international BDS groups, which included Students for Justice in Palestine. It also set up Kella Shlomo, which received $37 million from the government to counter BDS online. Israel also lobbies other countries to pass laws making participation in the boycott illegal, and attempts to silence student support on campuses in the US and UK.
READ MORE: Israel connects BDS with terrorism while cracking down on German banks
An earlier leaked clip from the documentary revealed an anonymous website targeting students for supporting Palestine was funded by Adam Milstein, a US investor and top donor to the Israel lobby.
Think your friends would be interested? Share this story!
You can share this story on social media: