Protests disrupt 2nd day of Kavanaugh confirmation hearings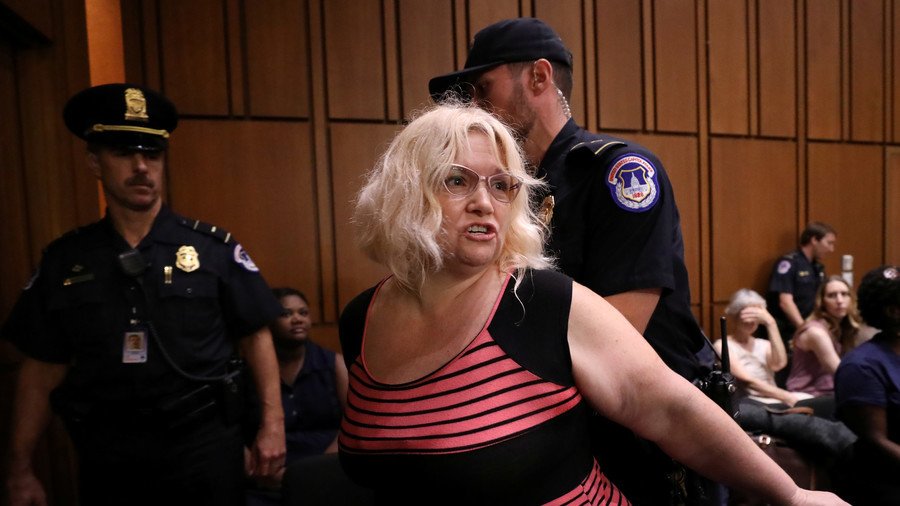 Protesters have disrupted the second day of President Trump's Supreme Court nominee Brett Kavanaugh's Senate confirmation hearings, as the bitter confirmation fight continues.
As the hearings kicked off just after 9:30am, protesters immediately heckled Senate Judiciary Committee Chairman Chuck Grassley (R-Iowa). "The courts are broken," one said as he was escorted out of the room. "They are sadly broken. We need a judiciary that protects the rights of people with disabilities and women."
Another group of women interrupted Grassley immediately afterwards. "This is an illegal hearing," one yelled. "Sham president, sham justice," another chanted, before taking aim at Kavanaugh's pro-Second Amendment stance, shouting "No more NRA justices. Stop the slaughtering of our children."
Kavanaugh's confirmation hearings began on Tuesday, when they were also disrupted by protests. Actress Piper Perabo and Sharia-law advocate Linda Sarsour were both removed for disrupting proceedings. In total, 70 people were removed and arrested for disrupting the hearing.
Tuesday's hearing was also marked by nonsensical furore in #resistance circles over a supposed 'white power' hand sign given by Zina Bash, wife of US Attorney John Bash. The attorney defended his wife, calling the accusations "vicious and idiotic."
On Wednesday, Kavanaugh was slammed by another protester for not shaking the hand of a father whose daughter was murdered in the Parkland school shooting in February. The father, Fred Guttenberg, had been invited to the hearing by anti-gun senator Dianne Feinstein (D-California) on Tuesday and approached Kavanaugh as the hearing broke for lunch. The White House claimed that Kavanaugh did not recognize the "unidentified individual," and that security intervened to move the judge away from Guttenberg.
As Kavanaugh talked about civility on Wednesday, a protester screamed "Civility? You wouldn't shake the hand of a man who lost his daughter!"
Democrats pressed Kavanaugh on his views of the president's executive authority, and on his opinion of Roe v. Wade, the landmark 1973 decision that established the right to abortion. On Wednesday, Kavanaugh reassured them that his loyalty is "to the Constitution," and stressed his independence from Trump. On abortion, the judge said that he considered Roe v. Wade "settled law," and he would not give his opinion on past cases.
Democrats have opposed Kavanaugh from the day Trump announced his selection in July. His predecessor, Justice Anthony Kennedy, was widely considered a moderate and a swing vote, siding with the court's four liberals or four conservatives depending on the case at hand. If successfully appointed, Kavanaugh could tip the balance of the court for years to come.
Republicans hold a thin 50-49 majority in the senate, down from 51-49 after the recent death of Arizona Senator John McCain left one seat vacant. To block Kavanaugh's confirmation, Senate Democrats will need to vote unanimously, and secure the vote of one Republican, or two if Arizona governor Doug Ducey (R) appoints a new senator before the vote. If the vote comes down to a tie, Vice President Mike Pence would vote to break the deadlock.
President Trump praised Kavanaugh on day two of his hearings. "He's an outstanding intellect, he's an outstanding judge," Trump told reporters in the Oval Office. "The other side is grasping at straws and really the other side should embrace him."
Like this story? Share it with a friend!
You can share this story on social media: