'Who are you man?' Marco Rubio gets into heated exchange with interview-crashing Alex Jones (VIDEO)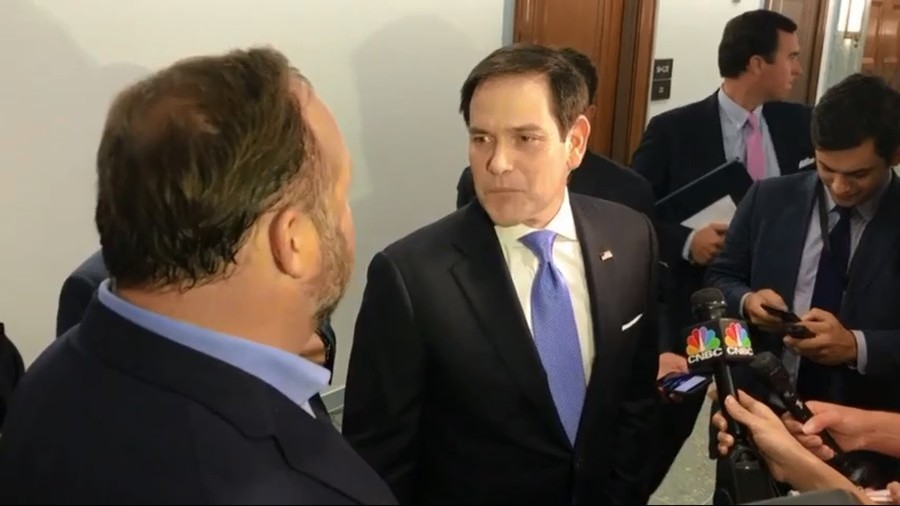 An interview with Senator Marco Rubio on the sidelines of a hearing about social media was disrupted by the recently deplatformed conservative speaker Alex Jones, who apparently came to complain about political bias of big tech.
The Florida Republican was answering questions by journalists when Jones, the man behind the controversial show Inforwars, interjected. US companies like Facebook and Twitter were silencing conservative voices and are no better than the government of China, he argued.
Rubio apparently trolled Jones by claiming he didn't recognize the man. The encounter then went down to the level of taunts, after Jones patted the senator on the shoulder.
"Don't touch me again, man," Rubio said. "I'm asking you not to touch me again."
"I was just patting you nicely," Jones responded. "What, you want me to get arrested?"
Wow, this video. Alex JONES calls RUBIO a "frat boy" and touches Rubio on the shoulder. Rubio tells Jones not to touch him and that he won't be arrested because I'll "take care of you myself."https://t.co/AGRMrDBMGa

— Kyle Cheney (@kyledcheney) September 5, 2018
"You're not going to get arrested. I'll take care of you myself."
The exchange was filmed by several news cameras and widely shared on social media.
If you like this story, share it with a friend!
You can share this story on social media: