'Photo coming soon': White House coin marks Trump-Putin Helsinki summit as 'historic moment'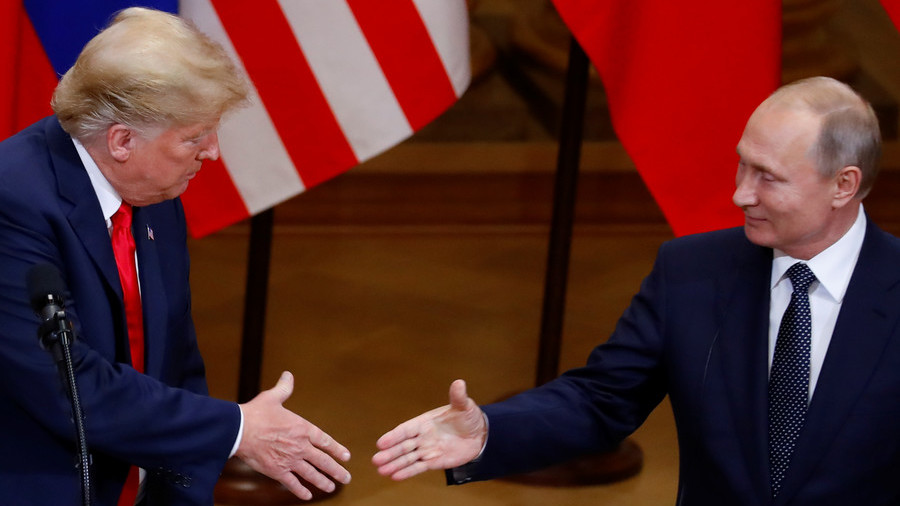 Although US President Donald Trump has come under fire for daring to have a conversation with Russian President Vladimir Putin, the White House is making no apologies. It's even released a commemorative coin marking the event.
The "Kremlin Summit in Helsinki" coin has been listed on the White House gift shop website for $100. However it can be purchased as a 'Deal of the Day' for $49.
The coin is part of the "Historic Moments" series, which is misspelled as "Historic Momements" on the official White House website. The series will "chronicle in coin and ornamental art the entire presidency of President Donald J. Trump in world historic acts of leadership."
But anyone looking to purchase the coin immediately will have to just hope it turns out to be 'big and beautiful,' as the White House website merely says "photo coming soon."
However, the ever-leaking New York Times appears to have revealed the design on Twitter, with journalist Kenneth Vogel noting that it does not include the faces of Trump or Putin.
The commemorative coin comes at a time when some Western countries, Trump critics at home and various Russophobes continue to slam Trump for meeting with Putin. Some have gone so far as to accuse Trump of "treason" for speaking with the Russian leader in Helsinki in July.
Democratic senators have also requested translation notes from the meeting, which was only attended by the two leaders and their respective translators. That call has been sharply rejected by Republicans in Congress who say it would set a bad precedent and block future presidential diplomatic efforts.
Trump, however, hasn't wavered in his defense of the summit. "The world wants to see us get along," he said just moments before the closed-door meeting. "Getting along with Russia is a good thing not a bad thing."
Other coins in the "Historic Moments" series include three coins commemorating Korea peace talks and Trump's summit with North Korean leader Kim Jong-un in Singapore, one on the US Space Force, a Christmas Greetings coin, and one called "Genius Makes its Own Rules" with a monograph titled "President Donald J. Trump: A Study in Genius."
Like this story? Share it with a friend!