Democratic senators ask Pompeo for translator's notes from Trump-Putin meeting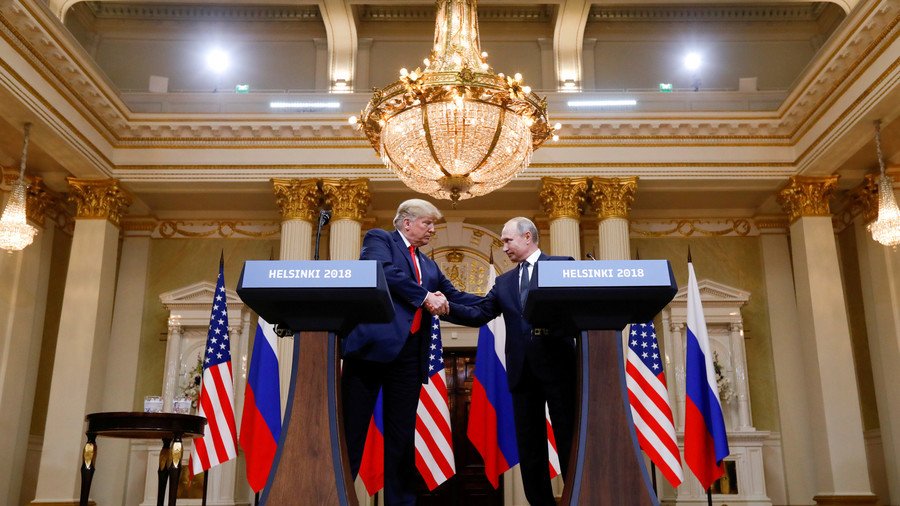 Democratic senators are requesting translation notes and other materials related to Donald Trump's two-hour meeting with Russian President Vladimir Putin in July, saying the summit requires "urgent congressional oversight."
The request was made in a letter sent to US Secretary of State Mike Pompeo on Friday by Sen. Bob Menendez (D-NJ) and Sen. Jeanne Shaheen (D-NH) on the Senate Foreign Relations Committee, in which they, unsurprisingly, found a way to turn Moscow into the villain.
"Russian officials have taken advantage of the lack of communication by the White House to circulate their own, possibly false, readouts of what occurred in this private meeting," they wrote.
In addition to translation notes, the two are also seeking cable traffic, memos, and policy directives related to the meeting in Helsinki, which was only attended by the two leaders and translators from each side.
It's not the first time that Trump's translator has come in for the Democrats' anger surrounding the meeting with Putin. In July, congressional Republicans rejected Democratic calls to summon the translator, saying it would block future presidential diplomatic efforts.
"That would be the last time you ever have a foreign leader meet with a president of the US privately," Sen. Lindsey Graham (R-SC), himself a frequent critic of Trump, told Politico. "I can't imagine how that would affect future presidents in terms of their ability to talk to foreign leaders."
Sen. Bob Corker (R-TN), chair of the Foreign Relations Committee and another Trump critic, said at the time that summoning the translator would set a bad precedent. "If we are going to start getting translator's notes, I think we are moving to a precedent that – unless some crime has been committed – is unprecedented and just not appropriate," he said.
Trump has faced widespread criticism over the meeting with Putin, which began before either leader even arrived in Helsinki. The US president's critics branded him "traitor-in-chief" and accused him of treason on Twitter, while claiming the meeting was an "unconditional surrender" to Putin, his so-called "puppet master."
Despite the ongoing criticism, the US president has remained steadfast, insisting that it's a good thing –not a bad thing – to have friendly relations with Russia and other countries. Following the meeting with Putin, Trump tweeted that "some people HATE the fact that I got along well with President Putin of Russia. They would rather go to war than see this. It's called Trump Derangement Syndrome."
Like this story? Share it with a friend!
You can share this story on social media: