'We'll do just fine:' Trump says he might end up in 'good relationship' with Putin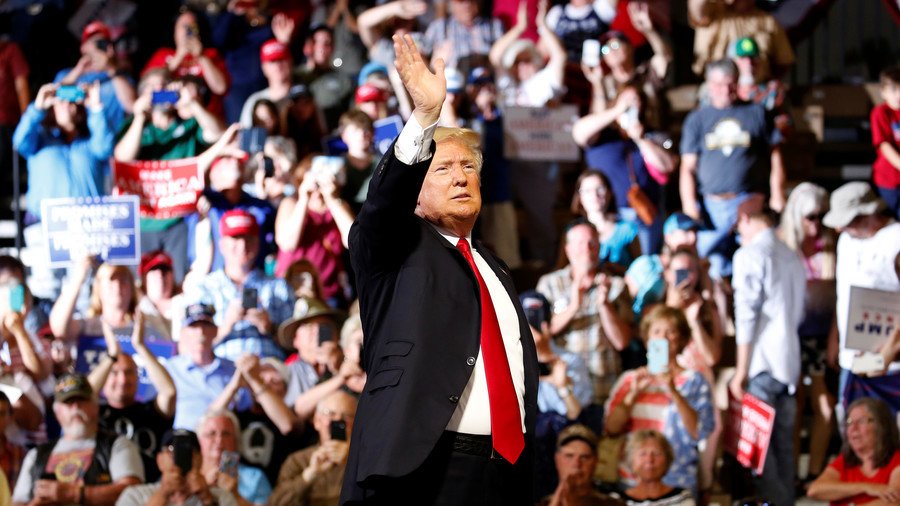 President Trump has lashed out at critics of his decision to meet with Russian President Vladimir Putin, saying that "it's a good thing" to have good relations with all nations, including Russia, and that Putin himself is "fine."
Trump touched on his upcoming summit with Putin in Helsinki as he was speaking at a pep rally in Montana on Thursday.
By mentioning the July 16 meeting, the first one between the two leaders that won't be taking place on the sidelines of any other event, Trump sought to defy those accusing him of being "angry" at NATO and cozying up to Russia. He insisted that it's only normal to seek mutually beneficial relations with all countries.
"I am meeting with President Putin next week and getting along — let me tell you, getting along with Russia and getting along with China and getting along with other countries is a good thing. It's not a bad thing. It's a good thing," Trump told the cheering crowd in Great Falls.
He also dismissed the notion that the meeting will hurt US interests due to his purported diplomatic ineptitude.
"Well, Putin is highly prepared. And Trump, will he be prepared for the meeting? Trust me, we'll do just fine," Trump said, slamming his critics as "bad people" that are spreading "fake news."
And, in what Trump's critics will likely see as an act of national treason, he and Putin "might even end up having a good relationship."
"But they're going 'will President Trump be prepared? You know, President Putin is KGB.' And this and that. You know what? Putin's fine," Trump summed up.
Trump has been taking heat for his planned summit with Putin, with Democrats presenting it as the ultimate proof of his collusion with the Kremlin, despite the fact that the ongoing investigation led by FBI Special Council Robert Mueller has uncovered no trace of that.
Trump has been branded "traitor-in-chief" on Twitter for agreeing to meet the Russian leader, and his visit has been called an "unconditional surrender" to his supposed puppet-master.
It is clear. This visit by 7 US Senators & the July 16 visit by @realDonaldTrump is an unconditional surrender of our nation's sovereignty to Putin. Only other reason to meet would be to make clear our intention to retaliate for cyber attacks.#Impeach45#TraitorInChief

— Eric Alexander (@ericthered88) July 5, 2018
Trump's National Security Adviser John Bolton, who recently returned from a visit to Moscow, was forced to address the allegations, saying that claims that "a meeting between President Trump and President Putin would somehow prove some nexus between Trump campaign and the Kremlin" is "complete nonsense."
Trump is not the only one who has come under fire but also a group of Republican Senators who arrived in Russia for preparatory talks. Democratic party supporters have argued that their visit, which extended to July 4, also amounts to treason, as they "chose" to spend Independence Day in Russia.
You can share this story on social media: