'These are violent people': Trump warns Christians of consequences if GOP loses midterms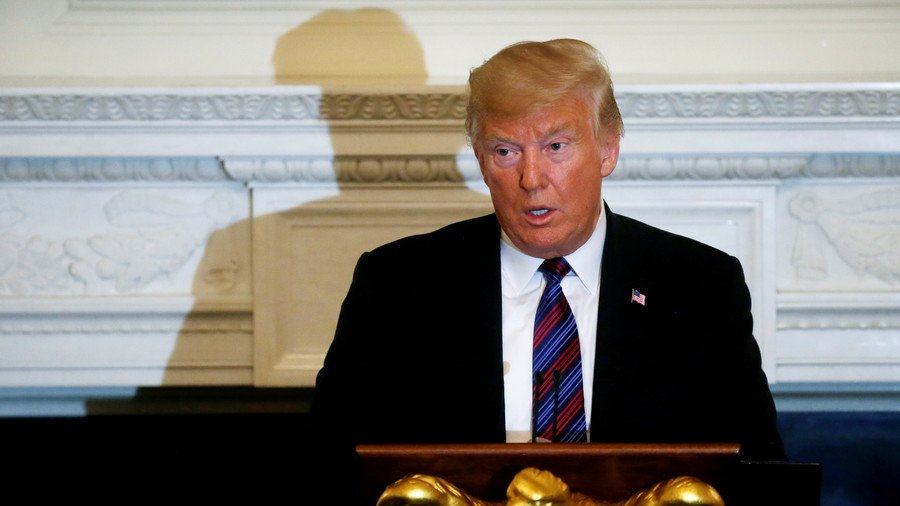 In a hotly contested election season, marked by confrontations and a widening divide between the left and right, President Trump fired up his evangelical base with a warning: "you're one election away from losing everything."
In a speech to a collection of evangelical Christian leaders Monday night, Trump warned them to get out and vote Republican in November. If they don't, he cautioned, Democrats "will overturn everything that we've done and they'll do it quickly and violently," reported the New York Times, citing a recording of the private event.
It is unclear what form that this violence would take, or who would carry it out, but Trump warned the faithful that the left "will end everything immediately."
"When you look at antifa, and you look at some of these groups, these are violent people," he said, referring to the militant leftist group that has gained national attention for its violent protests, usually during right-wing rallies, as well as its harassment of conservative figures.
"I just ask you to go out and make sure all of your people vote," Trump said. "If they don't vote we're going to have a miserable two years and we're going to have, frankly, a very hard period of time because then it just gets to be one election — you're one election away from losing everything you've got."
The White House declined to elaborate on what Trump might have meant by his comments. Trump's manner of speaking is often vague, and his statements rambling. The president is known to go off-script, and to make claims that are later walked back by White House officials.
Trump's opponents saw his Monday night speech as proof that the president is fear-mongering to his Christian supporters. One commenter wondered whether Trump's allusion to violence was a "worry, warning or wish?"
8. Thus, when Trump speaks of "religious liberty," he is speaking of giving evangelicals free rein, including to discriminate against others. That's also their definition of "religious freedom." Others don't count. This is Christofascism, and it is in power. #EmptyThePewspic.twitter.com/9DCLURdczW

— Christopher Stroop (@C_Stroop) August 28, 2018
. @realDonaldTrump You warned the evangelicals that if Dems take over Congress in the midterms: "They will overturn everything that we've done and they'll do it quickly and violently. And violently. There's violence." Was that a worry, warning or wish? https://t.co/TekxpyjroJ

— Charles M. Blow (@CharlesMBlow) August 28, 2018
How many times a day does Trump have to prove he's a thug? Reports: Trump warned evangelical leaders of 'violence' from the left if Republicans lose the midterms https://t.co/vIEHsPBcYW

— Jeffrey D. Sachs (@JeffDSachs) August 29, 2018
Monday night's dinner event was a who's who of Christian celebrities, like Robert Jeffress – a Texas megachurch preacher who once called Islam a "false religion inspired by Satan himself," and the Catholic Church a "cult" whose rise to power was attributed to "the genius of Satan." Some more left-leaning pastors, however, took offense to Trump's speech.
"America needs to push back these unhinged people, for disparate humanity's sake," tweeted liberal pastor and former Hillary Clinton cheerleader John Pavlovitz. Another pastor, Matteo Carr, compared Trump to a mob boss shaking down businesses for protection money.
Dear Everyone Who is Not a Right Wing Zealot,#VoteBlue.America needs to push back these unhinged people, for disparate humanity's sake.Register.Get others registered.Confirm registration.Vote.https://t.co/tOjfPemQuO

— John Pavlovitz (@johnpavlovitz) August 28, 2018
"You need my protection" is what the mob boss tells the fearful and desperate business owner, who concludes that compromise is better than the unknown - that surely the price won't be too high. "You're one election away from losing everything you've got" - DJT to evangelicals

— MJC (@matteocarr) August 29, 2018
Incendiary or not, Trump's speech took place at a time of growing division in the US. Clashes between the left and right have spilled off online forums and into the streets, and Trump's controversial policy decisions, particularly his 'zero tolerance' immigration policy, energized and provoked a fierce response from the left earlier this summer.
The president's words on Monday echoed the words of his attorney, former New York City Mayor Rudy Giuliani, who claimed earlier this week that Americans would "revolt" if Democrats were to impeach Trump "for political reasons." Earlier, Trump himself warned that the stock market will crash if lawmakers decide to remove him from office. "If I ever got impeached, I think the market would crash. I think everybody would be very poor," the president said in an interview with Fox News.
Keen to avoid any chance of impeachment, Trump urged the Christian leaders to pound the pulpit for Republican candidates in November, and boasted that he had stricken down a law that prohibits churches from campaigning for political candidates. Churches who violate the law, known as the 'Johnson Amendment', can be stripped of their federal tax exemption.
Trump did not actually repeal the law, but did sign an executive order asking the Treasury Department to be lenient in enforcing it. Thousands of clergy and preachers have violated the Johnson Amendment since 2008, but only one has been investigated, and none punished according to the Alliance Defending Freedom.
Like this story? Share it with a friend!
You can share this story on social media: