Internet fawns over 'blue dress hero' who sprinted out of courthouse after Manafort verdict (VIDEO)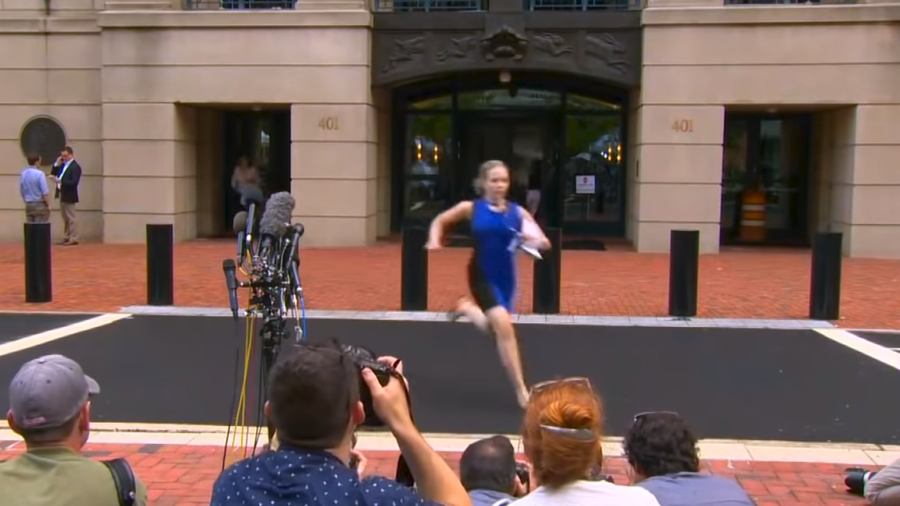 An unlikely hero has emerged in the wake of Paul Manafort's trial, with the internet fawning over an NBC intern in a blue dress who was filmed sprinting out of the courtroom to report the breaking news.
Phones were not permitted in the courtroom, so when Donald Trump's former campaign manager, Paul Manafort, was convicted on eight counts of tax and bank fraud, it was up to nimble interns and able-bodied journalists to relay the verdict on foot.
Enter Cassandra Semyon, an intern for NBC News who was caught on camera zooming out of the courthouse in Alexandria, Virginia in a blue dress and sandals. Videos and even photographs that were later featured on the front page of several newspapers documented Semyon's mad dash, making her an overnight sensation and prompting the question, "Who is the woman in the blue dress?" The mystery didn't last long, however – she quickly identified herself on Twitter.
Semyon quickly found herself lavished with praise on Twitter: "I'm going as 'journalist in blue dress after Manafort trial' for Halloween. And no, it isn't just so I don't have to wear heels," one fan wrote. "BLUE DRESS IS MY NEW SUPERHERO," declared another.
Her energetic sprint also sparked interest from employers, and even led to calls for a sportswear sponsorship.
"Who does that woman work for? I want to hire her," one Twitter user inquired. "Excellent form! You should get a Nike deal," another comment beamed. "Get that woman in the blue dress a promotion!" demanded another.
The intern – who said her impressive sprint was the result of her high school cross-country running years – even received an on-air shout-out from her boss, NBC's Andrea Mitchell.
Actually, there wasn't anything particularly noteworthy about Semyon's sprint. In the same video feed, more than a dozen people are seen running in and out of the courthouse before Semyon flies by the camera. It was likely the intern's impressive hustle – coupled with her eye-catching blue dress – which sealed her fate as a viral sensation.
Like this story? Share it with a friend!
You can share this story on social media: