Mind Blown: Russian ambassador torches seized cocaine at Argentinian cemetery in bizarre VIDEO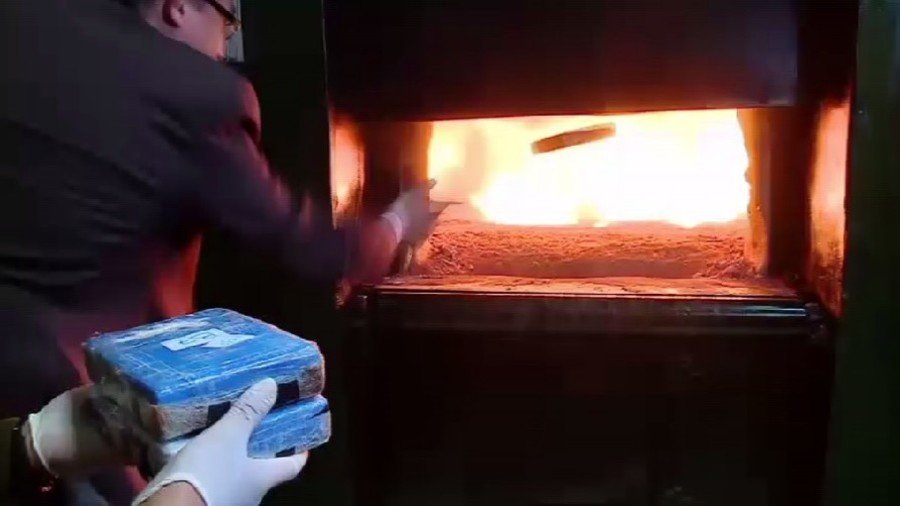 It looks more like a scene from a bizarre drug-cartel action movie, but the Russian ambassador and top Argentinian officials did gather at a crematorium in a Buenos Aires cemetery to incinerate 400kg of cocaine.
The thick white smoke billowing above the La Chacarita cemetery on Tuesday had nothing to do with funeral services. Russian envoy Dmitry Feoktistov, Argentinian Security Minister Patricia Bullrich and National Gendarmerie Director Gerardo Otero were all at the crematorium, wearing surgical masks and tossing dozens of packages of drugs, worth millions of dollars, into the incinerator.
The occult-looking gathering was far from secret, with many cameras present, as it was actually the product of a joint Russian-Argentinian operation earlier this year.
In February, a massive delivery of 389kg of cocaine from Argentina to Russia was thwarted by the security agencies of both nations. Just a few months prior to the operation, several bags packed with blow were discovered by shocked staff in one of the Russian embassy buildings in Argentina.
¿Qué se hace con la droga que se incauta?👉Se incinera. Esta vez, destruimos los 389 kilos de cocaína decomisados en la embajada rusa tras un operativo en el que se desarticuló toda una organización, tanto en Argentina como en #Rusia. ¡Mirá el video! pic.twitter.com/X8udvckaNk

— Ministerio Seguridad (@MinSeg) 21 августа 2018 г.
The Russian diplomats informed Argentinian police of the find and a cunning plan to bring down the smugglers was swiftly conjured. The cocaine was replaced with flour and sent to Russia where two men were detained by Russia's Federal Security Service (FSB) as they came to pick it up. Two more arrests were made in Argentina in connection with the case.
A former technical worker at the Russian embassy in Argentina, who is suspected of being the mastermind behind the whole drug-trafficking scheme, was extradited to Russia from Germany in late July.
READ MORE: 400kg of flour: Cocaine smugglers busted in tricky Argentine-Russian anti-drug op
"The active part of the operation to stop the supply of drugs is over, but we certainly hope that this is the start of new cooperation between Russia and Argentina," Feoktistov said, as cited by TASS.
Like this story? Share it with a friend!
You can share this story on social media: