400kg of flour: Cocaine smugglers busted in tricky Argentine-Russian anti-drug op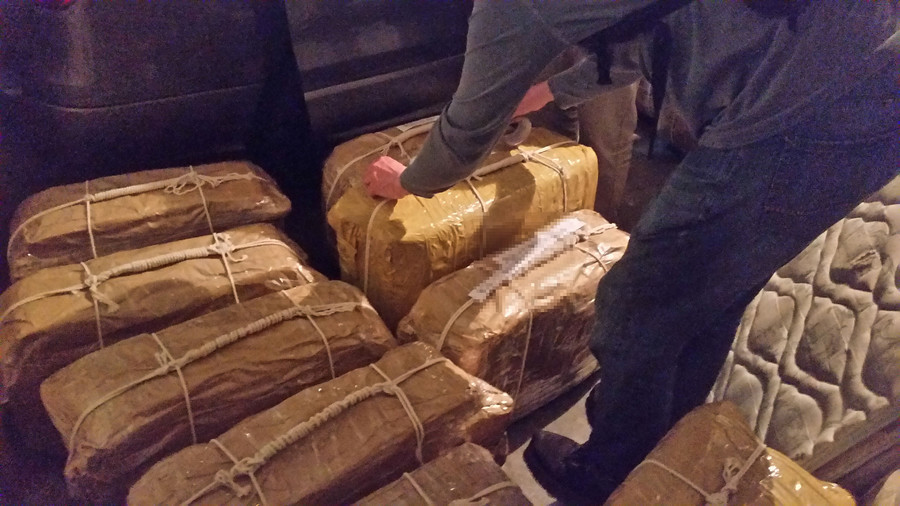 In an unprecedented joint Argentine-Russian police operation straight out of a Hollywood blockbuster, six people have been arrested for trying to smuggle over $60mn worth of cocaine out of Argentina to Moscow.
Back on December 13, 2016, Russian Ambassador to Argentina, Viktor Koronelli, personally alerted Argentinian Minister of Security, Patricia Bullrich, of a discovery of suspicious packages in the school annex of the diplomatic mission in Buenos Aires. Argentine authorities wasted no time, dispatching a team of experts by 11pm to check the contents of the 12 suitcases discovered by the Russians.
It was the beginning of an investigation that lasted more than a year and was full of cinematic edges. After receiving confirmation at 2am that same night that the bags were full of pure cocaine, totaling some 389 kg (858 pounds), Bullrich, who accompanied a team of Argentine experts to the embassy, instructed the Gendarmerie team to run to the Central Market to buy some 400 kilos of flour. Argentine authorities knew that they only had until 6am before staff began arriving for work. The next four hours were spent by the team replacing the cocaine with flour and placing a GPS tracker inside.
"We placed a tracking device in each bag and a monitoring center was placed in the gendarmerie with cameras that were on 24 hours-a-day so that we could monitor what was happening," Bullrich revealed to the press on Thursday.
Following the switcheroo, Russian and Argentine authorities engaged in a long investigation into the case. "It is an unprecedented work in the history of Argentina, where there was a permanent collaboration between the Russian Embassy and the entire Government, to disrupt the criminal organization," Bullrich noted.
La investigación duró más de un año, tanto en Argentina como en Rusia, y juntos detuvimos a 6 integrantes de esta asociación que pretendían trasladar un cargamento de más de 50 millones de euros. pic.twitter.com/qWIoP3BpW6

— Patricia Bullrich (@PatoBullrich) February 22, 2018
When the shipment finally reached Moscow, the Russian Interior Ministry was ready to act, arresting three people. Back in Argentina, authorities struck the remaining known members of the drug trafficking group, arresting two more people. One other person involved in the plot is still on the run, Bullrich said. According to her, the drugs, worth over €50 million ($62 million), were presumably of Colombian origin and were headed to Europe.
"We also know that in Russia the drug is very expensive," she said. "It could be [for] the Russian World Cup, or it could be for normal consumption and we also think that there is a member of the organization in Hamburg and he wanted to take a part to Germany."
A maintenance staff member at the Russian embassy, detained by the Argentine police, neither had a diplomatic passport nor access to the processing of diplomatic mail, said Russian Foreign Ministry's spokeswoman Maria Zakharova, denying media reports that the criminal gang could have used diplomatic channels to smuggle drugs.
If you like this story, share it with a friend!
You can share this story on social media: