'Other things' in Iran? Bolton says regime change 'not US policy,' but has more tricks up his sleeve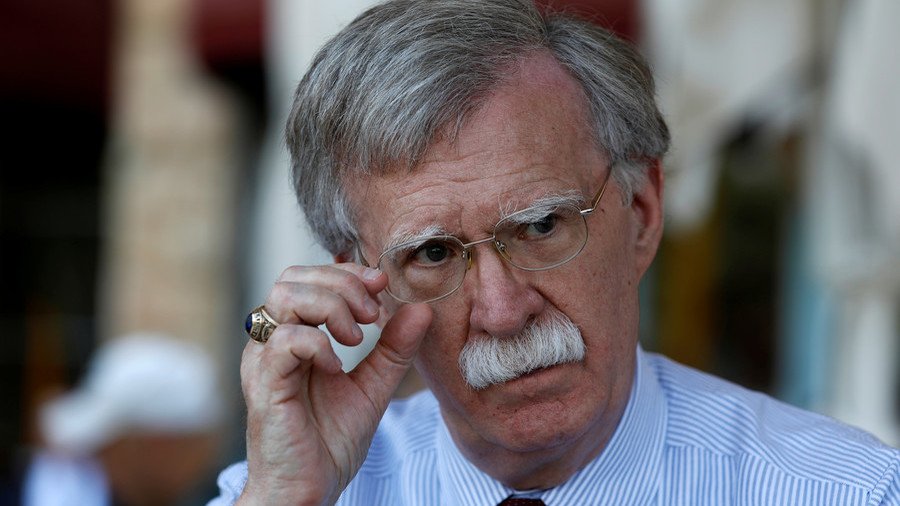 National security advisor John Bolton declared that regime change in Iran is not a US objective. But he did promise to hit Tehran with sanctions and "other things." So where does pressure end and regime change begin?
"Let me be clear, the reimposition of the sanctions, we think, is already having a significant effect on Iran's economy and on, really, popular opinion inside Iran," Bolton told reporters while on a visit to Jerusalem.
But when asked what the US' endgame is in Iran, Bolton claimed that the Ayatollah's regime is safe: "Just to be clear, regime change in Iran is not American policy. But what we want is massive change in the regime's behavior," he replied. "We are going to do other things to put pressure on Iran as well," he added, not specifying what those might be.
Despite Bolton's assurances, it is hard not to recall his speech to dissident Iranian exiles in Paris last year. Then, Bolton promised that "the Ayatollah Khomeini's 1979 revolution will not last until its 40th birthday," in February 2019, adding that "the only solution is to change the regime itself." He also said that members of his audience then, the People's Mujahedeen, or MEK, were a "viable" alternative to the current Iranian government.
With Iran already feeling the squeeze after one round of sanctions, with its currency plunging and foreign firms under pressure, another is due to be imposed this November, targeting Iran's oil revenue and banking sectors.
"So we will see what plays out in November," Bolton said. "But the president has made it very clear - his words - he wants maximum pressure on Iran, maximum pressure, and that is what is going on."
So what are those 'other things'?
While Bolton did not elaborate on what he meant by "other things," he was more than likely referring to the US State Department's creation of the Iran Action Group last week. Although dismissed as a sheer coincidence, it was announced on August 16, the 65th anniversary of the CIA coup that overthrew Iran's democratically elected Prime Minister, Mohamed Mossadegh.
While again targeting Tehran's "behavior", the US' endgame might not be dissimilar to the historic precedent. Secretary of State Mike Pompeo said its goal is to address Iran's "hostile activity and support the Iranian people," by means of sponsoring opposition groups within Iran, and emboldening ongoing protests.
All of this amounts to a deliberate push for regime change, Iranian political scientist Kaveh Afrasiabi told RT.
"As the saying goes, if it talks and walks like a duck then it's a duck," he said. "Regime change as an approach by the current US administration against Iran can be easily inferred from the totality of utterly hostile, and illegal, policies that seek to economically paralyze Iran."
American politician and Middle East analyst Paul Heroux draws a distinction between "pressure" and regime change, though he adds that the end result can often be the same.
"Regime change is resisted in every country in the world," he told RT. "It is more difficult to gain international support for regime change, but obtaining pressure with the goal of changing behavior is less difficult."
Whether the US wants full regime change or wants to turn up the heat, the Iranian government is putting on a brave face, with Iranian Foreign Minister Javad Zarif swearing that his country would "never again" be usurped through "pressure, misinformation & demagoguery."
65 years ago today, the US overthrew the popularly elected democratic government of Dr. Mossadegh, restoring the dictatorship & subjugating Iranians for the next 25 years. Now an "Action Group" dreams of doing the same through pressure, misinformation & demagoguery. Never again. pic.twitter.com/ic3o652awn

— Javad Zarif (@JZarif) August 19, 2018
The US has not just been waving the economic hammer at Iran, but also at its own European allies. Earlier this month President Trump warned that "anyone doing business with Iran will NOT be doing business with the United States."
The Iran sanctions have officially been cast. These are the most biting sanctions ever imposed, and in November they ratchet up to yet another level. Anyone doing business with Iran will NOT be doing business with the United States. I am asking for WORLD PEACE, nothing less!

— Donald J. Trump (@realDonaldTrump) August 7, 2018
While the leaders of the EU may be keen to salvage the Iran nuclear deal, even calling this week for Europe to set up alternative payment systems to persuade Iran to remain committed, financial pressure might well dictate otherwise. Trade between the EU and Iran is worth just over $10 billion per year, while trade with the United States is worth $1.1 trillion per year – the largest bilateral relationship in the world.
"Most countries will choose to do business with the US because the international reserve currency is the dollar," Heroux believes. "The problem with this approach is that the US is accelerating the demise of the dollar as the international reserve currency."
Trade with the EU accounts for more than 16 percent of Iran's foreign trade. Cutting this off would deal a heavy blow to Iran's economy.
READ MORE: Pompeo vows to 'enforce' Iran sanctions as 90-day grace period ends
"Trump expects the sanctions and new economic hardships to make the Iranian people revolt and topple the government together with the entire political system," Vladimir Sazhin, Senior Research Associate at the Russian Academy of Sciences' Institute of Oriental Studies, told RT earlier in July. He added that the US president is "wrong" and does not adequately understand Iranian society.
An economic downfall might indeed weaken Rouhani's government, but would be unlikely to lead to any system changes. Instead it would strengthen the Iranian president's rivals – Iranian hardliners, who harbor extremely anti-American views and who would make any potential negotiations impossible.
"Instead of treading the ruinous path of war with Iran, a prudent US policy is desperately needed, one that would engage Iran in meaningful diplomacy, which is sadly lacking today," Kaveh Afrasiabi concluded.

Subscribe to RT newsletter to get stories the mainstream media won't tell you.
You can share this story on social media: