Fear Trump will pardon Manafort? See what pardon king Clinton and these other decision makers did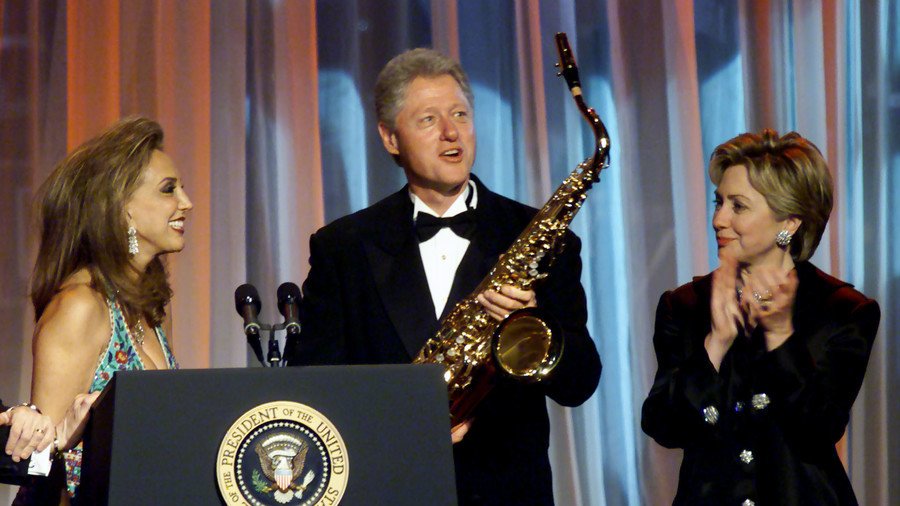 With Paul Manafort facing decades in prison, commentators warn that Donald Trump may exercise his power to pardon convicted felons in order to let his former associate off the hook – following in the footsteps of Bill Clinton.
On Tuesday, a jury in Virginia convicted Manafort, Trump's former campaign chair, on eight federal felony charges carrying a combined sentence of up to 80 years.
The news was met with jubilation in #Resistance circles, but some media outlets and Twitter pundits were quick to predict that Trump might pardon Manafort – leading to breathless screeds about the president.
"Any effort to pardon Michael Cohen or Paul Manafort in and of itself would be a gross assault on the rule of law, and constitute high crimes and misdemeanors," Democratic Senator Ron Wyden tweeted on Tuesday.
Michael Cohen's crimes go right to @realDonaldTrump. These crimes helped Trump win the election. Any effort to pardon Michael Cohen or Paul Manafort in and of itself would be a gross assault on the rule of law, and constitute high crimes and misdemeanors.

— Ron Wyden (@RonWyden) August 21, 2018
But Manafort would hardly be the first high-profile criminal to receive a highly-suspect pardon from a US president and a Manafort pardon would not be unprecedented due to the president's "links" with the criminal. After all, Bill Clinton pardoned his own half-brother.
Indeed, if Trump wants a lesson in sketchy pardoning, he should get on the phone with former president Clinton – who issued 396 pardons during his tenure, 140 of which were issued on his last day in office. One of his most high-profile, last-minute pardons was even investigated by none other than James Comey, who very sportingly found no wrongdoing on Clinton's part.
Bill Clinton - the king of pardons
When it comes to pardons, no one beats Bill Clinton. The former president pardoned two Democratic congressmen during his tenure. Congressman Dan Rostenkowski was pardoned after serving 13 months of a 17-month sentence for embezzlement. Another lucky Democratic congressman, Mel Reynolds, was pardoned by Clinton after being convicted of bank fraud, 12 counts of sexual assault of a child, obstruction of justice, and solicitation of child pornography.
Clinton also pardoned his own half-brother, Roger Clinton, for a drug conviction. However, a year later, Roger was arrested for drunk driving and disorderly conduct.
Perhaps Clinton's most high-profile pardon is the curious case of Marc Rich, a businessman who owed $48 million in taxes and was charged with 51 counts of tax fraud. He received a pardon from Clinton hours before the president was due to leave office – and after Rich's former wife made sizeable donations to both the Clinton Library and to Hillary Clinton's New York senate campaign.
Ford pardons Nixon
After Richard Nixon resigned as a result of the Watergate scandal, his successor, Gerald Ford granted him a full and unconditional pardon less than a month later. The pardon was highly controversial, and critics claimed that the two men must have struck some kind of "corrupt bargain." Ford's approval rating tanked after he issued the pardon, and it would come back to haunt him two years later, when it was cited as one of the reasons he lost the 1976 election.
'Tricky Dicky' pardons everyone
Richard Nixon is most famous for receiving a pardon, but was also a prolific giver. In his five and a half years in the White House, 'Tricky Dicky' pardoned no less than 863 Americans, and commuted the sentences of another 60. On one day in 1970, Nixon signed a whopping 82 pardons, more than George HW Bush signed during his entire presidency. While Bill Clinton issued pardons with barefaced audacity, Nixon has him beaten in the numbers game. Among those pardoned by Nixon was legendary fraudster Jimmy Hoffa. By contrast, Trump has only issued a paltry seven pardons, rookie numbers compared to his predecessors, especially compared to Andrew Johnson almost a century before.
Johnson pardons the Confederates
When Andrew Johnson took office in 1865, after the assassination of Abraham Lincoln, it was widely assumed that the new president would punish the southern states for instigating the Civil War. Wrong. Johnson picked up his pen and signed 12,652 pardons. The following year he granted Confederates a Christmas present, offering them "[unconditional] . . . amnesty for the offense of treason against the United States or of adhering to their enemies during the late civil war, with restoration of all rights, privileges, and immunities."
Furious at his policies, Republicans moved to impeach Johnson on unrelated charges, but he was acquitted and held office until 1869.
Like this story? Share it with a friend!

You can share this story on social media: