Super-hawk John Bolton and 'Agent Butina' connection is the Democrats' new Russiagate target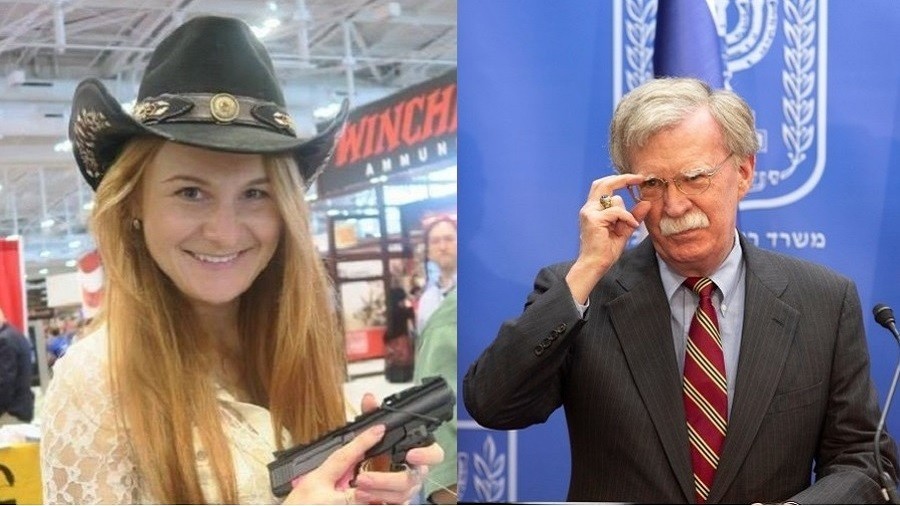 More than eighteen months into Russiagate and with little evidence of 'collusion' between Donald Trump and Russia coming to light, Democrats seem to be scrambling for wins — and no one appears to be off-limits.
The latest target is none other than Trump's National Security Advisor John Bolton, who until this point has been widely regarded in liberal and media circles as the most enthusiastic Russia hawk in the administration. Indeed, Bolton has been described as "a life-long Russia hawk" by the Financial Times, a "fierce Russia hawk" by Bloomberg and "one of the Kremlin's harshest critics" by Voice of America.
But it appears that, when it comes to his Russia-hating credentials, Bolton does not have an entirely clean record. It turns out that, in 2013, Bolton appeared by video-link at a conference organized by a Russian gun rights activist at the request of the former National Rifle Association President David Keene.
That alone would probably be enough to send some Democrats into a frenzy, but it gets worse. The Russian in question just so happens to be Maria Butina, the woman who was charged in the US in July with acting as an agent for the Russian government. In the video, Bolton expresses support for amending the Russian constitution to expand gun rights (American meddling?!).
"Were the Russian national government to grant a broader right to bear arms to its people, it would be creating a partnership with its citizens that would better allow for the protection of mothers, children and families without in any way compromising the integrity of the Russian state. That is my wish and my advice to your great people," Bolton said on video, apparently unaware that any kind of friendly demeanor towards Russians could come back to bite him later on.
Outraged, top Democrats who sit on the House Oversight Committee now want to know if Bolton told the White House about this contact with Butina before he was appointed to his current role as national security advisor.
In a dramatic letter to White House Chief of Staff John Kelly, Representatives Elijah Cummings (D-Maryland) and Stephen Lynch (D-Massachusetts) said that Bolton's flimsy connection to Butina was "alarming and unprecedented" and requested that the White House provide documents to prove whether or not Trump's security advisor disclosed his "previous work" with the alleged Russian spy.
Surprisingly, however, this isn't the first time the Russiagate aficionados have targeted Bolton. Back in April, NBC News attempted to link the hawkish character to Russia in a piece about his involvement with the Gladstone Institute, an anti-Muslim nonprofit organization that had been "amplified by a Russian troll factory" online.
READ MORE: Not just Russians: China, North Korea & Iran may target US elections, Bolton says without proof
The author of the NBC report pointed out that some of the Gladstone authors had appeared on RT, which therefore, somehow, was evidence of Bolton's ties to Russia. The author also pointed out that some suspected Russian trolls had retweeted Gladstone articles on Twitter — more ironclad proof there, if ever it was needed.
Unfortunately for collusion enthusiasts, Bolton's actual 'ties' to Russia remain fairly tenuous and the latest attempt to brand him as some kind of Russian dupe looks awfully desperate.
You can share this story on social media: