Wishful thinking: Atlantic Council imagines how Russia 'probably' will influence US politics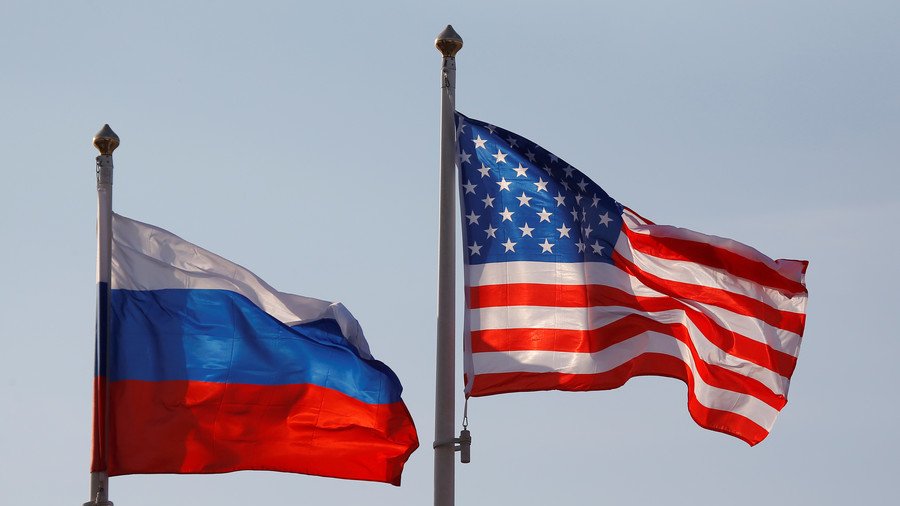 Russia is "likely" using a "three-pronged" strategy to influence US politics, according to bombshell speculation by the Atlantic Council. RT interviewing newsworthy people is even cited as evidence of this dangerous plot.
The article, "We Regret to Inform You That Russia Is (Probably) At It Again," is co-authored by none other than Evelyn Farkas, a dutiful Russia-basher and senior fellow at the NATO-funded Atlantic Council. Her particular skillset was put to good use when she served as former deputy assistant secretary of defense for Russia, Ukraine, and Eurasia during the Obama administration. True to form, Farkas employs generous dollops of "may," "could," and "likely" as she offers up three "likely" tactics which Moscow "may" use to impose its political will on the hapless American people. In some cases, the piece – which was published by The Atlantic – provides deep insight into Moscow's oiled-up meddling machine.
For example, the article states with confidence that Moscow is attempting to "undermine the Democratic Party" by giving a platform to people who received widespread coverage from mainstream American outlets, observing how "the #WalkAway campaign, purportedly an organic campaign of lifelong Democrats leaving the party, has been amplified by Russian social-media accounts and featured on the Russian propaganda outlet RT."
Brandon Straka – the disillusioned Democrat who started the viral #WalkAway hashtag – did in fact grant RT an interview. But he also appeared on Fox News, and his internet campaign was covered by The Washington Post and The Daily Beast. Which begs the question: Is the Daily Beast – owned by InterActiveCorp, where Chelsea Clinton currently serves as a board member – also actively working to undermine the Democratic Party?
"It's weak logic. It doesn't stand up to any sort of scrutiny. It's very dangerous – the idea that a journalistic outlet could be accused of some sort of negative behavior just for interviewing somebody," Derrick Broze, independent journalist who writes for Mint Press News, told RT.
The article goes on to warn that Russia "may" create websites through third parties that offer "misleading or incorrect information about voting locations and times, or derogatory information about candidates" – "may" being the key word in this NATO-funded fever dream.
The parade of speculation continues: "Russian businessmen will likely attempt to fund think tanks working on US–Russia relations to push a narrative favoring cooperation with Russia and opposition to sanctions." Another scurrilous claim offered up by an article co-authored by a senior fellow at a think tank funded by the United Arab Emirates, Google, Lockheed Martin, ExxonMobil, the Ministry of Defense of Latvia, Sony Corporation, and so many more.
"The United States continues to propagandize the American people to be afraid of the Russians – meanwhile ignoring influence from Israel, from Saudi Arabia, from China and elsewhere," Broze noted.
READ MORE: Bellingcat & Atlantic Council join to award exploited Syrian child & American mass murderer
Undeterred, the article insists that Americans must be on the lookout for potential Russian infiltration, citing "Russian spy Maria Butina" and her alleged dealings with American businessmen. Butina has not been charged with espionage and has yet to be convicted of a crime – but these are mere foibles in an otherwise airtight thesis.
Finally, the trailblazing piece of Russia hysteria warns that Russian hackers "could even access and manipulate [voter] data," adding: "While there's no evidence that Russia has done so to date, at minimum it will likely use its ability to access voter-registration databases and election-related sites to undermine America's confidence in its own electoral integrity."
"When you look into the Atlantic Council and you understand who they're connected to, who they partner with, and where they take money from and who they give money to, then you can understand why these individuals would be out there pushing the message that they are, and you can understand what their true purpose is. It's about attacking independent media, independent thought, and taking control of the narratives," Broze concluded during his – wait for it – interview with RT.
Subscribe to RT newsletter to get stories the mainstream media won't tell you.
You can share this story on social media: