At Pentagon, Pence pushes for Space Force by 2020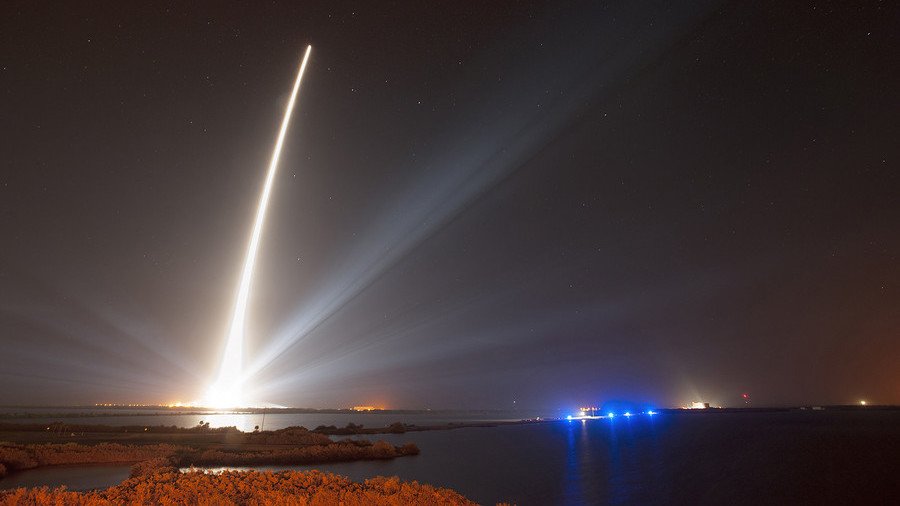 The Trump administration wants to establish the Space Force as the sixth branch of the US military by 2020, Vice President Mike Pence said, warning about 'threats' from Russia, China, North Korea and Iran.
"The time has come to establish the United States Space Force," Pence said at the Pentagon on Thursday, invoking the specter of foreign threats to the US satellite infrastructure.
"Other nations are seeking to disrupt our space-based systems and challenge American supremacy in space as never before," the vice president said. Russia, China, North Korea and Iran are pursuing weapons to "jam, blind and disable our navigation and communication satellites via electronic attacks from the ground," he said, and accused them of "working to bring new weapons of war into space itself."
"Both China and Russia have been conducting highly sophisticated on-orbit activities that could enable them to maneuver their satellites into close proximity of ours, posing unprecedented new dangers to our space systems," Pence said.
According to the vice-president, Russia is developing airborne lasers "to disrupt our space-based systems" while China has the capability to destroy satellites with missiles.
"America will always seek peace, in space as on the earth, but history proves that peace only comes through strength. And in the realm of outer space, the United States Space Force will be that strength in the years ahead," Pence said.
President Donald Trump issued a directive in June to begin preparations for creating the Space Force as a separate branch of the US military, along with the Army, Navy, Air Force, Marines, and Coast Guard. In order for this to happen, Congress has to amend Title 10 of the United States Code.
Defense Secretary James Mattis recently called Pence the "point man" on setting up the Space Force, and suggested establishing a separate space combatant command first.
READ MORE: US can afford 'unlimited war' but not Medicare for all, says Ocasio-Cortez
Rather than building up a Space Force from scratch, the Pentagon will take individuals and units working on space programs in the Air Force and other branches, with the objective of having the "United States Department of the Space Force" by 2020.
Trump is obviously a fan of the new branch, tweeting "Space Force all the way!" as Pence spoke.
Space Force all the way!

— Donald J. Trump (@realDonaldTrump) August 9, 2018
The president's critics in the #Resistance absolutely hate the idea, however, arguing that the budget could be better spent on healthcare, rebuilding Puerto Rico, clean water in Flint, immigrant children, fighting fires and "Russian cyber attacks," or much anything else.
Do NOT be distracted by Space Force.Do NOT be distracted by Space Force.Do NOT be distracted by Space Force.Do NOT be distracted by Space Force.Do NOT be distracted by Space Force.Do NOT be distracted by Space Force.Donald Trump is conspiring with Russia.

— Ryan Knight 🌊 (@ProudResister) August 9, 2018
A reminder that immigrant children remain imprisoned, abused and separated from their families, Puerto Rico and US Virgin Islands are in crisis, California and Oregon are on fire, Flint still doesn't have clean water, Russia's attacking our democracy, but a space force?

— Ricky Davila (@TheRickyDavila) August 9, 2018
Even if everything goes smoothly on the political and military fronts, there are still legal and technical obstacles to the Trump-Pence vision of a US Space Force. Namely, the Outer Space Treaty, to which the US has been party since 1967, bans states from testing any weapons in outer space, or establishing military bases on the Moon and other celestial bodies. It also prohibits deployment of any weapons of mass destruction in Earth's orbit. The US has unilaterally withdrawn from treaties before, however.
The second and more pressing problem is the lack of US space capability. The civilian space agency, NASA, discontinued the Space Shuttle program in 2011, leaving the Russian Soyuz as the only class of spaceships capable of delivering human crews to the International Space Station (ISS).
The United Launch Alliance (ULA), a joint venture between Lockheed Martin and Boeing, relies on Russian rocket engines for their Atlas launchers - and Russia has threatened to embargo their delivery in the wake of the newest US sanctions. SpaceX, which has successfully launched Dragon cargo capsules on board their semi-reusable Falcon 9 rockets, has yet to start testing a manned version.
Think your friends would be interested? Share this story!
You can share this story on social media: