US has nothing to do with alleged attack on Maduro – Bolton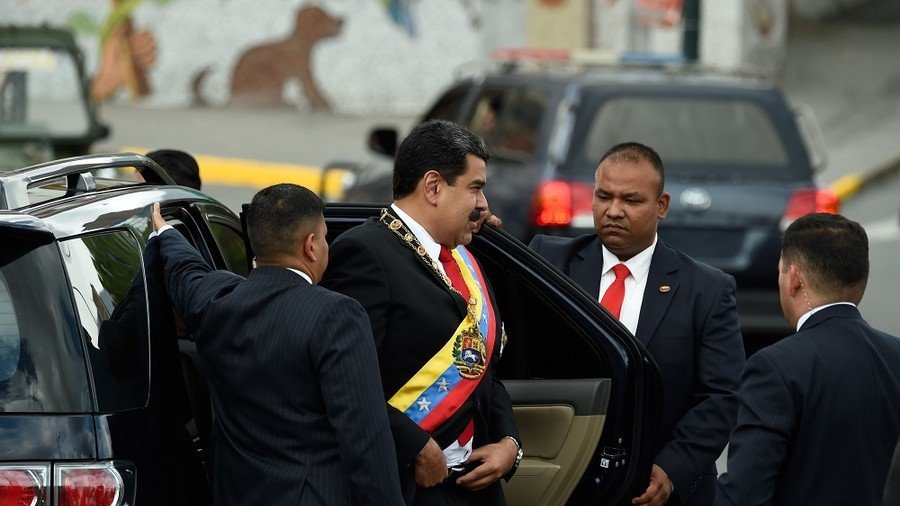 Washington is by no means involved in what is described as an attempted attack on the Venezuelan President Nicolas Maduro, the US President's national Security Advisor John Bolton said. Caracas blamed "ultra-right" and Colombia.
There was "no US involvement at all," Bolton told Fox News Sunday when asked about the incident. His words came shortly after Maduro's speech at a military event in Venezuela was interrupted by loud explosions.
"I can say unequivocally that there was no US government involvement in this at all," Bolton said, referring to the incident.
The Venezuelan leader was not harmed in the incident as he delivered a televised address about two hours after it, in which he said that a flying object exploded in front of him. The Venezuelan officials then said that explosive drones were detonated near the president in what the leader himself described as an attempted assassination.
The president accused far-right opposition as well as "external actors," including Colombia in particular, of orchestrating an attack. The Venezuelan officials never explicitly mentioned the US among the possible perpetrators following the incident.
READ MORE: Caracas explosions were household gas, not drones sent to kill Maduro, AP sources claim
Relations between the two nations have been strained recently. Washington has called Maduro a "dictator," who came to power illegitimately, while accusing him of "starving" his people. At a time, when Venezuela faces hyperinflation, the US exerts pressure on the Latin American state by imposing sanctions against Caracas and urging its allies to do the same.
The US notably slapped the Latin American country with new sanctions following Maduro's victory in what Washington slammed as "sham" elections in May. Caracas earlier blasted the US restrictions as "the worst aggression towards Venezuela in the last 200 years."
Like this story? Share it with a friend!
Subscribe to RT newsletter to get stories the mainstream media won't tell you.
You can share this story on social media: