Ecuador, which used to kick out US military, to open new US 'Security Cooperation Office'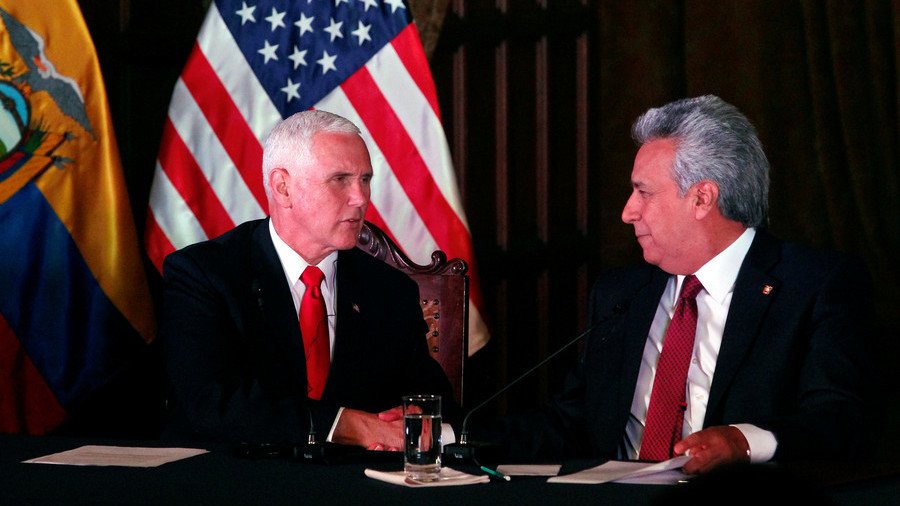 The United States will soon be cooperating with Ecuador in dealing with security issues through a new office. The previous government in Ecuador scaled down military cooperation with the Americans.
The establishment of the new Security Cooperation Office, which was reported by Ecuadorean Defense Minister Oswaldo Jarrin on Thursday, is the latest move by President Lenin Moreno's government to depart form the policies from his leftist predecessor Rafael Correa. Jarrin was careful to stress that the new entity would not violate the country's constitution, which was amended under Correa to ban permanent presence of foreign troops in Ecuador.
"There will be a plane that will allow us to share intelligence. It will stay here for three or four days and then return. So in no way it means that a new military base is being established," the minister said. He added that due to this arrangement the Ecuadorean Air Force would be handling the cooperation program.
While considered a protégé of Correa, Moreno has departed from many of his predecessor's policies in both economy and international relations since coming to power this year.
During his tenure, Correa scaled down military cooperation with the US. In 2007, he refused to extend the lease of the Manta Air Base beyond 2009, saying that if the US wanted one, Ecuador should open a base in Miami in return. A year later the new constitution was adopted, which among other things declares Ecuador a peaceful nation and forbid hosting foreign military bases. And in 2014, the Security Cooperation Office based in the US embassy was shut down, forcing some 20 US military personnel to leave the country.
The distancing was in sharp contrast to the relations between the two countries during the Cold War, when Ecuador served as a bastion of American influence in Latin America, offering a conduit to both military and intelligence operatives from the US.
The reversal of the trend came to light this spring. In April, Ecuador signed a cooperation agreement with the US to fight transnational organized crime and drug trafficking. The development sparked speculation that American troops would soon be welcomed back. Several Ecuadoran politicians, including former President Lucio Gutierrez – who was allegedly behind the 2010 coup attempt against Correa – supported the idea. President Moreno's officials insist this will not happen.
Like this story? Share it with a friend!
You can share this story on social media: