'Profit over health of innocents': Arkema indicted for Hurricane Harvey toxic chemical release
Published time: 3 Aug, 2018 23:58
Edited time: 4 Aug, 2018 09:51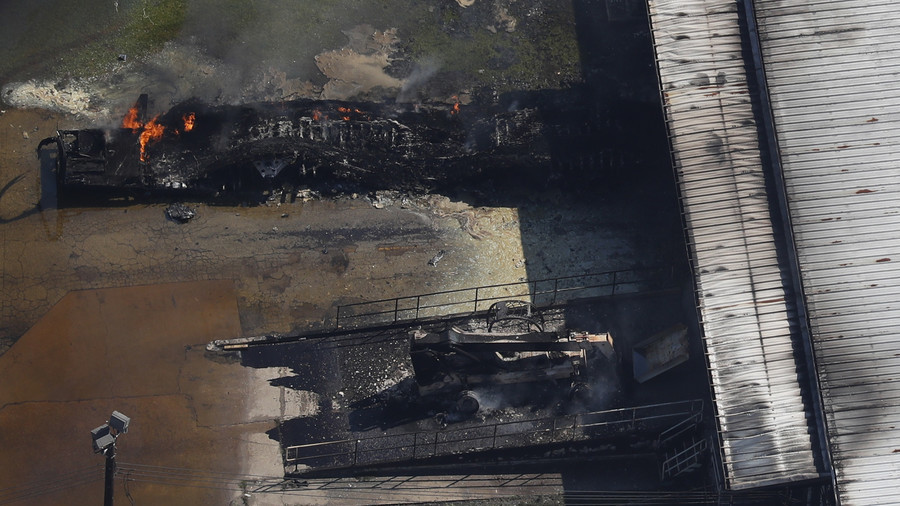 Top managers at French multinational Arkema could face up to five years in prison after the company was indicted for "reckless" emissions of toxic chemicals from its Houston, Texas plant during last year's Hurricane Harvey.
The Harris County court grand jury ruled that Richard Rowe, the CEO of the Paris-based company, and Leslie Comardelle, the manager of the Houston plant, were personally at fault for the emission. Arkema itself faces a fine of $1 million.
"Companies don't make decisions, people do. Responsibility for pursuing profit over the health of innocent people rests with the leadership of Arkema," Harris County District Attorney Kim Ogg said in a statement.
The facility lost power after being submerged in up to six feet of water during last August's devastating storm. As a result power went out, causing organic peroxides to become unstable. Through the course of a week, the flammable materials caught fire and exploded over the plant, sending plumes of smoke into the air. This caused documented damage among a half-dozen first responders, and more general complaints elsewhere.
The jury, backed by a Chemical Safety Board review published in May, concluded that the impact could have been avoided.
"Indictments against corporations are rare. Those who poison our environment will be prosecuted when the evidence justifies it," said Ogg.
The company has called the ruling, formulated as a violation of the Texas Water Code, "astonishing" and unprecedented, and plans to challenge it.
"It is outrageous to assert that Arkema or any of its employees behaved criminally. No one needs a reminder that Hurricane Harvey devastated a wide region," said spokesperson Janet Smith. "It overcame the preparedness efforts of millions of individuals, and many, many companies and government agencies. It is hard to believe anyone would seek to criminalize the way in which one facility was impacted by such a crushing natural disaster."
Subscribe to RT newsletter to get stories the mainstream media won't tell you.