Shaping printable guns debate as anti-Trump issue a 'hysteria not based in fact or reality' – Lionel
Published time: 3 Aug, 2018 17:54
Edited time: 4 Aug, 2018 09:50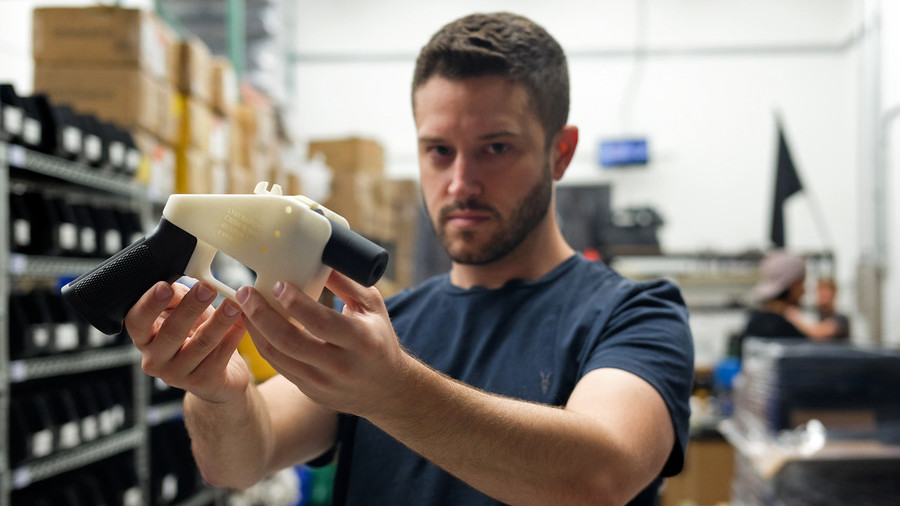 A move to ban blueprints for 3D-printable firearms is framed by sponsors as protecting the public after the failure to do so by the Trump administration. But the narrative is detached from reality, media analyst Lionel told RT.
In a last-minute intervention this week the authorities of several states blocked the distribution of plastic firearms blueprints by the company Defense Distributed by filing a lawsuit against the federal government and securing a nationwide restraining order from a federal court. The move was described as an attempt "to block a Trump Administration action that gives criminals and terrorists access to downloadable, untraceable and undetectable 3D-printed weapons" in a statement by Washington state Attorney General Bob Ferguson.
"It seems that right now the message is that because of this crazed Donald Trump we are going to have plastic guns [everywhere]. And nobody knows anything, the federal definition of what a firearm is or the laws that are already here. This is complete hysteria not based in fact or reality," Lionel said of the narrative.
In reality the legal challenge did little to prevent people from finding firearms blueprints online – which have been available there for years – and printing untraceable arms for whatever purpose they want. But 3D printers are relatively expensive and require some time to learn how to operate one, which ensures making plastic guns remains a hobby for a small number of enthusiasts. A person wishing to get a firearm for criminal purposes in the US has more accessible alternatives than printing.
But sponsors of the lawsuit give an impression that the White House would have "Al-Qaeda mass produce plastic guns," Lionel said. "None of this makes any sense. But sense has nothing to do with it."
Defense Distributed's legal battle for the right to host a database of printable firearms blueprints is apparently more about making a pro-gun libertarian political statement than about practical consequence. Lionel compares it the controversial book by William Powell, written in protest against US military intervention in Vietnam.
"There was this famous 'Anarchist's cookbook'. It told people how to make poisons, how to kill people. And it was information that has been gleaned and collated from Army manuals, information that was already available," Lionel said, explaining that despite its controversial content the book was protected by the First Amendment.
Like this story? Share it with a friend!