Pervasive… just a click away… not yet: US security chiefs fan Russia election-meddling scare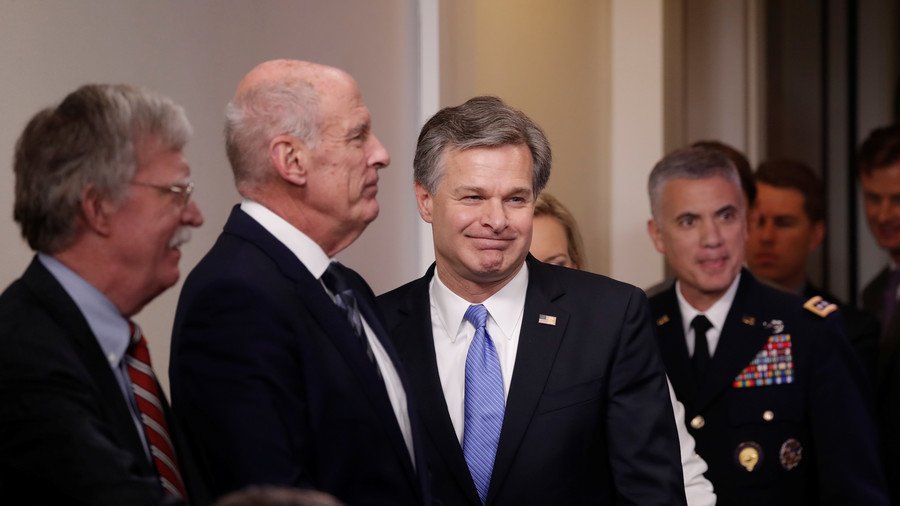 Russia and unnamed others are still seeking to influence US midterm elections through messaging and sowing division, heads of the ODNI, FBI, DHS, and NSA told reporters, pledging to protect democracy but offering no details.
In a rare appearance before the White House press corps, Director of National Intelligence Dan Coats, Homeland Security Secretary Kirstjen Nielsen, FBI Director Christopher Wray, National Security Adviser John Bolton and NSA director General Paul Nakasone all spoke about the Trump administration's efforts to secure the 2018 midterm elections.
After painting a scary picture of Russia conducting a "pervasive messaging campaign… to try to weaken and divide the US," and "undermine our democratic values," Coats acknowledged that it's "not the kind of robust campaign that we assessed in the 2016 election."
"Right now, we have not seen that," Coats told reporters. He did say that Russia has tried to hack some candidates and steal their information - presumably a reference to claims by Senator Claire McCaskill (D-Missouri) - but added that others have that capability as well.
Meddling is "just a click away," Coats said.
"Our democracy itself is in the crosshairs," declared Nielsen of the DHS, adding that the department has seen "willingness and capability on part of the Russians" to meddle, but not specifying if any meddling has actually taken place.
Either way, Americans should sleep soundly, because the DHS has declared election systems part of the US strategic infrastructure, and therefore they won't be affected by a possible government shutdown if it happens right before the November midterms.
If those reassurances were not enough, FBI chief Wray revealed that the bureau was working closely with social media and technology companies to provide them "actionable intelligence" in a way not done previously.
Last week, the FBI sent a list of "various foreign influence indicators" to look out for, such as "social abnormalities," to social media companies and state and local authorities. Wray made a distinction between threats to elections integrity and what he called influence operations, saying that the bureau was working to counter both.
"Russia attempted to interfere in the last election and continues to engage in malign influence operations to this day," Wray said, but echoed Coats by saying that "we are not yet seeing the same kind of efforts to specifically target election infrastructure," only messaging efforts.
Wray would not discuss specific investigations, but White House press secretary Sarah Huckabee Sanders did bring up "inauthentic" pages and accounts that were removed by Facebook on Tuesday, pointing out that they were all anti-Trump.
Though the media chose to report the pages as possibly related to Russia, Facebook was careful to note they cannot make the attribution - which is somewhat unusual, given its Atlantic Council partners' inclination to see Russian influence everywhere.
Activists whose pages were among those censored by Facebook have rejected claims that their efforts are part of some sort of Russian plot to sow discord in the US, however.
"White nationalism and supremacy is not a Russian ploy, it's a systemic problem," the group Shut it Down DC said in a statement.
President Donald Trump set tongues wagging last week, tweeting that Russia might be "pushing very hard for the Democrats" in the midterms, given his "tough" policies towards Moscow.
Think your friends would be interested? Share this story!
You can share this story on social media: