Trump: Sessions must stop Mueller 'right now' before witch hunt 'stains America'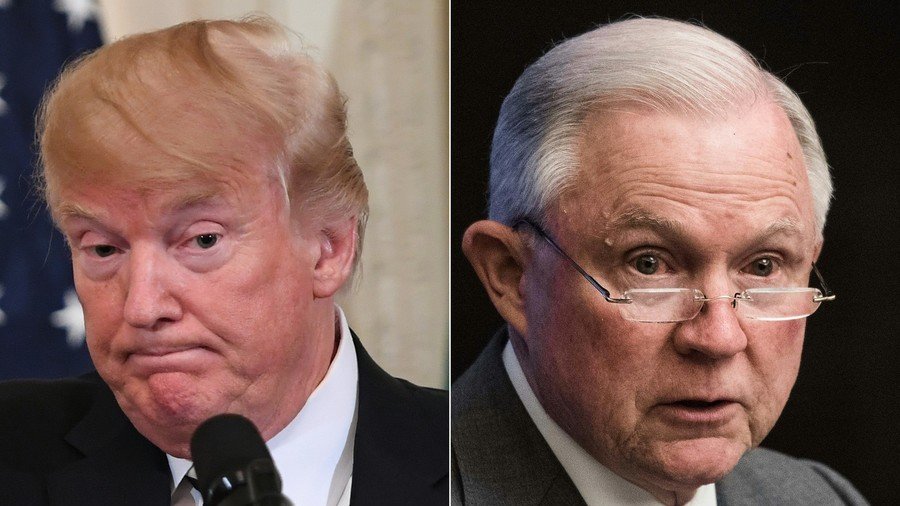 President Donald Trump again lashed out at Special Counsel Robert Mueller's 'Russiagate' investigation via Twitter, warning Attorney General Jeff Sessions to step in and end it "right now."
"This is a terrible situation and Attorney General Jeff Sessions should stop this Rigged Witch Hunt right now, before it continues to stain our country any further," Trump tweeted on Wednesday.
Trump called Mueller's team of investigators "17 Angry Democrats," accusing them of bias in favor of the Democratic party.
The president also lashed out at FBI agent Peter Strzok. He worked on the agency's investigation of Hillary Clinton's email server misuse, as well as the investigation into allegations of collusion between the Trump campaign and Russia in the run-up to the 2016 election.
While working on the investigations, Strzok shared anti-Trump text messages and emails with his colleague and lover, FBI lawyer Lisa Page. In one message, Strzok vowed to "stop" Trump becoming president. In June, a report by the Justice Department's Inspector General found that the texts "potentially indicated or created the appearance" of bias, but concluded any anti-Trump bias had no significant impact on decisions in the Clinton email investigation.
The trial of former Trump campaign manager Paul Manafort began in Virginia on Tuesday. While Manafort was indicted by Mueller, he is not charged with any crimes relating to supposed collusion with Russia. Instead, Mueller is pressing him on tax and bank fraud charges dating back over a decade.
During the trial, Mueller will likely draw attention to Manafort's lavish lifestyle, funded by his political consulting work for Ukraine's pro-Russian former leader Viktor Yanukovych.
President Trump pointed to Manafort's extensive history of lobbying, and called his indictment in the 'Russiagate' investigation a "hoax."
The Mueller investigation has been ongoing for more than a year, and has thus far brought no charges over allegations of collusion between the Trump campaign and Russia. In that time, its focus has shifted away from collusion, to looking for evidence that Trump and his team obstructed justice. Mueller's team recently informed Trump's lawyers that they are considering combing through the president's 38,000 tweets for evidence of obstruction.
Think your friends would be interested? Share this story!
You can share this story on social media: