Openly anti-Trump academics hired to fix Twitter's 'conversational health' – the Right not impressed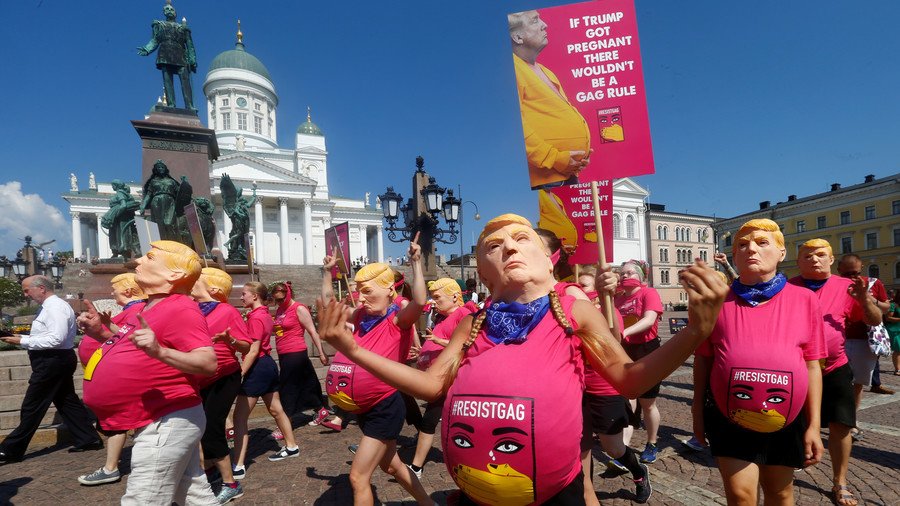 For the sake of "healthy conversation," Twitter has put together a research team to combat prejudice and discrimination. Soon, conservatives noticed the new task force was staffed with #Resistance members and Trump haters.
The social media giant, which has recently seen its stock plummet just as allegations of political "shadow-banning" swirl, courted more controversy on Monday, after it unveiled its carefully selected (supposedly) professionals that are to measure the platform's "conversational health."
The first team will focus on "examining echo chambers and uncivil discourse and on "intolerance in Twitter conversation," and will be led by Dr. Rebekah Tromble, Assistant Professor of Political Science at Leiden University.
The team will also comprise Dr. Patricia Rossini, Dr. Jennifer Stromer-Galley, both from Syracuse University, as well as Dr. Nava Tintarev from Delft University of Technology, and Dr. Dirk Hovy from Bocconi University.
Another team, assembled to study how people with different political backgrounds interact on Twitter, is led by Professor Miles Hewstone and John Gallacher, of The University of Oxford.
Will Chamberlain, a Washington DC lawyer and Trump supporter, did a bit of digging on these academics and their positions. Surprise, surprise; they are members or sympathizers of the #Resistance:
Twitter has decided to "measure conversational health." The employees managing the project? The academics they are partnering with?Members of the resistance.A thread. https://t.co/qWDUCb6bAR

— Will Chamberlain ❌ (@willchamberlain) July 30, 2018
Tromble, the leading researcher at the project, appears to be especially fervent in her distaste for Trump and, judging by her tweets, is a long-time member of team #Resist.
Something tells me we'll suddenly start seeing more Republicans in Congress testing the waters and pushing back against Trump. You know, because they're brave, independent actors and all.

— Rebekah Tromble (@RebekahKTromble) November 8, 2017
Rossini, who, as part of her Twitter engagement, is supposed to develop solutions to tackle "incivility" and hate speech, was okay with berating a certain politician she doesn't like.
Stromer-Galley, an apparent Russiagater, remains in-keeping with the general trend here.
The dots I have been connecting the last two days as I research my book were already connected by others: Trump's 2016 digital team and Cambridge Analytica helped the Russians figure out who to target in their fake news campaign on Facebook: https://t.co/NFifZm6TMp

— Jenny Stromer-Galley (@profjsg) December 29, 2017
Twitter's own employees in charge of the implementation of the "conversation" policy also appeared to have a grudge against Trump. Vijaya Gadde, legal, policy and trust &safety lead, once volunteered to be a part of legal resistance against Trump, while David Gasca, in charge of product management, has also been a critic of the president.
Upon outing Twitter's new hires as outspoken Trump critics, Chamberlain noted that he did not mean to harass the liberal academia, but rather to point to Twitter CEO, Jack Dorsey, that if he wanted to win back the trust of conservative users, this was the wrong way to go.
READ MORE:Congressman Nunes looking at 'legal remedies' to Twitter 'shadowbanning'
Twitter has been under fire for its practice of 'shadow-banning' prominent activists and politicians, which, critics argue, is a form of covert censorship.
After reports emerged last week that several Republican lawmakers disappeared from the Twitter drop-down menu, Trump took to his favorite social media to address the issue, promising to "look into this discriminatory and illegal practice."
Twitter "SHADOW BANNING" prominent Republicans. Not good. We will look into this discriminatory and illegal practice at once! Many complaints.

— Donald J. Trump (@realDonaldTrump) July 26, 2018
Subscribe to RT newsletter to get stories the mainstream media won't tell you.
You can share this story on social media: