Bill Clinton AIDS speech in Amsterdam disrupted by protest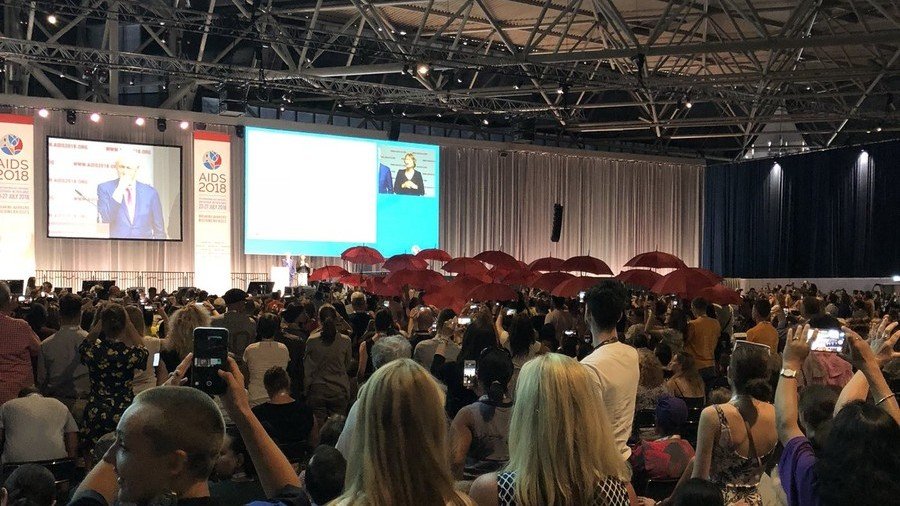 Bill Clinton has been heckled at the International AIDS Conference in Amsterdam by activists for drug users and sex workers, over Trump's Muslim travel ban and discrimination against social minorities in the United States.
On Friday, the former US president was giving a speech in the Dutch capital when a group of protesters stepped in. They walked down the main aisle with red umbrellas and heckled Clinton, challenging him with questions about US policies. The group also expressed anger about the decision to hold the conference in San Francisco in 2020.
The world needs to understand that sex workers, LGBTIQ+ members, people living with HIV, drug users and all the key populations are HUMANS. We need global policies that protect them from discrimination.Voices being raised during @BillClinton speech. #AIDS2018pic.twitter.com/Hp0mhTkm8P

— 🦊 (@khatchig_says) July 27, 2018
"When will you commit to decriminalizing sex workers and drug users in the USA?" the activists asked.
The decision to hold the 2020 event in America has been a matter of concern for months, due to the restrictive travel policies of President Donald Trump's administration. The travel ban, on predominantly Muslim countries, will jeopardize attendance, the activists believe. They also say new rules prohibiting those with criminal records from entering the US will result in fewer people coming to the conference.
The hecklers also had a grudge about US legislation that undermined sex workers' online footprint.
"Across the US, large numbers of sex workers who have lost online advertising platforms due to the passage of FOSTA/SESTA are working the streets, leading to plummeting market prices, unsafe sex work practices and increased criminal legal system involvement," the Sex Workers Outreach Project noted earlier. "This is not a safe environment to ask our global allies to enter into, even if they could get in." FOSTA is the Fighting Online Sex Trafficking Act and SESTA is the Stop Enabling Sex Traffickers Act.
Despite being apparently cast in the role of a Trump proxy, Clinton tried to handle the protest. He implied he is no fan of the incumbent US administration's policies.
"I know San Francisco's in the United States and I know that a lot of you disagree with our government on a thing or two," Clinton said. "Put me down in that category."
He tried to alleviate concerns of those fearing travelling to the City by the Bay, that San Francisco is a "sacred place" for social minorities. "I think when you get there, you'll be glad they held the conference in San Francisco," he assured demonstrators.
Think your friends would be interested? Share this story!
You can share this story on social media: