US wasted $15.5bn of taxpayer money in Afghanistan – govt watchdog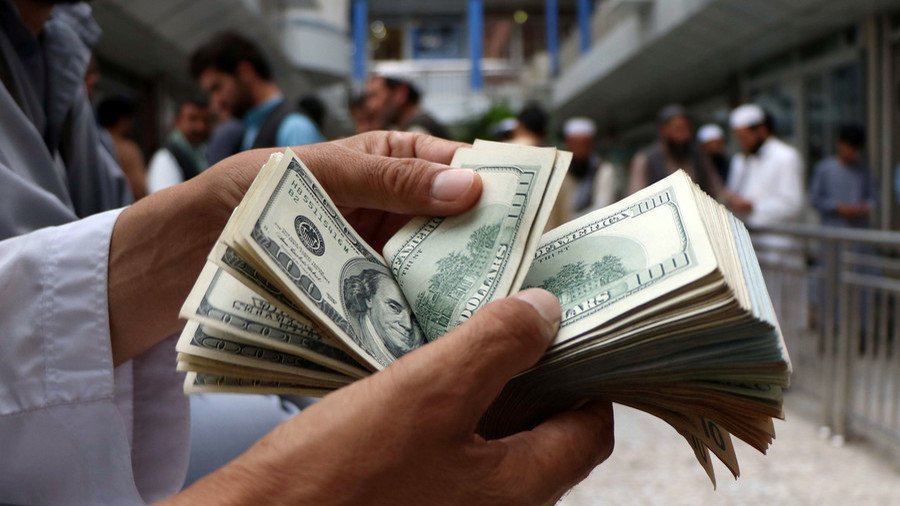 Billions of tax dollars have been lost on "waste, fraud and abuse" and spent on massive reconstruction projects in Afghanistan that utterly failed and even contributed to corruption, a US government watchdog has said.
As much as $15.5 billion spent by the US to rebuild Afghanistan over 11 years has effectively gone to waste, the US government's leading oversight authority on the issue, the Special Inspector General for Afghanistan Reconstruction (SIGAR), said in its response to a request by three members of Congress.
The estimated amount of mismanaged funds accounted for 29 percent of the total sum audited by SIGAR, the report said. However, it also warned that the examined spending of $52.7 billion amounts to only a fraction of the total sum of $126 billion which has been appropriated for the reconstruction of Afghanistan. "Our products have likely uncovered only a portion of the total waste, fraud, abuse, and failed efforts," the SIGAR head, John Sopko said in a statement.
The analysis conducted by SIGAR mostly covered the period between the watchdog's inception in 2008 and 2017, the report says. The document also reports that most of the mismanaged funds were spent on just two major projects that failed to deliver any tangible results.
"The $4.7 billion spent on 'stabilization programs' in Afghanistan between 2002 and 2017 was largely unsuccessful in building and reforming government institutions in Afghanistan," the report says, adding that US money, on the contrary, "often exacerbated conflicts, enabled corruption, and bolstered support for insurgents."
The fight against drug production and trafficking turned out to be another major US failure in Afghanistan as, according to the SIGAR, "almost $7.3 billion spent by the United States in Afghanistan on counternarcotics programs appears to have done very little to stem the production and exportation of illicit drugs." The watchdog also says that the illegal drug business in Afghanistan "still thrives" while opium production stands "at the highest levels since 2002."
Between $2.2 billion and $3.5 billion were also lost in as many as 643 other "instances of waste, fraud and abuse," the US government watchdog said. "The U.S. government overestimated its ability to build and reform government institutions in Afghanistan as part of the stabilization strategy, and set unrealistic expectations of what could be achieved. As a result, US government agencies spent far too much money, far too quickly, and in a country woefully unprepared to absorb it."
READ MORE: 1 US soldier killed, 2 wounded in 'apparent insider attack' in Afghanistan – NATO
The watchdog also criticized the approach Washington used to assess its success in rebuilding the country that the US and its allies invaded back in 2001. "Money spent was often the metric of success, instead of more nuanced performance metrics," it said.
The facts presented in the report provoked a wave of outrage from members of Congress that filed the request to the SIGAR. "As the SIGAR report shows, reconstruction programs in Afghanistan have been mismanaged and poorly run for years. This level of wasteful spending is simply staggering and unacceptable," Rep. Tim Walberg (R - Michigan) said in a Twitter post, commenting on the issue.
"We are now 17 years into the endless war in Afghanistan. This report barely scratches the surface of its enormous human and financial toll. I applaud [Inspector General John] Sopko for his persistent efforts to put a spotlight on rampant waste and fraud in Afghanistan spending. Congress must do its job and take action to end it," Rep. Peter Welch (D- Vermont), said.
"The clock continues to run on this 17-year endless war while congressional leaders look the other way, refusing to allow us to vote on the war or conduct oversight of its wasteful spending," he added in a Tweet.
Rep. Walter Jones (R - North Carolina) vented his fury in a statement published on his website:"Tragically, $15.5 billion is only the verified amount of wasted money – the number is much greater. That is why we are requesting other agencies for an in-depth review of tax dollar usage within their jurisdiction. The American people deserve a better understanding of where their money is going – to the black hole, known as Afghanistan."
"It is time. Enough blood and money has been shed in Afghanistan," he added.
Reports on US funds being improperly used on some projects for Afghanistan have been coming for years. In 2015, it was reported that the Pentagon spent $36 million on constructing a command facility in Afghanistan that was unused by any troops. A year later, another report said that the US Drug Enforcement Administration and Pentagon wasted another $90 million on an airplane designed to identify drug-producing sites in Afghanistan, which never left its hangar.
In 2017, the SIGAR itself reported that the US lost some $9.7 million in assets in Afghanistan since 2012 because of the army's negligence, while some of the resources on which the money were spent might have ended up in the hands of the US enemies.
Back in December 2017, US President Donald Trump complained that Washington "foolishly spent" $7 trillion in the Middle East, arguing that all that money could have been spent to rebuild the US instead. According to the USAID, Washington spent some $164.3 billion worth of aid on both Afghanistan and another country the US invaded – Iraq. This figure fades in comparison to what the US has spent on its military adventures in the Middle East.
Like this story? Share it with a friend!
You can share this story on social media: