Spy charm? After interviewing Putin, Fox host set off to vacation in St. Petersburg, Russia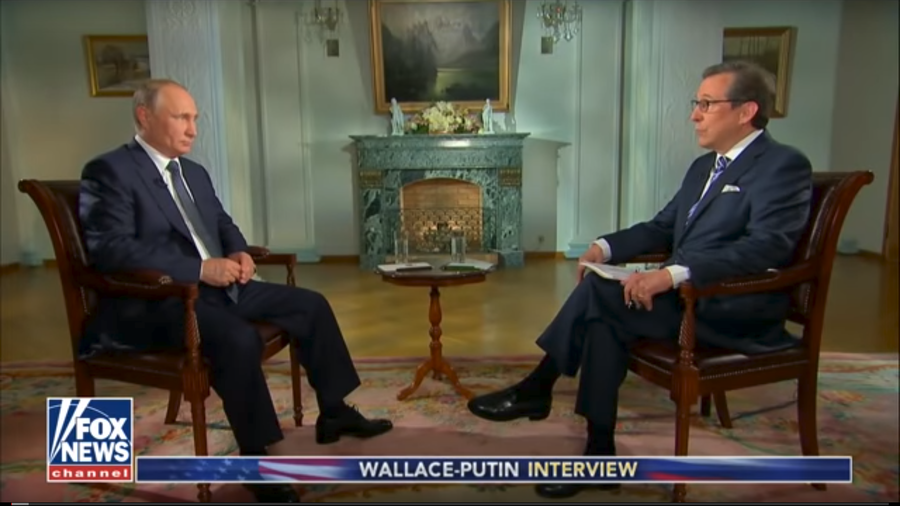 While Fox News anchor Chris Wallace and Vladimir Putin were at loggerheads during their sit-down in Helsinki, Wallace seems to have decided to see for himself where they make them like that, and he set off for a Russian holiday.
Wallace, a veteran Fox News host who interviewed Putin in the wake of the Monday summit with US President Donald Trump, then left for a vacation to Russia, he revealed to the New York Times. His first destination, none other than Putin's native St. Petersburg.
The anchor, whose grilling of Putin was nowhere near amicable, told NYT that he "had a few doubts" about his choice of a holiday destination, but eventually decided to go for it.
"But I figured, Why not?" Wallace said.
Given the escalating anti-Russian sentiment in the US, that reached a pinnacle following the Helsinki summit with cries of "treason" and "disaster" by mainstream media, St. Petersburg might not seem like an obvious holiday destination.
At the end of their roughly half-hour interview, Wallace was apparently still not intimidated enough by one of the most demonized men around, so he revealed to Putin an itinerary of his trip. Putin, Wallace said, was glad that he chose to spend more time in St. Petersburg than in Moscow, including a visit to the famed Mariinsky Theater.
Only when Putin asked how much time he was planning to spend in each city, Wallace remembered who he was dealing with.
"I was a little worried about that. Why does he want to know?"
Speaking about interview arrangements and Putin's only precondition – that it must be broadcast in full – Wallace said that made him realize that "that he [Putin] wanted to get across to Western viewers, to American viewers, in particular, that we can do business."
Wallace, who has already started his Russia vacation, told the NYT that "there's been no sign of any trouble or anything at all" during his stay in St. Petersburg. Moreover, he has acquired a kind of a celebrity status in the Russian northern capital, with passersby recognizing him on several occasions as "the fellow who interviewed President Putin."
You can share this story on social media: