'Don't hold US-Russia ties hostage to internal politics': 5 takeaways from Putin's Fox interview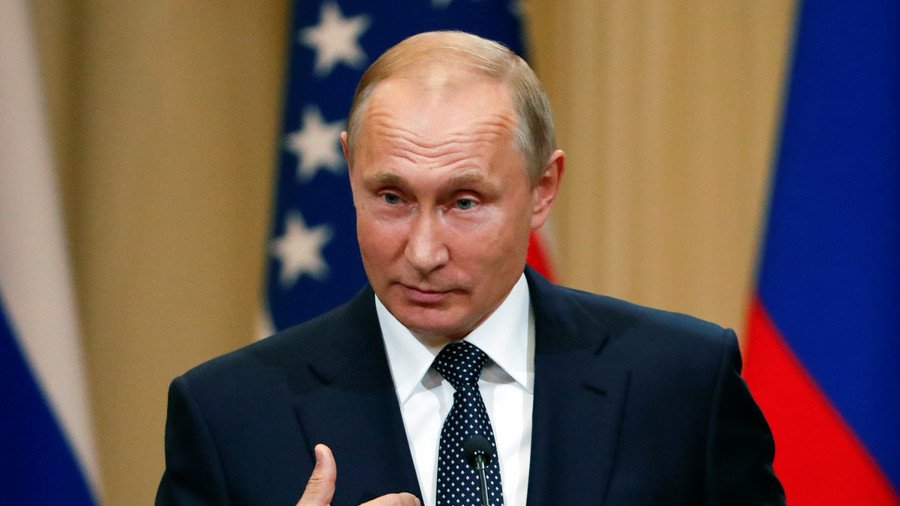 US media have blasted President Donald Trump for not properly confronting Russian President Vladimir Putin at the Helsinki summit. In an exclusive interview, Fox News anchor Chris Wallace tried to do just that.
Wallace's one-on-one interview with Putin was recorded immediately following the Helsinki summit and aired during the Bret Baier Special Report on Monday evening. Doing what many lawmakers and media figures in the US said Trump should have done at the summit, Wallace asked Putin if Russia had interfered in the 2016 US presidential election.
The Russian state did not do anything of the sort, Putin said, wondering if Americans really believed that someone from Russia could influence their opinions and the presidential election. He then turned the tables on Wallace, asking if there was anything untrue in what the documents from the Democratic National Committee (DNC) computers and the email account of Hillary Clinton's campaign chair John Podesta, had revealed.
"As far as I recall, the leadership of the [Democratic] party executive bodies resigned, thus admitting to that fact [of manipulations in favor of Clinton and against Bernie Sanders.] I believe this is the most important thing. There is nothing false in the information I'm aware of."
Mueller's indictment of 'GRU agents'
Wallace presented Putin with the 29-page indictment of a dozen Russians, said to be military intelligence agents, issued by Special Counsel Robert Mueller on Friday. Without touching the document, Putin asked the anchor to leave it on the side of the table.
Why would Mueller issue the indictment just three days before the summit, asked Wallace.
"I'm not in the least bit interested," answered Putin. "Those are internal political games of the US. Don't hold the relationship between Russia and the US hostage to this internal political struggle. It's quite clear to me that this is used in the internal political struggle. And it's nothing to be proud of for American democracy, because using law enforcement agencies in a political rivalry is inadmissible."
Putin pointed out that Mueller's previous indictment, against 13 Russians and a catering company, was being contested in a US court, which "has not discovered any trace of interference whatsoever."
Furthermore, he brought up the 1999 treaty on law enforcement cooperation between the US and Russia, under which Mueller could arrange to have the 12 questioned in Russia, with the presence of his prosecutors.
"Why wouldn't Special Counsel Mueller send us an official request within the framework of this agreement?" Putin asked. "No one has sent us a letter or a request. I'm puzzled why."
Kompromat on Trump
Wallace also voiced the question that was on the lips of all mainstream US media on Monday: Was Trump so reluctant to criticize Putin because Russia had some sort of dirt on him?
Presidents have better things to do than fly all the way to Helsinki just to trade insults, Putin pointed out. "We met to try and find a way to improve our relationship," he said.
He also laughed off the idea of Russia having any compromising material on Trump.
"We don't have anything on him. There can't be anything on him. I don't want to insult President Trump by saying this, and this may come off as rude, but before he announced he would run for presidency, he was of no interest to us."
While Trump was a billionaire, there are plenty of wealthy people in the US, and it never occurred to anyone he might run for political office, the Russian president added. At the most recent International Economic Forum in St. Petersburg, there were 500 business leaders, many of greater caliber than Trump was before he became president, Putin pointed out.
"Do you think our special services organized surveillance of each and every one of them? Unlike the US, we don't do that. We don't have the resources, the manpower, to spy on everyone," Putin said. "It's clear we did nothing of the kind against Mr. Trump."
NATO and military exercises
If NATO were to extend membership invitations to Ukraine or Georgia, how will Russia respond, asked Wallace.
"Negatively," Putin replied, explaining that NATO expansion on the Russian border is "a direct and immediate threat to our national security."
Yet the matter of NATO canceling its major military exercises in Eastern Europe, the way Trump did in a gesture of goodwill to North Korea in June, was never brought up at the summit, Putin said.
What happened to you?
Wallace reminded Putin that he had been elected as a democrat and a reformer back in 2000, asking, "What happened?"
"Nothing changed about me. I am the same as I always was," Putin replied, adding that Russia has had to react to a change in behavior by the West, from the NATO expansion eastward and the US withdrawal from the anti-ballistic missile (ABM) treaty, the 1999 NATO attack on Yugoslavia, the Magnitsky Act expanding US laws beyond its borders, and the 2014 coup in Ukraine.
"It wasn't us who organized an armed coup and the government's overthrow in violation of the Ukrainian constitution. It wasn't us giving out cookies to rebels on city squares," Putin said.
Putin said. "Nothing happened to me. What happened to the West, I'd like to know."
A good start
Asked if the summit was a turning point in Western efforts to isolate Russia, Putin said that such efforts had already failed. Between Russia's sheer size and contribution to the global energy market, it is "too big to be isolated," he added.
The West and Russia should stop fighting one another and look for ways to address common challenges.
"We did make a good start today," Putin said.
If you like this story, share it with a friend!
You can share this story on social media: