Meddling, diplomacy & football: Highlights of Putin-Trump summit in Helsinki (VIDEOS)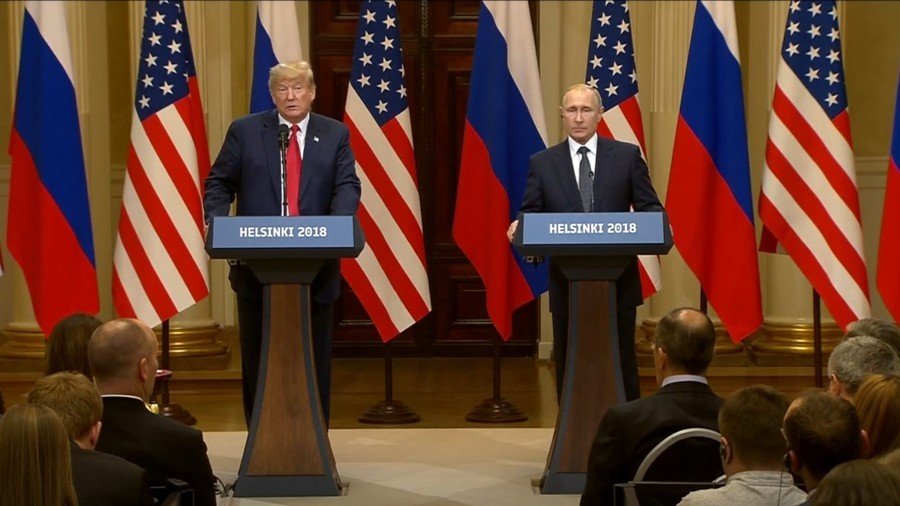 Bombarded with questions about Russian meddling, Donald Trump and Vladimir Putin laid it all out about where US-Russia relations are going, and also did some symbolic ball-passing.
The Putin-Trump summit had created quite a stir well ahead of the event, which was actually expected to be a "warm-up," to lay the ground for future negotiations, but turned out itself to be quite fruitful, according to Russia's president Vladimir Putin. The event was not only "good" for the US and Russia but "for the world" as a whole, US President Donald Trump said.
Engaging in diplomacy while serving the interests of their countries
Putin and Trump agreed that US-Russia relations had tanked and remain at their lowest point. To fix them, some "bold" diplomacy is needed, as the US President put it.
"Our relationship has never been worse than it is now; however, that changed as of about four hours ago. Refusing to engage will not accomplish anything," Trump stated.
There are no real reasons for US-Russia relations to be that bad, Putin said, since the Cold War and the "era of ideological confrontation" were long over. The two countries are facing common challenges now, such as regional conflicts, the spread of terrorism, organized crime, the environment and economic threats.
"We have offered [the US] to consider building the philosophy of bilateral relations for the long term," Putin said. While the two leaders expressed a "shared wish" to fix bilateral relations, both of them place the interests of their countries first.
"Trust no one. Why do you think I should trust Mr. Trump and he should trust me?" Putin wondered, stating that both presidents advocate the interests of their own countries in the first instance.
Putin was for Trump during elections, but did not meddle with them
The "Russian meddling" saga inevitably stole the limelight at the summit and the two leaders discussed it in private as well as during their joint press conference. Vladimir Putin yet again denied the allegations of interference in the 2016 US presidential elections and said Moscow was ready to participate in a joint investigation if any real evidence was presented.
Trump appeared to be convinced by Russia's President. "President Putin says it's not Russia. I don't see any reason why it would be," he said, adding that he did not personally know Putin back then and therefore had no one to collude with.
The Russian leader, however, revealed that he actually wanted Donald Trump to win the presidential election, without contributing to his victory by any means.
"Yes, I wanted him to win, because he talked about the need to normalize US-Russia ties," Putin said.
Moscow does not collect compromising materials on everyone … really
The two leaders were also asked to elaborate on the allegations, first produced early in 2017, that Russia obtained compromising footage on Donald Trump when he had visited Moscow as a businessman. Both Putin and Trump yet again denied the claims, with the US President joking that if Russians indeed had something on him it would have become public a long time ago.
"When Mr. Trump came to Moscow, I did not really know he was there," Putin said. "I respect Mr. Trump as the head of the American state, but when he came to [Russia] as a businessman, I did not even know he was in Moscow."
Russia's President added that neither he nor any Russian state agency are tasked with such a job, adding that some 500 businessmen came to the St. Petersburg Economic Forum in 2018.
"You think what, we've launched operative work on each of them, collecting some compromising materials? It's hard to even imagine bigger nonsense. Just throw this rubbish out of your head," Putin stated.
World Cup vibes
The summit came a day after the 2018 FIFA World Cup and surely caught some vibes from it. President Trump praised Russia's organization of the event, naming the tournament a "really great" event.
Russia's President in turn gave Trump a brand new World Cup ball, mentioning the 2026 Cup, to be hosted by the US, Mexico and Canada and issuing a thinly veiled appeal for more diplomacy – on the Syrian conflict specifically.
"Speaking about football," Putin said, presenting Trump with the ball. "The ball is now on your side."
Trump said he will give the ball to his son Barron.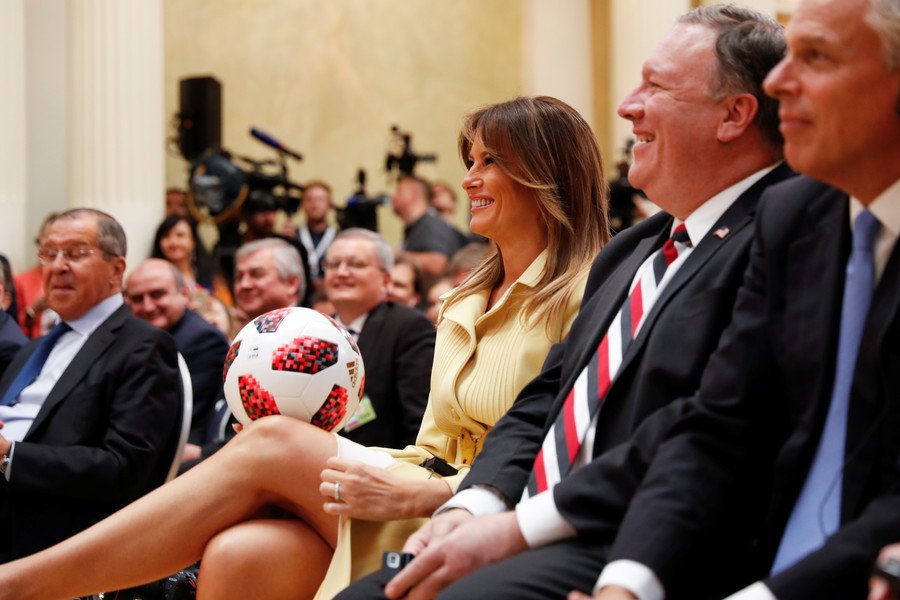 Thanks, Finland!
Both presidents expressed their gratitude to the host country, Finland, and the city of Helsinki. Putin said that the hosts greatly contributed to "establishing the working environment" of the talks and apologized for inconveniences the summit created for the residents of the city.
Trump also thanked Finland, and there was no follow-up twitter rampage from him, rather a video with the moments of the trip with the background of and upbeat tune.
You can share this story on social media: