Seagulls & window warnings: 4 ways Putin-Trump summit will affect Finns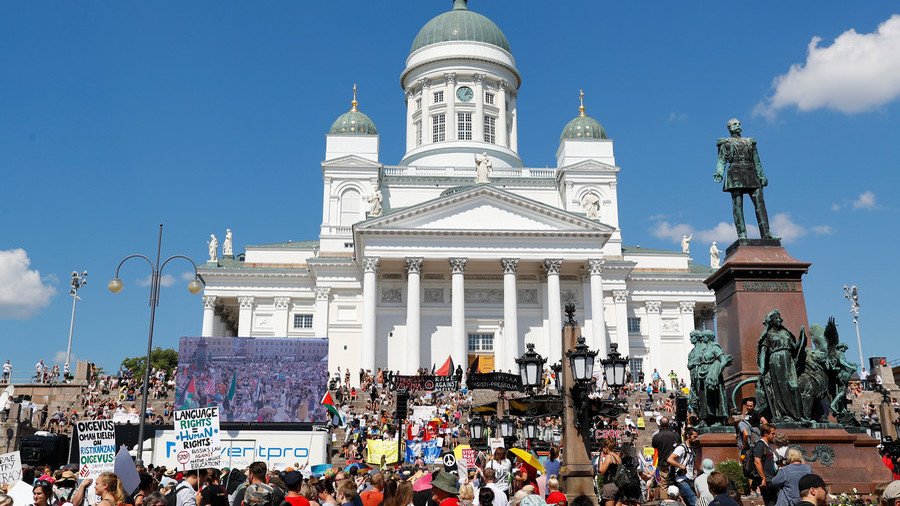 Residents of Helsinki are experiencing some mundane and bizarre happenings in their city ahead of the blockbuster meeting of Russian President Vladimir Putin and his US counterpart Donald Trump.
From missing seagulls to increased security, here we look at some of the ways people in the Finnish capital have seen and will see their lives change over the next couple of days.
READ MORE: Even if I get Moscow as 'retribution,' critics will say it's not good enough - Trump
Don't look outside
Finnish authorities have imposed a range of new security measures to deal with two of the world's most influential leaders visiting their country. Helsinki police have advised people not to line streets on which the vehicles carrying Putin and Trump will travel and have even told those who live along the route not to look out their windows.
"Do not lean out the windows, do not go out onto the balconies, the windows should not be open when the motorcades pass," a police spokesperson said, according to Finnish news outlet Ilta-Lehti. "Failure to follow recommendations can lead to additional security-related activities," the spokesperson added.
Business is booming
Countless local businesses have made interesting attempts to try and cash in on the high-profile occasion, by offering everything from 'Make Helsinki Great Again' hats to summit-themed matryoshka dolls.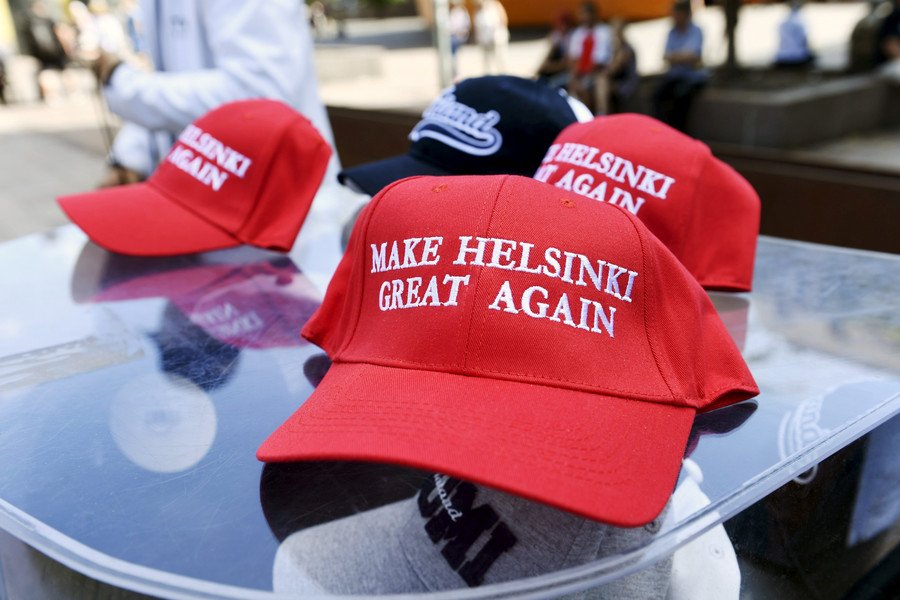 The dolls have reportedly been flying off the shelves, with shop owner Adreas Agopov saying: "[People] are not looking to see such characters in a traditional toy. So of course that's one of the best-selling stuff right now."
There have also been culinary efforts to make a quick buck. One café has concocted a peculiar fusion meal called 'Trumputin' which features a set of Russian blini and American pancakes served on one plate.
READ MORE: Sweet as salt: Finnish cafe braces for Helsinki meeting with 'Trumputin' fusion pancakes
A brewery has even created a special beer for the historic occasion. The Rock Paper Scissors Indie Brewery, based in the eastern city of Kuopio, has dubbed the drink 'Let's Settle This Like Adults'. The beverage's label shows Trump and Putin facing each other, fists raised, as both men ready themselves for a round of rock-paper-scissors.
Bye-bye birdies
People who frequent the area around the Presidential Palace have noticed the absence of the nuisance seagulls that usually pester tourists and locals alike. According to local media, the birds have disappeared – and some are pointing the finger firmly at the organizers of the summit who have already gone to great lengths to increase security, in particular by welding manholes shut and removing bushes from the pedestrian walkways.
READ MORE: Don't meet one-on-one with 'trained KGB vet' Putin, Democrats urge Trump
Research assistant Sini Touineima from the city's environmental services confirmed that he received reports of a drop-off in sightings of the seabird but denied there had been a purge. "Certainly we would have that information here," he told Ilta-Sanomat.
Temporary borders are back
Finland has temporarily returned border controls for travelers from the Schengen zone. The Schengen zone allows for free movement between countries for people coming into airports and harbours ahead of summit day.
The control will last until Tuesday afternoon, with security chiefs hoping to intercept any potential threats before they get near the respective leaders, according to TASS.
Think your friends would be interested? Share this story!
You can share this story on social media: