Biking Kadyrov pedals for 40 km to inspect Chechen capital Grozny (VIDEO)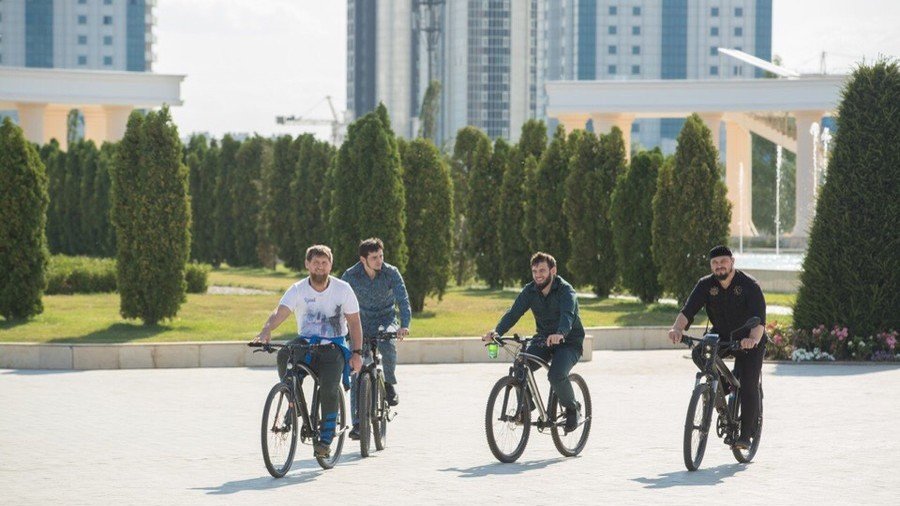 Ramzan Kadyrov, the head of Russia's Republic of Chechnya, switched his car for bicycle to check the preparations for Grozny's upcoming 200th birthday, and said he rode 40 kilometers around "the most beautiful city in the world."
"40 kilometers on the road or more… this is what the wheels of my bicycle made in Grozny," Kadyrov told his followers on Russian VK (VKontakte) social network.
The Chechen leader also posted a groovy video from his bike trip, in which he is seen conquering hills like a pro and making selfies with amazed citizens.
"Driving along the avenues and streets by car is one thing, but it's a completely different story when you're on a bike," Kadyrov wrote. "You meet friends, talk to the people of Chechnya as well as numerous guests of the city."
The Chechen leader said that "more and more" tourists are coming to the republic and it was important for him to know their opinion about Grozny and Chechnya.
Kadyrov was also, however, inspecting how well Grozny is preparing for its 200th anniversary in October – and seemed to have been satisfied with what he saw.
"This is the best and most beautiful city on Earth. These are the thoughts that came to my mind when I drove for several hours around the capital of Chechnya," he wrote.
Kadyrov is known as an avid sports fan. He's a regular at the home games of FC Akhmat Grozny in the Russian Premier League, plays football himself with visiting stars and even stages sparring matches with mixed martial arts fighters.
The internet users praised the Chechen leader for using a bicycle as means of transportation, calling him an "example for other politicians." Some suggested that making all the officials in Russia to switch cars for bicycles would help the save funds in the budget.
"I'm just curious… were the bodyguards on bikes too?" one of the commentators wondered, while another recalled the North Korean security running after the Kim Jong-un's limo during the summit with Donald Trump in Singapore earlier this year.
Think your friends would be interested? Share this story!
You can share this story on social media: