Fresh face or red menace? Democrats split on Sanders-backed Ocasio-Cortez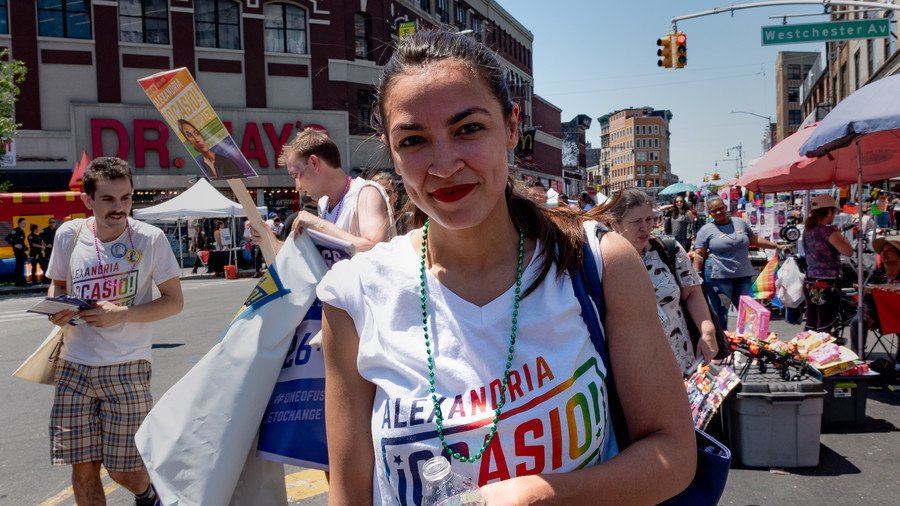 As congressional candidate Alexandria Ocasio-Cortez joins Senator Bernie Sanders on the Democrat campaign circuit, some in the party are worried she will rock the boat ahead of the 'blue wave' in November.
Ocasio-Cortez stunned the Democratic Party and most media observers when she won the June 27 primary in Bronx, New York, in a shocking defeat for Rep. Joe Crowley, the current chair of the House Democratic Caucus.
While the party leadership was initially inclined to dismiss her victory as a fluke, Ocasio-Cortez has provided a rallying point for the Democrats' outright socialist flank, backing challengers in several Democratic primaries across the US. On Friday, she took to the stage in Kansas with Senator Bernie Sanders (I-Vermont), who mounted a socialist challenge to Hillary Clinton's campaign in 2016. They hope to turn the Kansas 3rd district Democratic come November.
Ocasio-Cortez is a member of the Democratic Socialists of America, a group whose membership has grown to over 30,000 from 6,000 just a few years ago. Her platform echoes many of the Sanders planks from 2016: Medicare for all, climate change, opposition to "Wall Street gambling" and gun control. A new twist is the call to abolish Immigration and Customs Enforcement (ICE).
She also advocates a "federal jobs guarantee," a baseline standard for employment with a $15 minimum wage, full healthcare, and child and sick leave. Earlier this week, she dismissed the Trump administration's recent jobs report by saying, unemployment is low "because everyone has two jobs. Unemployment is low because people are working 60, 70, 80 hours a week and can barely feed their family."
Politifact, the fact-checking outfit normally generous to Democrats, ranked her statement "pants on fire."
Yet, to hear Democratic lawmakers speak of Ocasio-Cortez, it's not her economic or social positions causing them concern, but her attitude.
"Meteors fizz out," Rep. Alcee Hastings (D-Florida) told The Hill on Tuesday. "What she will learn in this institution is that it's glacial to begin with, and therefore no matter how far you rise, that's just how far you will ultimately get your comeuppance."
"You come up here and you're going to be buddy-buddy with all the folks or you're going to make them do certain things? Ain't happening, OK?" Hastings added.
Rep. Bill Pascrell (D-New Jersey) argued that Ocasio-Cortez was making enemies among the House Democrats.
"She's not asking my advice," he said. "I would do it differently, rather than make enemies of people."
Rep. Lacy Clay (D-Missouri), who is facing a primary challenger backed by Ocasio-Cortez, accused her of immaturity.
"Once an election is over and you win, why are you still angry?" Clay told The Hill. "I think it's a lack of maturity on her part, and a lack of political acumen, for her to be that petty."
Other members of the establishment worry that Ocasio-Cortez may be hurting the Democrats' chances of capturing the House and the Senate in the upcoming midterm elections by giving ammunition to Republicans.
"If her win makes her into what Kellyanne Conway called the new face of the Democratic Party, the Democratic Party's not going to have a very bright future," said former Republican Senator Joe Lieberman, who ran on a Democratic ticket with Al Gore in the 2000 presidential election. Earlier this week, Lieberman wrote an op-ed in the Wall Street Journal, urging voters to reject Ocasio-Cortez in November.
Meanwhile, Trump supporters are already mocking Ocasio-Cortez as a Marxist.
While senior Democrats, such as House Minority Leader Nancy Pelosi, dismiss criticism from the left and from younger lawmakers, recent polls show that the party membership is eager for "fresh faces" that could succeed where the establishment has failed. The party still hopes to take over the House and the Senate in the midterms, though media chatter about the inevitable "blue wave" seems to have died down in recent weeks.
During the 2016 campaign, Sanders focused on economic issues while Clinton prioritized culture war themes. Ocasio-Cortez and the young socialists are betting that the Sanders strategy will work better this November. As Trump might say, "let's see what happens."
Subscribe to RT newsletter to get stories the mainstream media won't tell you.
You can share this story on social media: