Cop shoots through windshield in high-speed chase, ends with car plowing into school (VIDEO)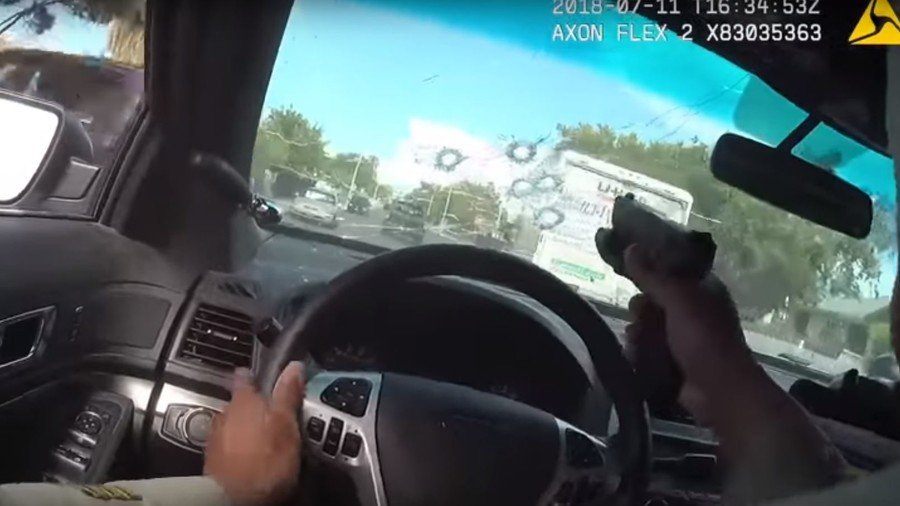 Shocking footage has surfaced of a Las Vegas cop shooting through his own windshield in a blazing gun battle and high-speed chase. It came to an end with the suspects' SUV smashing into an elementary school.
Police had been on the lookout for the stolen black SUV after a man was shot at a carwash at about 7.30am local time on July 11. He later died in hospital.
In the video, released by the Las Vegas Metropolitan Police on Monday, one officer can be heard yelling "Shots fired! Shots fired!" into his radio as they start to pursue the suspects' car. In an intense, four minute chase the SUV can be seen careering into oncoming traffic.
Police said the suspects fired 34 shots at officers before the SUV crashed into an elementary school. Officers used "deadly force" to stop 23-year-old Fidel Miranda, who tried to flee on foot. 30-year-old Rene Nunez was found hiding and wounded on the school grounds and was arrested. Police claim that Miranda had two weapons with him. Nunez was found with a gun, reported stolen in northern Las Vegas on May 20.
Nunez is charged with a string of offences, including open murder with a deadly weapon, attempted murder with a deadly weapon on a protected person, discharging a firearm from a vehicle and carrying a concealed weapon.
In response to the LVMPD police officer shooting through his own windshield 11 times, assistant sheriff Tim Kelly explained that police "will not fire at, or from a moving vehicle unless it is absolutely necessary".
"The LVMPD engages in vehicle pursuits to arrest offenders when necessary to defend people, rights, and property in our community," he said. "Pursuits are hazardous and may result in death or injury to innocent bystanders… [and] will be conducted only for a violent felony or if the suspect presents a clear and immediate danger to the public.
"When you see this video, you see there is a significant amount of fire coming from the suspect vehicle in the mid-morning. We have citizens that are driving, walking around; We're very lucky and fortunate that those suspects didn't hit an innocent bystander."
READ MORE: 'Murderers!' Violent protests erupt after Chicago police shoot armed man (VIDEOS)
Angry protests have recently been staged across the US, with citizens accusing police of using deadly force unnecessarily. US police have also been accused of targeting and engaging in the brutal, aggressive treatment of non-white members of the public.
Think your friends would be interested? Share this story!
You can share this story on social media: