Schwarzenegger slams 'wet noodle' & 'little fanboy' Trump after Putin meeting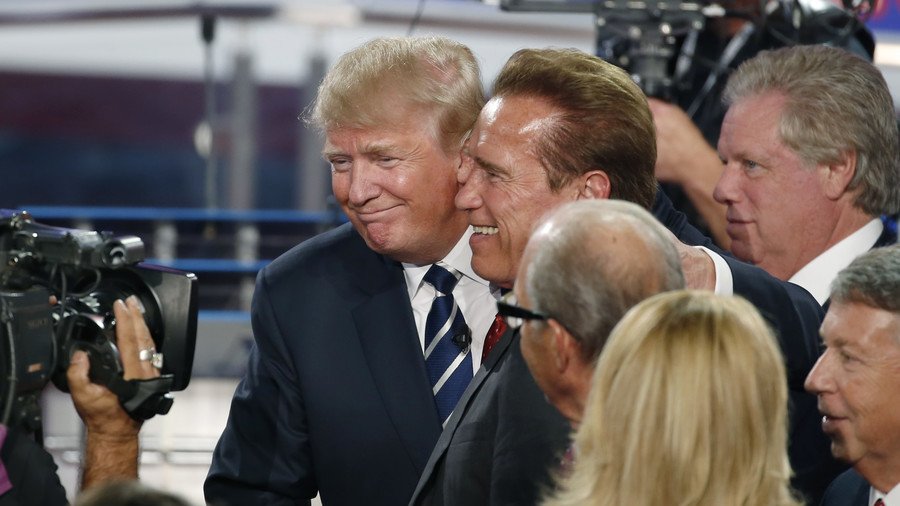 Hollywood star and former California Governor Arnold Schwarzenegger has lambasted US President Donald Trump, accusing him of failing to live up to Ronald Reagan's legacy during a meeting with his Russian counterpart.
Schwarzenegger is one of many US public figures to criticize Trump for his media conference performance after meeting with Vladimir Putin in Helsinki. The 'Terminator' star expressed his disdain in a video posted on Twitter, calling the appearance "embarrassing."
"You stood there like a little wet noodle, like a little fanboy. I was asking myself: when are you going to ask him for an autograph or a selfie or something like that," Schwarzenegger said.
He accused Trump of insulting the US intelligence community, justice system and the country itself during the conference. He said Trump was a far cry from Reagan, the iconic Republican president with whom Trump loves to compare himself favorably.
"What's the matter with you? Whatever happened to the strong words or to the strength of Ronald Reagan, when he stood there at the Berlin wall and said: Mr. Gorbachev, tear down this wall? What happened to all that?" Schwarzenegger said.
The tweet received more than 40,000 'likes' and 13,000 reposts at the time of writing.
The meeting in Helsinki on Monday didn't appear to produce any breakthrough in relations between the US and Russia, though both presidents called it a step in the right direction. Trump, however, was bombarded with criticism at home for failing to publicly confront Putin on the alleged Russian meddling in the 2016 US presidential election and apparently refusing to trust assurances of the US intelligence community on the matter.
Just days before the meeting in the Finnish capital Special Counsel Robert Mueller indicted 12 officers of the Russian military intelligence service GRU for alleged hacking of the DNC and Hillary Clinton campaign chief John Podesta. The indictment gave a detailed account of how Mueller believed the cyberattacks happened, but failed to provide evidence to support the accusations.
If you like this story, share it with a friend!
You can share this story on social media: