From 'disgusting' to 'treason': Mainstream US media horrified by Trump-Putin summit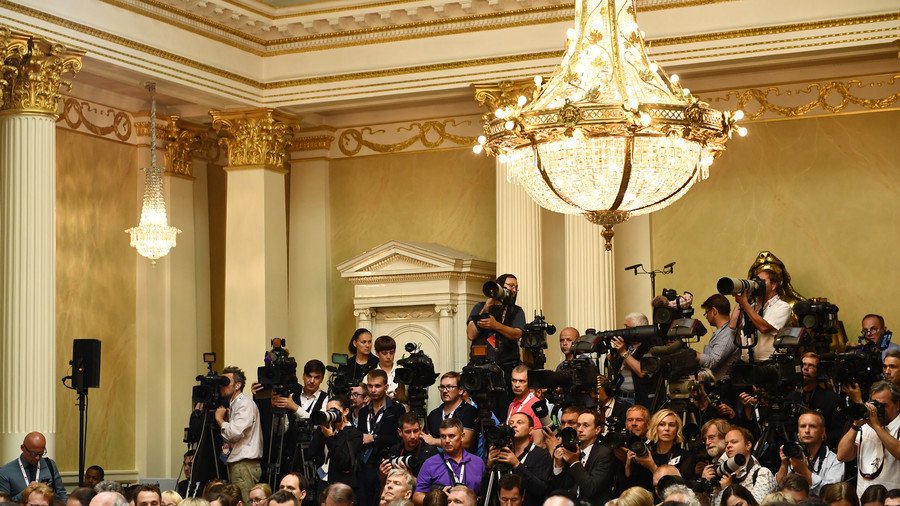 The sight of US President Donald Trump and Russian President Vladimir Putin not attacking each other at the press conference following their summit in Helsinki sent mainstream US media into a spiral of rage.
"You have been watching one of the most disgraceful performances by an American president at a summit in front of a Russian leader that I have ever seen," CNN anchor Anderson Cooper declared at the end of the joint press conference.
"Trump declines to side with US intelligence over Putin" blared a CNN chyron a little while later, as anchor Wolf Blitzer somberly declared the "Russians must be high-fiving each other" following the summit.
CNN has been openly confrontational with Trump since before his inauguration and the president has called them "fake news" on more than one occasion – most recently during his visit to the UK.
The network's White House correspondent Jeff Zeleny was appalled that, instead of confronting Putin publicly, Trump brought up the Democratic National Committee servers – which the FBI never inspected – as well as servers of House Democrats managed by Imran Awan, a Pakistani national who was recently convicted of wire fraud.
The mere fact that the summit happened in the first place was a "political victory for the Kremlin," added senior international correspondent Matthew Chance. "Russians must be toasting Trump with champagne right now, I imagine."
Russia's "invasion" of Crimea, the shooting down of the MH17 passenger jet, the "novichok" poisoning in Salisbury – all the favorite talking points the US politicians and media have used to attack Russia since 2014, without offering any proof – "none of it matters now," Chance lamented.
MSNBC let the former CIA director, now contributor, John Brennan set the tone of the debate, with a tweet declaring Trump's behavior at the press conference "nothing short of treasonous."
AP correspondent Jonathan Lemire, who had asked Trump to denounce Putin at the press conference, told MSNBC's Stephanie Ruhle that the president bringing up the DNC servers instead was "an attack on [Special Counsel] Robert Mueller."
Putin admitted he'd wanted Trump to win the presidency and Trump castigated the FBI instead of Russia, New York Times correspondent Peter Baker chimed in.
Republicans have traditionally been more suspicious and skeptical of Russia than Democrats but, in light of the summit, they now either have to oppose the president of their party or accept that "President Putin is really running the show," Baker argued.
Trump and Putin "essentially parroted each other's talking points," said former CIA officer Ned Price, who dubbed as "delusional" those Republicans who thought Trump would raise the issue of elections-meddling, even though "we know in minute detail" the names and methods of the conspirators that "attacked our democracy in 2016."
Evelyn Farkas, the former State Department official in charge of Russia during the Obama administration, declared it "despicable" that Trump was siding "against democracy," reminding viewers she's descended from Hungarian immigrants who fled a Soviet crackdown in 1956.
"We have to defend Langley, we have to defend the US," Farkas added.
Earlier, MSNBC had interviewed Michael McFaul, the former US ambassador to Russia.
Even Fox News, accused by Democrats of being a propaganda network for Trump, had several anchors blasting the president.
Neil Cavuto of Fox Business thought it was "disgusting" that Trump did not use the press conference to publicly accuse Putin of interfering in the 2016 election.
"I'm sorry, it's the only way I feel. It's not a right or left thing to me, it's just wrong," Cavuto said. "A US president on foreign soil talking to our biggest enemy, or adversary, or competitor ... is essentially letting the guy get away with this. That sets us back a lot."
Abby Huntsman, a reporter for Fox News and daughter of US Ambassador to Russia Jon Huntsman Jr., also blasted Trump for holding a press conference with the Russian leader. "No negotiation is worth throwing your own people and country under the bus," she tweeted.
Brett Baier, who hosts Special Report, wondered how exactly the summit might improve US interests and brought up the Republican lawmakers who were putting out statements against the summit, such as Senators Lindsey Graham (R-South Carolina), Ben Sasse (R-Nebraska) and Jeff Flake (R-Arizona).
Fox anchors were also puzzled by Putin's offer to interrogate suspects in the presence of Mueller's investigators, as long as the US would allow Russian prosecutors to question Americans suspected by Russia of crimes, as outlined in a treaty going back to 1999.
"What we did hear was this kind of moral equivalence when it comes to meddling," Baier said, adding Trump standing in a foreign country next to a leader who "clearly attacked the US" and saying such things is going to "ruffle a lot of feathers."
As to what the summit may have produced in terms of nuclear disarmament, peace in the Korean Peninsula, resolving the conflicts in Ukraine and Syria, or ratcheting down tensions in Europe… no one in the US media seemed interested in asking.
If you like this story, share it with a friend!
You can share this story on social media: